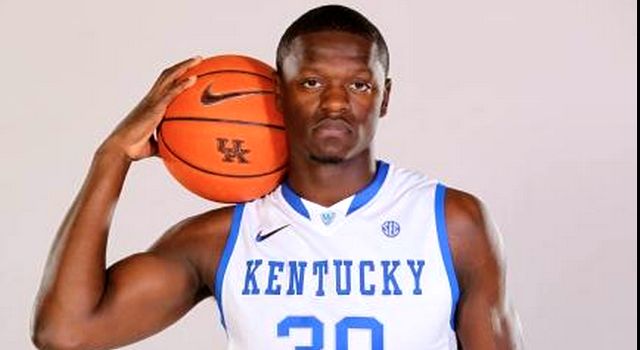 Today is Hoopsmas!
30 consecutive hours of basketball capped by the Champions Classic. It doesn't get better than that.
You can read our full preview of the Champions Classic right here. This post isn't about previewing. It's about predicting. Each of our writers take a stab at who will win tonight's matchups: No. 1 Kentucky vs. No. 2 Michigan State and No. 4 Duke vs. No. 5 Kansas.
Rob Dauster:
Michigan State 75, Kentucky 71: I'm riding with Michigan State's experience in this one. I love Gary Harris, I think Branden Dawson will be able to hold his own against Julius Randle, and I just have a feeling that the moment just might be too big for some of Kentucky's youngsters.
Duke 81, Kansas 71: Duke can spread the floor out against Kansas the exact same way that Iowa State did last season, and if you remember, Iowa State nearly beat Kansas twice. The biggest difference? Iowa State was good, Duke is awesome.
Raphielle Johnson:
Michigan State 78, Kentucky 74: At this point in the season I'll take the "old" men, with the Spartans have a little more experience in games like this.
Kansas 86, Duke 79: Love Parker and Wiggins, but on this night I see Perry Ellis and Wayne Selden having big performances.
Scott Phillips:
Kentucky 73, Michigan State 67: With the way Julius Randle is playing at the moment, I just don't see how Kentucky loses to Michigan State.
Duke 82, Kansas 74: Kansas has a ton of talent for a late season run, but Duke is meshing well early and their offense can really move the ball at times and play unselfish ball.
Kevin Doyle:
Michigan State 75, Kentucky 68: Kentucky is the most talented team in the country, but the youngsters need to get punched in the mouth once as a "welcome to college basketball" moment; Michigan State's experience does that tonight.
Kansas 80, Duke 77: Naadir Tharpe's return to the lineup makes Andrew Wiggins better and more comfortable in his second game.
Terrence Payne
Michigan State 75, Kentucky 70: Kentucky entered the season as the best team, but the Wildcats are running into a veteran Michigan State team. Also, let's put a nice, quick end to the 'is Kentucky going undefeated?' storyline.
Duke 81, Kansas 72: Yes, the Jayhawks have Naadir Tharpe back. Yes, KU has the better frontline. But I'll take the chance, and I'll go with Duke and Jabari Parker back in his hometown.