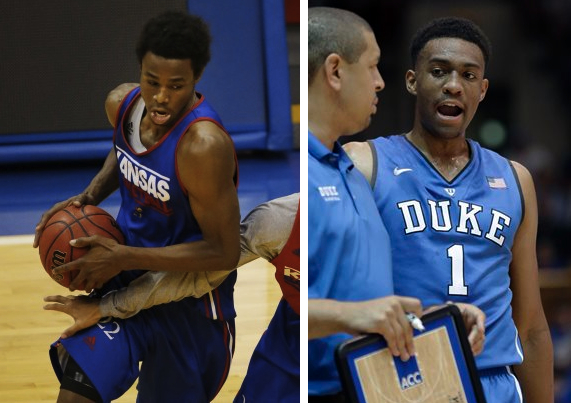 Tuesday is an indisputably great day for college hoop heads around the country, as we not only get 30 straight hours of hoops, but the marathon session of basketball is capped off with the Champions Classic, the single best in-season event ever.
That's right.
I said it.
I'll even take it a step further: I can't remember ever being this excited about a basketball game that wasn't in someway associated with the NCAA tournament. The first day of the Round of 64 is always incredible, and there is very little in this world that tops a great Final Four matchup. But this? This Champions Classic? It's a completely different beast, and one of the biggest reasons why is the unknown. This freshmen class is as loaded as any in recent memory, and we'll have the three most-hyped up talents from that class in the first chance for the nation to see them locked into matchups that couldn't have been scripted any better.
The opening act features No. 1 Kentucky taking on No. 2 Michigan State. Kentucky, as you should know by now, is as loaded as loaded can be, with a historically strong recruiting class buffered by the return of Willie Cauley-Stein and Alex Poythress for their sophomore seasons. The alphadog in Cal's latest recruiting haul is Julius Randle, a 6-foot-9 powerhouse of a power forward, a guy that's amassed 45 points and 29 boards in his first two games as a collegian. We'll get into it more in a second, but there have been two freshmen in the Class of 2013 that have graced the cover of Sports Illustrated, neither of whom was Randle despite the fact that he could end up being the best of the lot.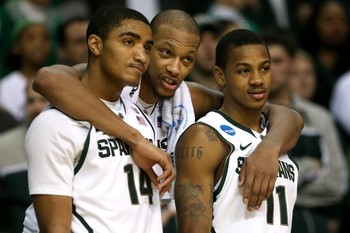 Randle will lead this group of youngsters into a battle with a veteran Michigan State team, giving us the earliest matchup of the top two teams in the AP poll ever. The Spartans are old by today's standards, starting two seniors, two sophomores and not a single freshman. The Spartans feature a pair of potential all-americans in Adreian Payne and Gary Harris and are coached by Tom Izzo, who is arguably college basketball's best in-game tactician. One and Done U. and John Calipari, long portrayed as all that is wrong with college sports, takes on the beacon of light that is Izzo and Michigan State. Hey, I'm not saying I buy it, but it's not difficult to turn this matchup into a Good vs. Evil fight to the death.
And what's crazy is that it may not even be the most intriguing matchup of the night.
The nightcap features No. 4 Duke taking on No. 5 Kansas, a game that is must-see TV regardless of who is actually on the court. Bill Self vs. Coach K? Yes, please. But what makes this game so tantalizing is the matchup between Jabari Parker and Andrew Wiggins, who both happen to be two of the sport's most fascinating people while doubling as two of the game's most promising prospects.
Parker is a kid from the South Side of Chicago that went to Simeon HS, the same program that produced Derrick Rose. He also happens to be a terrific student and a devout Mormon that kept BYU on his list until the end of his recruitment. How often do you see studious Mormons come out of the South Side of Chicago, let alone ones that happen to be future NBA stars? Parker was long considered to be the top prospect in the Class of 2013, but a foot injury derailed his final summer on the AAU circuit and forced him into playing his senior season a bit out of shape. Once touted by SI as the best player since LeBron, he became the afterthought at the top of the Class of 2013.
That's partially because Andrew Wiggins reclassified. Wiggins is an interesting dude in his own right, a native of Toronto that is the child of a former NBA player and a former Olympian. It shouldn't come as a surprise, then, that Wiggins also happens to be one of the most sensational athletes that has ever matriculated to the college ranks. A superstar who became a household name before he ever set foot on a college campus, Wiggins wants nothing to do with the spotlight that comes with athletic superstardom, keeping everyone out of the loop during his recruitment and, eventually, announcing his decision to attend Kansas in a gym packed with friends, family, teammates and just a single, local newspaper reporter.
Two of college basketball's premiere programs who both happen to be in the top five square off, and the story ends up being the matchup between two freshmen. Think about that.
The Champions Classic is so much more than simply what happens on the court on Tuesday night.
But since there are actual games to be played, let's take a look at them: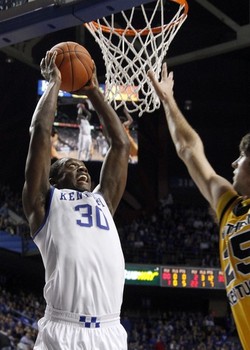 No. 1 Kentucky vs. No. 2 Michigan State, 7:30 p.m.
The key to the season for both the Wildcats and the Spartans comes down to point guard play. Keith Appling is now heading into his third year as Michigan State's starting point guard, and he just hasn't made the jump from 'good player' to 'great point guard'. Michigan State needs him to be more than just a scorer and a guy that brings the ball up the floor. He needs to be a leader, a creator, a coach on the floor. The same can be same for Andrew Harrison, the twin that happens to handle the ball, but where the Spartans will look to Appling to take on more of a scoring role, Andrew needs to be a facilitator. He needs to accept the fact that he's not going to be the face of this program. He may not even be one of the first two options offensively. Can he embrace that role?
The key for Michigan State is going to be whether or not they can slow down Randle, and it just so happens that they have an athlete on their roster that can matchup with him. Branden Dawson is a physical specimen in his own right, coming off of a big game in the season opener against UMass-Lowell. Payne will likely draw the assignment of matching up with Cauley-Stein or Dakari Johnson or whatever center Coach Cal has on the floor, leaving Dawson to tangle with Randle. Kentucky has put an emphasis on allowing Randle to spend his time out on the perimeter, but Dawson has the strength and quickness to make things difficult for Randle when he faces up, which is why I think Randle will see more time on the block Tuesday. He's got a couple inches on Dawson and, quite frankly, is big, strong and athletic enough that there are few big men he won't be able to overpower this year.
For Kentucky, slowing down Harris will be their focus. Harris was banged up last season, but he got healthy this summer and looks like a different player now that he's able to attack the basket again. The Wildcats have big wings — Aaron Harrison, James Young, even Alex Poythress — so it will be interesting to see who locks horns with the sophomore scoring guard.
Kentucky's youngsters are used to playing in the spotlight. They've done it their entire high school and AAU careers. They've done it in the two months they've been on campus. But taking the court at the United Center on national TV in front of a packed house against a National Title contender is a much, much different beast. How will they handle the moment? Will they handle the pressure? Who will emerge as a role player and a glue guy? Because the scary thing here is that, if Kentucky actually lives up to their immense potential, this may end up being the best chance for any team to keep them from going undefeated.
No. 4 Duke vs. No. 5 Kansas, 10:00 p.m.
The matchup that will get all the attention is the battle between Wiggins and Parker, which is ironic because they may not even end up guarding each other.
Duke is a weird team this season. They are loaded with perimeter depth, but there really isn't a bruiser on this team's roster. Their best lineup is arguably one that features Parker at the five and Mississippi State transfer Rodney Hood at the four, which creates an interesting dilemma for Bill Self. How does he set his defense? Perry Ellis is a guy with some breakout potential this season, but I'm not sure he can guard Hood or Parker out on the perimeter. Tarik Black, who transferred in from Memphis, and freshman Joel Embiid probably cannot, either. If you remember back to last season, the team that Kansas had the most trouble against was Iowa State, who was a banked-in Ben McLemore three and a blown charge call away from sweeping the Jayhawks. Like this year's Duke team, they spread the floor and used versatile big men that can hit a three to throw the Jayhawks defense out of whack.
Yes, this is a completely new Kansas team, but they are still coached by Bill Self. They still would, ideally, like to be able to park Black or Embiid in the lane defensively. Will the Jayhawks go small? Will they play a zone? I wouldn't be surprised to see Self use a triangle-and-two defense, which he is notorious for, to try and get the Blue Devils out of a rhythm.
The other issue with having Black or Embiid out there is that neither is threat to score in the post, which makes it difficult to take advantage of Duke's lack of size. Ellis can score down-low, but he's also small enough that Parker and/or Hood can hold their own against him on the block. Against Davidson, Duke played a man-to-man defense where they switched every exchange, which means that any time there was a screen off-the-ball or even something as simple as two players running by each other, Duke switched. That's a tough defense to run sets against, particularly when you have a point guard that isn't exactly known for his ability to control the offense or consistently create scoring chances.
Add in the issues with the youth and inexperience on the Kansas roster, and this looks like it will be a tough matchup for Kansas.