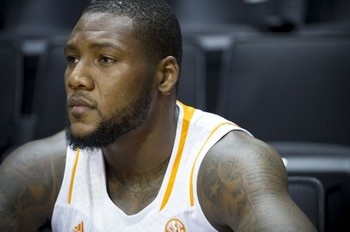 This will be an interesting season for Jeronne Maymon. NCAA rule changes have made defense something of a dirty word this year, and the Tennessee big man happens to play for Cuonzo Martin. That presents a bit of a dilemma.
"It's definitely very hard to please him on defense," Maymon told NBCSports via phone. "He really doesn't care too much about offense. He says some nights your shots will be falling and some nights they won't, so defense is your consistency every night."
Maymon is jonesing for consistency this season. He sat out 2012-13 to rehab a nagging knee injury, and he logged very few minutes early in his career as he transferred from Marquette to Tennessee. The Vols were also in turmoil, making the transition from charismatic Bruce Pearl – the coach who coaxed Maymon to Knoxville in the first place – to the more taciturn Martin.
Maymon tries to see the positives in the meandering road he took to this final collegiate season.
"I don't have as much on-court experience as other seniors, but I'll tell you I gained a lot of knowledge just being on the bench as far as slowing the game down and getting the mental part," he said. "Most fifth-year seniors get that mental capacity for processing the game down, but I really grew quite a bit from sitting on the sidelines just watching the game, just picking my coaches' brains and talking to my players. I think that really helped me."
A healthy Maymon is the missing piece that makes Tennessee a legitimate contender for the SEC crown, which will be hotly contested by past national title winners Kentucky and Florida as well this season. The strategic and tactical advantages of having Maymon back in the frontcourt alongside last season's All-SEC forward Jarnell Stokes should have Vols fans salivating.
"He and Jarnell are two of the better rebounders in college basketball, two of the most physical guys," Cuonzo Martin told NBCSports by phone. "You can play those two guys as your four and your five and they feed off of each other. But he's also a guy with tremendous leadership skills. Jarnell missed him most last season, just having another guy who can control the glass on the back side and draw some of the double-teams. So now Jarnelle becomes a better player with Jeronne back, because he learned how to play without him."
Martin isn't taking any chances, either. He has his dominant frontcourt tandem work over their understudies whenever possible. "We try to separate those guys as much in practice as we can, get them going against other guys so those guys can get the experience of how physical the game is played," Martin said.
The combination of Stokes and Maymon landed at No. 6 on our preseason list of the game's top backcourts, but the ranking is a bit precarious. If injuries strike, the bench can be a bit thin on big men. Junior college transfer Rawane Ndaiye, nicknamed "Pops", will see a fair amount of time off the bench. Ndaiye has earned the confidence of his teammates the hard way.
"In practice it's a lot more chaotic than in games, because coach doesn't call any fouls; he lets you play. So Pops has shown a lot of poise," Maymon said. "Him banging up against me and Jarnell has really shown how much he can withstand, and he can play ball."
Tennessee's strength extends beyond the frontcourt as well this season; an absolute must in a league featuring the Harrisons, Scottie Wilbekin and hot-shooting Marshall Henderson, amongst other perimeter terrors. Martin will look to Antonio Barton, who traversed the state as a transfer from Memphis to UT, to take some pressure off the inside players.
"You're talking about a guy who can make shots and push the basketball," Martin said. "He's been in big games before and made big shots; he's a career 40% three-point shooter. Those things help."
Toss Barton in the mix with 6-foot-6 senior Jordan McRae, who averaged 15.7 points per game last season, and talented freshman Darius Thompson, and you'll see a pattern emerging. Grit and brawn on the inside, deadly accuracy on the perimeter. It's the classic basketball yin-yang. If the Vols get lucky and keep everyone out of the trainer's room, this could be a special season in Knoxville.
It'll be special for Jeronne Maymon no matter what. He knows this is his last go-round, and he can't wait to get on the floor in front of a regular-season crowd at Thompson-Boling Arena.
"The first game in front of our fans, being able to step back and hear all that noise and see that Tennessee orange, that's when I'll feel like I'm back," Maymon said. "I'll probably be very nervous, probably miss a couple of layups maybe turn the ball over once or twice, but I'm pretty sure I can get my feet wet and get back."
The undercurrent of bold-faced honesty in the Tennessee program these days is refreshing. Maymon can acknowledge his rust, his fear and his potential mistakes because his coach sets a clear standard: you can screw up and be forgiven as long as you own it and learn from it.
"The idea is to be perfect, but we always fall short of that," Maymon said. "We might make some mistakes, but we know we'll get that corrected as the year goes on. (Coach Martin) sets a standard. He doesn't bend or waver on anything; once he puts his foot down, it's set. That's what keeps us players on balance. I really appreciate his consistency."
Consistency is what this season will boil down to for the Vols. They start the season on the road against an always-dangerous Xavier team, and they'll travel to face last year's Final Four darling Wichita State as well. In the SEC, Maymon and company will battle big men like LSU's Johnny O'Bryant III and Florida's own terrible tandem of Will Yeguete and Patric Young. As if that weren't bad enough, they have assigned dates with the uber-young and uber-talented Kentucky Wildcats to prepare for.
Maymon knows what's coming, but he refuses to get caught up in the preps-to-pros hype.
"You can't approach every game with the same mindset. You've got to kind of pick your poison with some teams, and some teams are better at one aspect of the game than others. I'm probably just more focused in on the night-in, night-out grind of each game."
The grind: it's not glamorous, but it gets the job done.