All month long, CBT will be rolling out our 2013-2014 season preview. Check back throughout the day, as we'll be posting three or four preview items every day.
To browse through the preview posts we've already published, click here. To see the rest of the Conference Previews we've published, click here. For a schedule of our previews for the month, click here.
Kentucky is the most talented team in the SEC. Stipulated for the foreseeable future, counselor. It's appropriate that a blue-blood program from the heart of horse country is stocked with powerful blue chip athletes who have obvious physical advantages. They can, should and probably will win the SEC. But there's always a chance that Seabiscuit will emerge from the pack and energize the race. The Wildcats will get everyone's best effort in every game, and the league is studded with contenders and wily veterans who can make things interesting. Kentucky's stumble into and immediately out of the NIT last season has put the gleam of hope in the eye of every challenger the league has to offer.
FIVE THINGS YOU NEED TO KNOW:
1. Kentucky will put an NBA-caliber team on the floor every night: We can pick Kentucky No. 1 in the nation every year, that's no joke. Some of us resisted that notion this season, because we've seen that work spectacularly (2012's national title) and fail miserably (2013's NIT washout). Michael Jordan said it best: "Talent wins games, but teamwork and intelligence wins championships." We can see the talent, so if the other two sides of the triangle fall into place, well, quite frankly, nobody else has a chance.
2. Jeronne Maymon is back in Knoxville: I used the thoroughbred as a metaphor for Kentucky's makeup, but Tennessee's strength is different. Former Vols coach Bruce Pearl called Maymon a "junkyard dog" when he landed the Marquette transfer, and the burly forward pairs well with current coach Cuonzo Martin's gritty style of play. Maymon redshirted last year with a persistent knee injury, but he's back this season and ready to pair with Jarnell Stokes to form our No. 6 frontcourt in the nation.
3. The Marshall Henderson Show gets a tenative renewal: Marshall Henderson is a shooter. He can shoot you into a huge win with his gutsy deep stroke, or he can shoot himself in the foot with his own middle finger. Henderson will be sitting out three games this season, including his team's first two SEC contests, and his notoriety is now a double-edged sword. Everyone knows Ole Miss has a star, including the refs and the NCAA's shell-shocked PR department.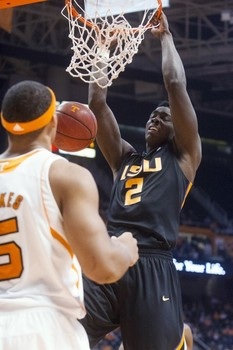 4. Haithers gonna Haith: When Frank Haith nabbed the Missouri job in 2011, two questions dogged his heels. First, was he better than his 56% winning percentage at Miami would seem to indicate? So far, the answer is yes to that one, as Haith has won 53 games in two seasons in Columbia. Second, would infractions from his time with the Hurricanes dog him in his new gig? That question was answered recently, when the NCAA suspended Haith for his first five games of this season. With another quality team in place, led by transfer Jordan Clarkson and junior Jabari Brown, Haith should be ready to put it all behind him and win 20-plus games again.
5. LSU is back: Standing 6-foot-9 and weighing in at 260 lbs., Johnny O'Bryant III may not be the second coming of Shaq, but he's bringing back some of the excitement of the Dale Brown era in Baton Rouge. Second year Tigers coach Johnny Jones has three more of his top scorers returning to back up O'Bryant, and his recruiting touch has the Tigers sitting pretty for the future as well.
PRESEASON SEC PLAYER OF THE YEAR: Julius Randle (Kentucky)
Well, duh. This guy could likely start in the NBA right now. He's the combination of size, strength and speed that comes along extremely rarely, even in DI basketball. If his basketball IQ is on track, he will find plenty of room underneath alongside his massively talented teammates. He's the very definition of "one to watch".
THE REST OF THE SEC FIRST TEAM:
G Jordan McRae (Tennessee): When the media voted for preseason POY, Randle got the lion's share of the votes, but McRae grabbed five votes to come in second on the ballot. The lanky 6-foot-6 wing had some monster games last season, scoring 34 on LSU and 35 at Georgia. With a solid team around him, he could steal some more of the spotlight.
F Johnny O'Bryant III (LSU): It's been a while since Tiger fans had a big man to write home about. O'Bryant is on the cusp of a breakout season, and it wouldn't be a shock to see him average a double-double for the season and get LSU back to the NCAA tournament, where they last ventured in 2009.
G Trevor Releford (Alabama): Releford jacked up his scoring (14.9 ppg) and defense (2.1 spg) last season,  and he's always been a pretty good distributor. He's on the Cousy Award watch list this season, and he'll be driving the bus in Tuscaloosa.
F Jarnell Stokes (Tennessee): Stokes averaged nearly a double-double last season while holding down the post. Imagine what he'll do with Maymon healthy and ready to step in next to him?
FIVE MORE NAMES TO KNOW:
G Marshall Henderson (Ole Miss)
F Patric Young (Florida)
G Andrew Harrison (Kentucky)
G Scottie Wilbekin (Florida)
C Willie Cauley-Stein (Kentucky)
BREAKOUT STAR: Jordan Clarkson (Missouri)
Clarkson wasn't exactly hidden under a bushel at Tulsa, where he averaged 14.2 points per game over two seasons, but he'll definitely be on the biggest stage now that he's eligible to finish out his career at Mizzou. He stands 6-foot-5 and definitely has a scorer's mentality, but Clarkson revealed that he's been working out at point and off-guard this summer, so his versatility and nose for the ball will have him in the mix from day one in Columbia.
COACH UNDER PRESSURE: Tony Barbee (Auburn)
Auburn hasn't been to the Big Dance in a decade, and make no mistake, they hired Calipari disciple Barbee away from a successful stint at UTEP to rectify that situation. Instead they've had a rash of transfers and three losing seasons in a row. Last season was the worst, as the Tigers limped to a 9-23 overall record. Nothing short of a 20-win season and a postseason appearance can save Barbee's job.
ON SELECTION SUNDAY WE'LL BE SAYING … : Has anyone seen my Marshall Henderson-to-English dictionary lying around?
I'M MOST EXCITED ABOUT: Finding out what this year's iteration of the Big Blue NBA Express can do.
FIVE NON-CONFERENCE GAMES TO CIRCLE ON YOUR CALENDAR:
November 12: Kentucky vs. Michigan State (in Chicago)
December 10: Kansas at Florida
December 14: Kentucky at North Carolina
December 14: Tennessee at Wichita State
December 28: Louisville at Kentucky
PREDICTED FINISH
1. Kentucky: I'm running out of new ways to say it: these guys are the ish. Their bench could beat 95% of DI teams.
2. Florida: Billy Donovan has another well-built roster in Gainesville, with size and toughness up front.
3. Tennessee: With experience, a towering frontcourt and a gritty defense, Cuonzo Martin has the Vols loaded for bear.
4. LSU: We'll hear a lot about Johnny O'Bryant, but he's not going to have to get it done by himself. Anthony Hickey (11.8 ppg, 3.8 apg) will have plenty of options to score or dish to an open teammate on this roster.
5. Missouri: Plenty of question marks with Flip and Laurence Bowers gone, but Jabari Brown and Jordan Clarkson should pick up the slack.
6. Alabama: Led by Trevor Releford, the Tide can roll this season, but can they make the tourney?
7. Mississippi: Could go higher or lower based on what side of the bed Marshall Henderson wakes up on any given day.
8. Arkansas: With Mike Anderson at the helm, running a legacy version of 40 minutes of hell, this team could easily make a leap this season.
9. Vanderbilt: Kevin Stallings just doesn't have the talent of years past.
10. Texas A&M: Does Johnny Football have a decent handle? I'm sure the Aggies would give him a try.
11. Georgia: They love Mark Fox in Athens, but he's going to need to ramp up the recruiting to do business in the SEC consistently.
12. South Carolina: Frank Martin will have success wherever he goes, but this roster just isn't there yet.
13. Auburn: See above, re: hot seat.
14. Mississippi State: Rick Ray has some talent on the roster, with Jalen Steele, Trivante Bloodman and Craig Sword sounding like characters in a game of Dungeons and Dragons. Give him another couple of years before you judge what this program can do.