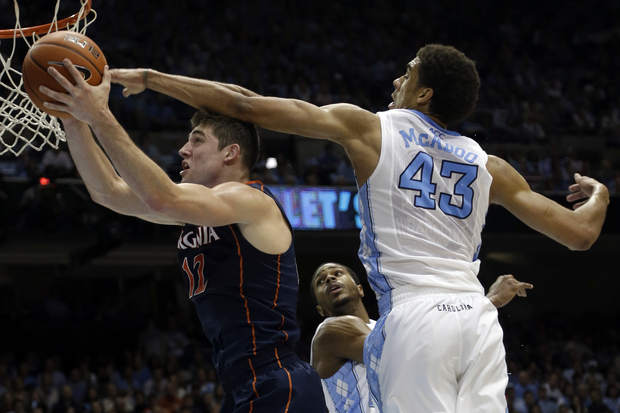 All month long, CBT will be rolling out our 2013-2014 season preview. Check back throughout the day, as we'll be posting three or four preview items every day.
To browse through the preview posts we've already published, click here. To see the rest of the Conference Previews we've published, click here. For a schedule of our previews for the month, click here.
All it took was one cycle through conference realignment for the ACC to morph into one of, if not the strongest league in the country, particularly at the top. As many as five teams have the talent on their roster to feasibly put together a run to the Final Four: Duke and North Carolina will almost always be in that conversation, as will new member Syracuse. Notre Dame has arguably the best back court in the country, and Virginia will enter this season as one of the nation's most underappreciated teams.
For my money, Duke is the favorite in this league, but I could see any of those four teams playing their way into the No. 2 spot in the conference standings. Raiding the Big East sure did make the ACC a compelling conference.
REALIGNMENT MOVES
In: Notre Dame, Syracuse, Pitt
Out: None
FIVE THINGS YOU NEED TO KNOW:
1. Duke's best lineup may be small: As talented as the Blue Devils are this season, they're missing a presence in the paint. They don't have a physical, imposing shot blocker and rebounder to put around the rim. Marshall Plumlee isn't as blue-collar as his brothers were. Amile Jefferson is talented and stronger but still undersized. Josh Hairston is, well, Josh Hairston. On the other hand, Jabari Parker and Rodney Hood are both extremely talented combo-forwards. Could they be paired along the front line with a three-guard lineup on the perimeter? Can you imagine college fours and fives trying to chase those two around on the perimeter?
2. North Carolina's pieces don't necessarily fit: There are two things that Roy Williams' offense has when it's running right: a point guard that can get the ball up the floor in a split-second, and a big man that can score on command in the post while also beating defenses to the rim in transition. The combination of Marcus Paige and Nate Britt should resolve the first issue, but who steps up in the front court? Is Joel James in good enough shape? Has Brice Johnson gotten stronger? Does James Michael-McAdoo have a post move year?
3. Virginia is for real: Yes, the 'Hoos have a situation at the point they have to work out, as a group of guys battling injuries will look to replace veteran leader Jontel Evans. But beyond that, Tony Bennett has himself a squad. Joe Harris is one of the nation's most underrated stars, and Akil Mitchell is a sparkplug on the front line. Expect a much-improved Mike Tobey, who is coming off of a summer with Team USA's U19 team, and don't be surprised to see junkyard dog Justin Anderson take a big step forward, either. This group defends, and this season, they have some serious weapons offensively.
4. Boston College: This year's crop of realignment additions aren't the only former Big East members that will make some noise. Steve Donahue has himself a squad up in Beantown. Ryan Anderson and Olivier Hanlon form one of the best 1-2 punches in the league, and Joe Rahon is a formidable third option. BC has a decided — read: frigid — home court advantage as well. Tourney team this year?
5. What should we expect from Tyler Ennis?: I'm not sure there is a more important player in the ACC than Ennis, who is the only true point guard on the Syracuse roster. There's enough talent around him, particularly in the front court, to make the Orange a formidable Final Four threat, but he's more or less the only playmaker that Jim Boeheim has.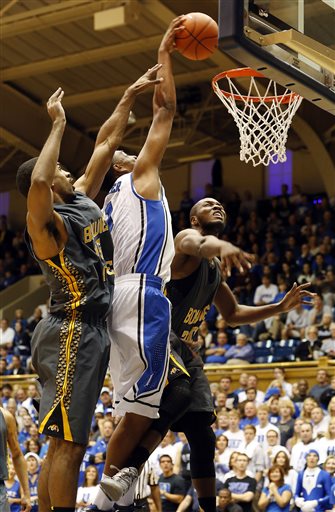 PRESEASON ACC PLAYER OF THE YEAR: Jabari Parker, Duke
Before Andrew Wiggins turned into 'ANDREW "OMFG" WIGGINS!!!', it was Parker that most scouts believed was the best prospect in the Class of 2013. He was surpassed by a couple of guys as a senior in high school, but he was also banged up as a senior. Now healthy and in shape, Parker is going to have a chance to truly showcase his ability. He's an all-american caliber guard with a power forward's size. You'll enjoy watching him play. Trust me.
THE REST OF THE ALL-ACC FIRST TEAM:
C.J. Fair, Syracuse: One of the most underappreciated players in the country. Quietly has had a terrific career.
Joe Harris, Virginia: Just as overlooked as Fair. Playing on one of the slowest teams in the country, averaged 16.1 ppg and shot 42.5% from three.
Jerian Grant, Notre Dame: Big, talented lead guard will be Notre Dame's best player this season.
P.J. Hairston, North Carolina: A terrific talent, his off-the-court issues seem to be resolved. How long will his suspension last?
FIVE MORE NAMES TO KNOW:
Rodney Hood, Duke
Eric Atkins, Notre Dame
Ryan Anderson, Boston College
Olivier Hanlon, Boston College
Dez Wells, Maryland
BREAKOUT STAR: Jerami Grant, Syracuse
There are two other options I considered here — Rodney Hood and Mike Tobey — but I think that Grant has the best chance to see a significant uptick in his production. A long, athletic forward, Grant is a high-energy guy that can make plays defensively and get to the glass. A very nice compliment to C.J. Fair.
COACH UNDER PRESSURE: Jeff Bzdelik, Wake Forest
It seems like everyone in Winston-Salem wants him gone. How bad is it down there? Demon Deacon fans want their AD fired in part because he hired Bzdelik. That's not a good sign, and this Wake Forest squad is not a good team. That's not a good combination. Not a good.
ON SELECTION SUNDAY WE'LL BE SAYING … : The ACC has five teams capable of making the Final Four.
I'M MOST EXCITED ABOUT: Seeing the teams on Tobacco Road invite the Orange-clad hills of Upstate New York.
FIVE NON-CONFERENCE GAMES TO CIRCLE ON YOUR CALENDAR:
Nov. 12, Duke vs. Kansas (Champions Classic in Chicago)

Nov. 12, VCU at Virginia
Dec. 3, Michigan at Duke
Dec. 4, North Carolina at Michigan State
Dec. 14, Kentucky at North Carolina
PREDICTED FINISH
1. Duke: Absurd amount of perimeter talent, the question for the Blue Devils will be just how well they can defend the paint and capitalize on the mismatches that Parker and Hood will create. Also key: Quinn Cook. Duke has shot makers, but not necessarily shot creators. Cook was terrific early last year, no so much in March.
2. Syracuse: That trip to Upstate New York won't be easy. Preparing to face that 2-3 zone won't be either. Some question marks for the Orange — Ennis, post play, perimeter shooting — but there is plenty of talent.
3. Virginia: I love this Virginia squad. They can really, really defend, and they've got more weapons offensively than anyone realizes. Joe Harris is a stud, as is Akil Mitchell. Will Mike Tobey and Justin Anderson make the jump as sophomores?
4. Notre Dame: The best back court in the ACC. Jerian Grant and Eric Atkins are known quantities, while Demetrius Jackson will allow the Irish to give three and four guard looks. They need Zach Auguste to become a force in the middle.
5. North Carolina: I'm concerned about UNC, as you read above, but if Roy Williams does find his answers at the point and at center, and P.J. Hairston and James Michael-McAdoo live up to their potential, this team can win the league.
6. Maryland: Losing Seth Allen for a month will hurt, as Roddy Peters isn't quite ready to be a full-time point guard yet. Lots of talent on this team, with a bullying front line and the underrated Dez Wells leading the way. X-factor: Jake Layman.
7. Boston College: Couldn't love Olivier Hanlon and Ryan Anderson anymore, but will their supporting cast be strong enough to garner a bid to the NCAA tournament?
8. Pitt: The Panthers are the most intriguing team in the ACC. They've got some quality big men, so talent on their perimeter, and a young point guard in James Robinson that could end up being a star. Not a lot is proven, but I think this group has top-four-in-the-ACC potential.
9. NC State: T.J. Warren is slimmed down and ready to become a scoring machine. Cat Barber and Tyler Lewis have the potential to be a thrilling back court. I don't trust Mark Gottfried.
10. Georgia Tech: The Yellow Jackets might sneak up on some teams this season. They filled their hole at the point with Trae Golden and bring back their top four scorers from last season.
11. Florida State: The Seminoles' 9-9 ACC record last year was more impressive than it should have been thanks to four buzzer-beaters from the now-departed Michael Snaer.
12. Wake Forest: Losing C.J. Harris hurts, but with Travis McKie, Devin Thomas, Codi Miller-McIntyre and Arnaud-William Adala Moto all back, Bzdelik's team has a chance to finally make some noise in the ACC.
13. Clemson: The Tigers lose two of their top three scorers from a team that went 5-13 in the ACC and lost 10 of their last 11 games. Addition by subtraction or just subtraction?
14. Miami: The Hurricanes lost six of their top seven from last season, and with Angel Rodriguez, Shelden McClellan and DeAndre Burnett sitting out, Miami's practice squad could beat their starting five.
15. Virginia Tech: No Erick Green means James Johnson's club is in for a long season in Blacksburg.