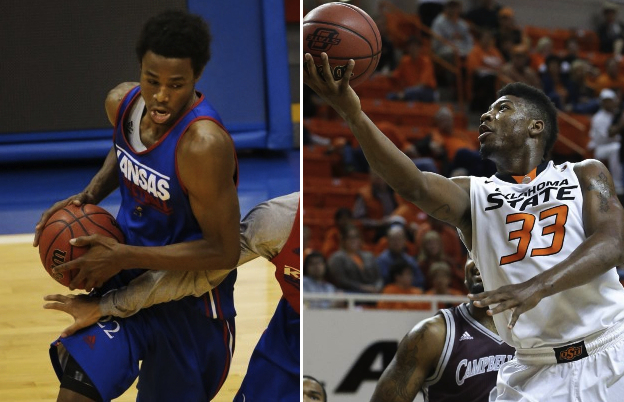 All month long, CBT will be rolling out our 2013-2014 season preview. Check back throughout the day, as we'll be posting three or four preview items every day.
To browse through the preview posts we've already published, click here. To see the rest of the Conference Previews we've published, click here. For a schedule of our previews for the month, click here.
Every season, the Big 12 story line starts out as "who can dethrone Kansas?" Usually, hope comes from one of two sources: either KU graduates a stalwart class, leaving a seemingly unbridgeable experience gap, or another program in the league assembles a quality group that seems primed for the league title. This season, both happened, as the Jayhawks lost their entire starting lineup, headlined by Ben McLemore and Jeff Withey. Then Marcus Smart elected to stay in Stillwater, making Oklahoma State into the best team in the league. So what does Bill Self do? He goes out and signs Andrew Wiggins, a polite, mind-bendingly athletic Canadian who's a lock to go No. 1 in the next NBA draft; a guy who's being casually mentioned in the same breath with Kevin Durant and LeBron James.
That sets us up for a fantastic season. Even the Big 12 media don't see a clear favorite. Kansas and Oklahoma State each garnered 77 overall votes in the annual preseason poll, and each landed five first-place votes. It's a tie that can only be broken on the court.
FIVE THINGS YOU NEED TO KNOW:
1. Kentucky has the most NBA prospects, Kansas has The One: Bill Self has never embraced the one-and-done phenomenon to the degree that John Calipari has, but he seems to be learning how to pick his spots. This is a young, talented Kansas team that may take a little time to develop, but the presence of Andrew Wiggins in Lawrence will be, quite literally, a game changer.
2. Oklahoma State can put an end to KU's dominance: Marcus Smart said it best, regarding Andrew Wiggins: "I'm not saying he can't do it, but he hasn't done it yet." Smart has done it, averaging 15.4 points, 5.8 boards, 4.2 assists and 3.0 steals for a 24-win team last year. With an experienced high-quality lineup around him – LeBryan Nash, Phil Forte, Markel Brown et al – Smart has the tools to lead the Cowboys to the pinnacle of the league and beyond.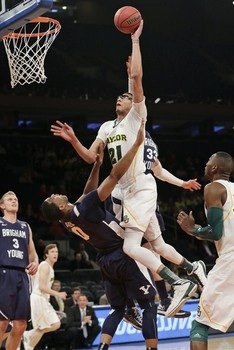 3. Baylor's got the inside track: Much of the excitement surrounding KU and OSU is centered on wing players. In Waco, it's the muscle inside that will bring the pain. The Bears earned praise as our No. 4 frontcourt earlier this preseason, which makes them a force to be reckoned with, not only in the Big 12, but nationally.
4. Tubby's in Lubb(ock): Texas Tech has had a rough… existence. Basketball-wise, the past decade has brought the program into the national eye, often for the wrong reasons. Bobby Knight resurrected his career in Lubbock, then handed things over to his son for a short-lived head coaching debut. Billy Gillispie took his second chance and drove his career and the program all the way off the rails. Now the reins have been handed to the even-keeled, title-toting Tubby Smith. He's the right guy to keep things chill in Lubbock, but can he bring the noise when it's needed?
5. Rick Barnes in danger of becoming a Texas Ex: Let me state this in no uncertain terms: Longhorn basketball was an afterthought before Barnes took over. A 2003 Final Four appearance turned that around, and Kevin Durant's one year in Austin made Texas a high-profile destination program for some of the nation's top one-and-done talent in recent seasons. Somehow, all that talent is resulting in diminishing returns; the Longhorns missed the tournament entirely last season, and haven't made the second weekend of the Big Dance since 2008. Nowhere else to lay that but on Barnes' doorstep.
PRESEASON BIG 12 PLAYER OF THE YEAR: Marcus Smart (Oklahoma State)
Andrew Wiggins may have the last laugh, but Smart is just so well positioned to make the most of his talent. He exhibited genius last season, he's surrounded by experienced talent in Stillwater and he'll be the guy with the ball in his hands. I'll hand him this honor by the slimmest of margins, with full confidence that he'll run with it.
THE REST OF THE BIG 12 FIRST TEAM:
G/F Andrew Wiggins (Kansas): Will Wiggins make me look foolish for making him POY 1b? I like his chances. Bill Self does a great job of integrating talent into a team concept, but Wiggins will stand out in a big way.
C Isaiah Austin (Baylor): Austin tallied eleven double-doubles last season, and he's in line to improve on those numbers. With a forest of big men to share the load, and Brady Heslip creating space with his long-range jumper, I like Ike to destroy some rims this season.
G Markel Brown (Oklahoma State): Allow me to quote former CBT dunk aficionado Troy Machir: "Markel Brown is a freak athlete, a composer of beautiful yet precise violence, and has very little regard for human life." When someone dunks so hard that officials have to eject him from the game to protect the innocent, he's kind of a big deal.
F Melvin Ejim (Iowa State): Ejim is almost a prototype of what Fred Hoiberg is doing in Ames. Standing just 6-foot-6, Ejim tallied fifteen double-doubles last season while also stretching the floor with his shooting touch. Ejim gives the Cyclones a puncher's chance every night out in the Big 12.
FIVE MORE NAMES TO KNOW:
G Shane Southwell (Kansas State)
F Corey Jefferson (Baylor)
F Perry Ellis (Kansas)
G/F LeBryan Nash (Oklahoma State)
C Joel Embiid (Kansas)
BREAKOUT STAR: Wayne Selden (Kansas)
In any other season, Selden would be the toast of Lawrence, Kansas. The presence of Wiggins means this likely lottery pick is actually being overlooked to some degree. Physical and quick, Selden can be the complete package for Bill Self, and his playmaking ability, level head and monster work ethic should make the freshman a factor for the Jayhawks sooner rather than later.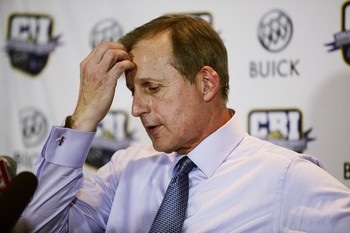 COACH UNDER PRESSURE: Rick Barnes (Texas)
As laid out earlier in this article, Barnes – the longest-tenured coach in the Big 12 by a wide margin – helped make Texas hoops into a household name. He's rested on his laurels long enough, however. It's Big Dance or Bust for Barnes this season.
ON SELECTION SUNDAY WE'LL BE SAYING …: Can Kansas and Oklahoma State both get No. 1 seeds?
I'M MOST EXCITED ABOUT: OSU and Kansas will definitely meet twice, and probably three times this season. This is proof that the Universe is not cold and aloof.
FIVE NON-CONFERENCE GAMES TO CIRCLE ON YOUR CALENDAR:
November 12: Kansas vs. Duke (in Chicago)
December 6: Baylor vs. Kentucky (in Arlington, TX)
December 10: Kansas at Florida
December 14: Kansas at New Mexico
December 21: Oklahoma St. vs. Colorado (in Las Vegas)
PREDICTED FINISH
1. Kansas: Until the streak is finally broken, this spot is reserved for the Jayhawks.
2. Oklahoma State: Really more of a co-number-one, but Travis Ford has to pull all the right strings to unseat Kansas.
3. Baylor: Overshadowed, but definitely primed to pull some upsets.
4. Iowa State: The Mayor has done an amazing job with transfers and undersized forwards. We don't see that changing much this season.
5. Oklahoma: Lon Kruger is patiently rebuilding the Sooners, and he'll likely notch a couple of upsets this season.
6. Kansas State: Graduation hurt this squad, but the backcourt of Spradling and Southwell gives the Wildcats a fighting chance.
7. West Virginia: Huggy Bear's troops need to make a concerted effort to stay out of the doghouse and on the court this season.
8. Texas: What more can we say? It's a make-or-break season in Austin.
9. TCU: The Horned Frogs could again play spoiler this year, but they're hoping for more.
10. Texas Tech: Even Tubby Smith will need some time to rebuild this program in total disarray.