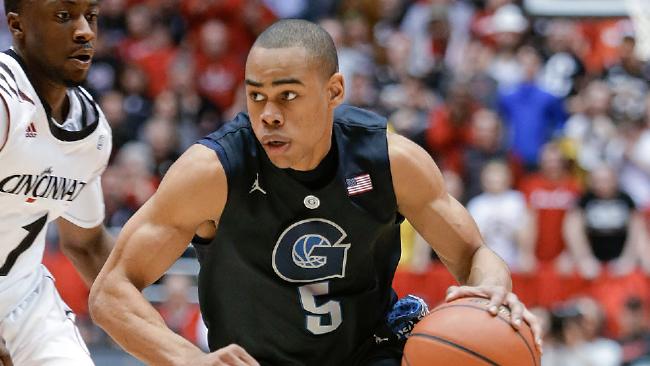 All month long, CBT will be rolling out our 2013-2014 season preview. To browse through the preview posts we've already published, click here.
WASHINGTON, D.C. — McDonough Memorial Gymnasium is a relic, a 2,500 seat "arena" that was built on Georgetown's campus back in the early 1950s. Complete with bleacher seating and a row of doors 20 feet from the baseline, McDonough harkens back to the days before anyone on the Hilltop had heard of John Thompson Jr. or Hoya Paranoia. The gym feels much more like a place to catch a high school game than a Big East contest.
These days, McDonough is generally reserved for volleyball and women's basketball while the men play across town at the Verizon Center, but it's still where John Thompson III hosts practice. And it's still where Georgetown raises banners. When you walk into McDonough and look up at the rafters on your right, you'll those banners, commemorating trips to the NCAA tournament.
And nothing else.
Since the Hoyas made the 2007 Final Four, Georgetown has gone 2-5 in the NCAA tournament, failing to make it past the first weekend in each of their trips. Making matters worse is the fact that the Hoyas have lost to a team with a double-digit seed in each of those tournament trips: No. 10 Davidson in 2008, No. 14 Ohio in 2010, No. 11 VCU in 2011, No. 11 N.C. State in 2012. It culminated this past season with Georgetown's most embarrassing loss yet, a whooping at the hands of No. 15 Florida-Gulf Coast, an upset that Georgetown has spent all offseason hearing about.
Being the reason a Cinderella becomes the biggest story in sports is not pleasant.
Gaining a reputation as the trendy upset pick in March is not a legacy to boast about.
(MORE: Check out the NBCSports.com Big East Preview. Where does Georgetown rank?)
"I'm sick of looking up at those banners, not having any letters under it," said senior point guard Markel Starks. "I have high expectations, not only for myself, but for this team. Every day I have to come in here and look up there, and there's nothing there. So for me, as a leader of this team, it's heartbreaking."
It's a trend that Starks, who was named to the Preseason All-Big East team, has spent all offseason stewing over. He'll be a senior this season. His college basketball career is over this spring, and the last thing he wants is for his career to come to a close with yet another upset early in the tournament.
"I put a lot of pressure on myself," Starks said. "I've had fun, through the good and the bad, and I want this senior year to be a good one. But when I think of guys that I really looked up to, the guys that came before me: Roy Hibbert, out in the second round. Chris Wright, out in the first round. Not to take anything away from their career, but I want to leave a legacy. I want to leave on a positive note."
"Deep in the Big Dance. That's what it's about."
—————————————————————————————————————
Georgetown is known for the big men they produce. Under the elder Thompson, those bigs were hall of famers like Patrick Ewing, Alonzo Mourning and Dikembe Mutombo. Under JT3, we've seem names like Jeff Green, Roy Hibbert, Greg Monroe and Otto Porter work their way into the first round of the NBA Draft. Even Henry Sims managed to play his way onto an NBA roster.
The Hoyas may have another in their midst this season, as UCLA transfer Josh Smith has been granted immediate eligibility by the NCAA. He'll be playing on Friday, when the Hoyas take on Oregon at Camp Humphreys in South Korea, which gives JT3 an all-american caliber talent in the post if Smith is capable of playing 25 minutes a night.
The big men get most of the attention because of their success at the professional level, but for the Hoyas, it's just as important for them to have excellent guard play as it is for them to have NBA players in the post. Think about the best Hoyas teams in recent seasons: Hibbert and Green had Jonathon Wallace. Monroe had Chris Wright and Austin Freeman. Sims had Jason Clark and Hollis Thompson.
That's the role that Starks will play, and he's talented enough to thrive as one of Georgetown's primary offensive weapons.
Hell, if you ask him, he may tell you that he's the best point guard in the country.
"It's an honor, but I'm not going to sit here and tell you it's humbling. I feel like I had an outstanding year," Starks said of receiving all-Big East honors and being named to the Cousy Watch list. "I want to win that award. It's one of my goals. I haven't received a lot of the other point guard accolades that I think I should have. I'm ready to check some names off this year. People need to know who I am."
Starks made sure to run down the public relations checklist, saying that he didn't want to take anything away from other talented point guards in the Big East and across the country, but having a conversation with him, it's quite clear that he truly does have the confidence that he can go up against — and outplay — any point guard in the country. The fact that he more than held his own at the Kyrie Irving Point Guard Skills Academy back in June only solidified that believe.
At that camp, Starks went up against the likes of Kevin Pangos, Jahii Carson, Shabazz Napier, Semaj Christon, Justin Cobbs and even Irving. I was there for part of it. Starks more than belonged on that court; there were times that he thrived.
"Those guys deserve all the accolades that they get. But I can play, too. I can really play, too," he said. "At times, you may not be able to see everything that I can do, but at the camps, I feel like that I outplayed a lot of the guys that get top level accolades. I'll see some of those guys this year, and that's where I want to do my talking."
But it was a conversation with one of those point guards that has really kept things in perspective for Starks. He had a chance to talk with Aaron Craft, the Ohio State point guard that makes up for what he lacks in physical tools and natural scoring ability with leadership, toughness and defensive.
Most importantly, Starks said, Craft's teams have played deep into March. He's made a Sweet 16, a Final Four and an Elite 8, and could very well make it that far once again this season.
"Craft gets a lot of [press] because he's a winner," Starks said. "He's a flat-out winner."
Starks wants to prove that he belongs in the same conversation as the best point guards in the country. He wants to make people look silly for overlooking him. He wants to make us regret not including him on this list of top 20 point guards. He wants to put up the points and hand out the assists and throw the no-look passes and be the big man on campus.
Every athlete does.
But he also knows that will only get you so far if you can't win when it counts.
"Doesn't matter what you do individually, if you're not winning?" Starks said. "You have to win ball-games. On the big stage. I can sit here and ramble on, but I gotta do it in the big lights. It's not just big games during the season, it's in the dance."