All month long, CBT will be rolling out our 2013-2014 season preview. Check back throughout the day, as we'll be posting three or four preview items every day.
To browse through the preview posts we've already published, click here. To see the rest of the Conference Previews we've published, click here. For a schedule of our previews for the month, click here.
Technically, the Big East conference that you will watch this season is a brand new league. When the Catholic 7 split away from the football schools, they brought the name and the rights to Madison Square Garden for the league tournament with them, but technically speaking, this is the new conference, not the American. And while it's disappointing to know that Syracuse will never play Georgetown for the Big East title again and that UConn and Pitt will never have another overtime thriller in the Garden, there is still a lot to like about this league and its future. For once, we have a conference — and a very good one at that — whose main focus is hoops.
REALIGNMENT MOVES
In: Creighton, Xavier, Butler
Out: Louisville, UConn, South Florida, Pitt, Syracuse, Notre Dame, Cincinnati, Rutgers
FIVE THINGS YOU NEED TO KNOW:
1. This is the most difficult conference to predict this season: Heading into the start of the 2013-2014 season, Marquette has been the pick to win the Big East by just about everyone, including myself. But you shouldn't take that to me that the Golden Eagles will have a cakewalk to the regular season title. There's an argument to be made that as many as eight of the ten teams could earn a bid to the NCAA tournament. The consensus is that Butler, Seton Hall and DePaul make up the bottom three, but there's really no way to differentiate between team No. 2 and team No. 7. Expect a wild race for the league title.
2. St. John's will be better than you think: There really hasn't been all that much hype about the Johnnies this offseason, but when you look up and down there lineup, there is quite a bit of talent. D'angelo Harrison is back from his suspension and God'sgift Achiuwa is back from his redshirt year. Freshman Rysheed Jordan only bolsters a back court that already includes Phil Greene and Jamal Branch, and with JaKarr Sampson, Sir'Dominic Pointer and Chris Obekpa up front, Lavin has the athleticism and versatility to matchup with any front line. If the pieces all come together, look out.
3. And so will Providence: This may be the year for Providence to break through. Former top 20 recruit Kris Dunn is finally healthy and will join a dynamic back court that includes the league's reigning leading scorer, Bryce Cotton, and thrilling, 6-foot-7 lead guard Brandon Austin. Up front, transfers Tyler Harris and Carson Derosiers are eligible and will join Kadeem Batts and LeDontae Henton. The Friars will put up a lot of points.
4. Georgetown is dangerous with Josh Smith eligible: The Hoyas got a gift in October when massive center Josh Smith was granted immediate eligibility by the NCAA. Smith is an all-american caliber talent — and a perfect fit as a five in Georgetown's system — when he's in shape. But will he be able to play 25 minutes a night? Will he avoid foul trouble? It's up to Smith how good he wants to be, but if he finally flips the switch, Georgetown has the pieces around him — notably Markel Starks — to be a title contender.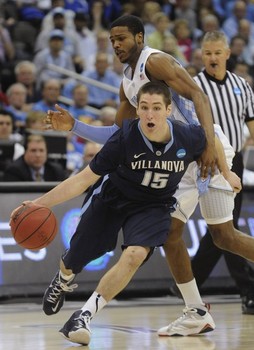 5. Keep an eye on Ryan Arcidiacono: As a freshman at Villanova, Arch was coming off of a back surgery that kept him off the court in his final season of high school hoops. He was never quite in rhythm or in shape last season, but after an offseason of work, particularly on his strength, don't be surprised to see him become one of the better point guards in the country.
PRESEASON BIG EAST PLAYER OF THE YEAR: Doug McDermott (Creighton)
McDermott will be a three-time all-american by the time his senior season is over, a fact that is unheard of in this day and age of early entry. McDermott is one of the purest scorers in the country, a 6-foot-7 forward with an array of post moves and a lethal three-point stroke. It will be interesting to see how he handles playing in a conference that features big men with much more size and athleticism that he saw in the Missouri Valley, but when a guy has a chance to score 3,000 points in his career, you stop worrying about whether or not certain matchups will slow him down.
THE REST OF THE ALL-BIG EAST FIRST TEAM:
Semaj Christon, Xavier: Christon is a big point guard that averaged 15.2 points and 4.6 assists as a freshman. The biggest reason Xavier has a chance to contend in this league.
Bryce Cotton, Providence: Coming off of a season where he averaged 19.4 points, expect Cotton to be a major factor is the Friar's resurgence.
Davante Gardner, Marquette: Gardner is similar to Josh Smith in that he's an immense low-post talent that's battled some weight issues through his career.
Fuquan Edwin, Seton Hall: It's a shame that Edwin has been hidden at Seton Hall throughout his career. A terrific defender that averaged 16.5 points and shot 41.2% from three.
FIVE MORE NAMES TO KNOW:
Ryan Arcidiacono, Villanova
Markel Starks, Georgetown
D'angelo Harrison, St. John's
JaKarr Sampson, St. John's
Kris Dunn, Providence
BREAKOUT STAR: Kris Dunn (Providence)
Dunn was one of the most highly-sought after players in the country in the Class of 2012, but he spent much of last season battling a shoulder injury. Now that he's healthy, and with an offseason of improvement under his belt, don't be surprised to see Dunn take over Vincent Council's role as the Friar point guard and post big numbers while helping the Providence turnaround.
COACH UNDER PRESSURE: Brandon Miller (Butler)
It would be easy to say Kevin Willard in this situation, because most people will have Willard listed on the hot seat entering the season. But I'm going with Miller. This single most difficult thing to do in coaching is to be the guy after The Guy, and Miller is replacing Brad Stevens, The Guy that led Butler to back-to-back national title games and orchestrated a jump from the Horizon to the Big East in the span of 15 months. That ain't easy.
ON SELECTION SUNDAY WE'LL BE SAYING … : The Big East got more bids than the American.
I'M MOST EXCITED ABOUT: Watching Davante Gardner battle for position against Josh Smith.
FIVE NON-CONFERENCE GAMES TO CIRCLE ON YOUR CALENDAR:
Nov. 16, Ohio State at Marquette

Dec. 7, Marquette at Wisconsin
Dec. 15, Syracuse at St. John's (at MSG)
Nov. 8, Georgetown vs. Oregon (In South Korea)
Dec. 21, Georgetown at Kansas
PREDICTED FINISH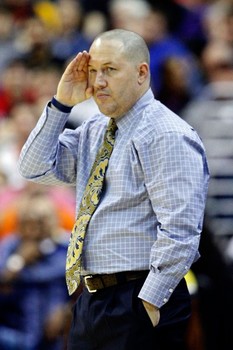 1. Marquette: The Golden Eagles will have a different look than we're used too as their strength will be the front court, but there are few coaches better at maximizing talent, regardless of roster makeup, than Buzz Williams.
2. Georgetown: It's difficult to overstate just how important it is for the Hoyas to get Josh Smith eligible at the start of the season. With the underrated Markel Starks and D'Vauntes Smith-Rivera holding down the back court, the Hoyas could win the league if everything breaks right.
3. Creighton: The Bluejays caught a couple of breaks this offseason, as Doug McDermott returned to school and Grant Gibbs got a sixth year of eligibility. Losing big man Gregory Echenique is really going to hurt, especially against teams with big low-post scorers.
4. St. John's: The Johnnies have loads of talent and athleticism on their roster this season, and the presence of shot-blocker Chris Obekpa around the rim should allow Steve Lavin's to apply a lot of pressure defensively. Can Lavin find a way to turn the talent into wins?
5. Providence: Much of this depends on the health of Kris Dunn's shoulder, but if he's at 100%, the Friars have quite a bit of talent on their roster, especially on the perimeter. Expect a lot of points when Providence plays.
6. Villanova: Ryan Arcidiacono should be in line for a big sophomore season, and the Wildcats return six of their top seven scorers, including Jayvaughn Pinkston and Darrun Hilliard. The key will be the play of Daniel Ochefu inside, as Mouphtaou Yarou has graduated.
7. Xavier: Semaj Christon has the potential to turn into an all-american this season, and with Dee Davis and Justin Martin back, Chris Mack's club should hold their own on the perimeter. Three-point shooting and the effectiveness of Matt Stainbrook and Isaiah Philmore inside will be key.
8. Seton Hall: I love Fuquan Edwin, and the addition of Sterling Gibbs and Jaren Sina will help solidify the perimeter attack, but there are just so many unknowns with this group.
9. Butler: A new head coach leading a team that loses Rotnei Clarke, Andrew Smith (graduation) and Roosevelt Jones (wrist) into a new, tougher conference is not the ideal recipe success.
10. DePaul: The Blue Demons should be more competitive than what we've become accustomed to, but until this group proves they can get themselves out of the cellar, that's where we'll assume they end up.