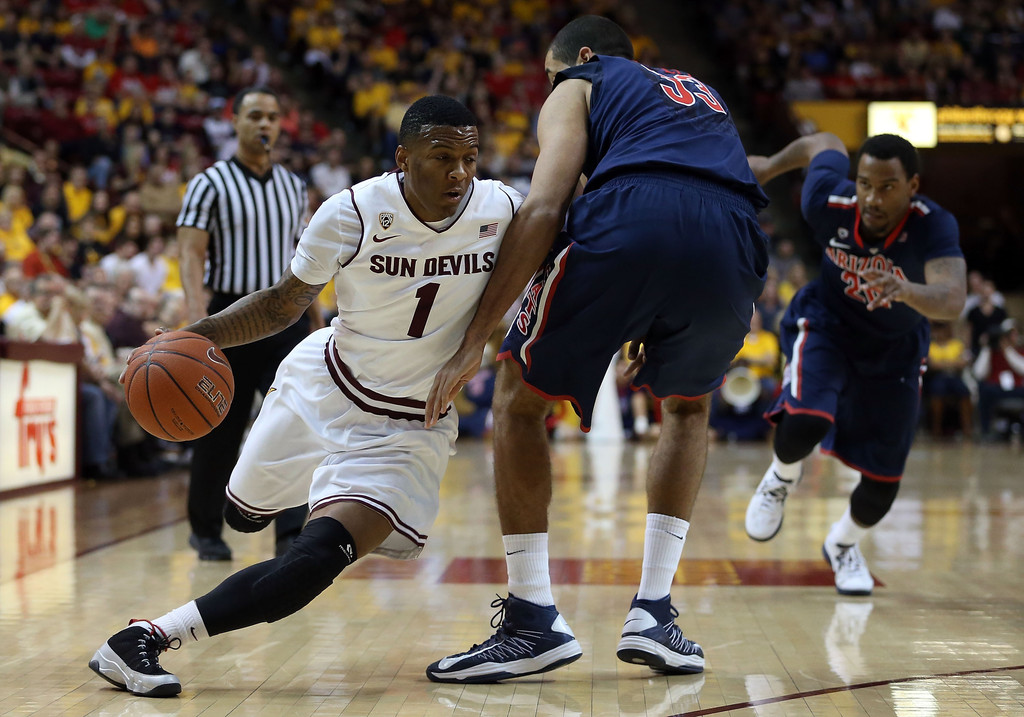 All month long, CBT will be rolling out our 2013-2014 season preview. Check back throughout the day, as we'll be posting three or four preview items every day.
To browse through the preview posts we've already published, click here. To see the rest of the Conference Previews we've published, click here. For a schedule of our previews for the month, click here.
After placing six teams in the 2009 NCAA tournament the Pac-12 hit a rough patch. A really rough patch, receiving a total of eight bids to the Big Dance from 2010-12. Prior to the start of the 2012-13 campaign many expected more futility, but while the league still wasn't at the level fans expect the fact of the matter is that the Pac-12 displayed signs of improvement. Look for more of the same in 2013-14, with there being eight programs who enter the season with realistic hopes of contending for the league crown. After going through a rough stretch on the court, look for the Pac-12 to reassert itself as a power conference in 2013-14.
FIVE THINGS YOU NEED TO KNOW:
1. New additions will make Arizona a much better perimeter defensive team: Losing Mark Lyons and Solomon Hill shouldn't be overlooked but the arrival of Aaron Gordon and Rondae Hollis-Jefferson, and transfer T.J. McConnell now being eligible will make Sean Miller's team a better defensive squad. After ranking among the nation's best in defending the three for two consecutive seasons the Wildcats struggled in that department last season. Adding McConnell, an Atlantic 10 All-Defensive Team selection at Duquesne, will help in this regard.
2. Colorado and Washington both have rebounding issues to address: Both the Buffaloes and Huskies need to account for the loss of their leading rebounders from a season ago, with CU's Andre Roberson in the NBA and Washington's Aziz N'Diaye out of eligibility. Who steps up? For Colorado, redshirt freshman Wesley Gordon and sophomores Xavier Johnson and Josh Scott will be key. As for the Huskies, who led the conference in rebounding margin, San Francisco transfer Perris Blackwell, Shawn Kemp Jr. and Desmond Simmons are some of the options.
3. Larry Drew II was more valuable to UCLA than many wanted to admit: The butt of many people's jokes due to the way in which he left North Carolina, Drew ended up leading the Pac-12 in both assists and assist-to-turnover ratio last season. With him gone, who will run the show for Steve Alford? Two of the three possibilities are freshmen (Bryce Alford and Zach LaVine), but the best option may be 6-8 sophomore Kyle Anderson. The right answer to this question will make the Bruins a threat to repeat as Pac-12 regular season champions.
4. Andy Enfield takes over at USC: After leading FGCU to the Sweet 16 Enfield took over at USC, and he'll have his work cut out for him given the Trojans' personnel losses from a season ago. Two transfers (guard Pe'Shon Howard and center D.J. Haley) will be asked to contribute immediately, and the same can be said for freshmen Julian Jacobs and Roschon Prince. But teams better get their shots in early, because with the strides the Trojans have made on the recruiting trail they likely won't be down for long.
5. Oregon looks to continue its recent run of success with transfers: Dana Altman's Ducks will once again be a factor in the Pac-12 thanks in large part to the return of guards Dominic Artis, Damyean Dotson and Johnathan Loyd. Add in transfers Joseph Young (Houston) and Jason Calliste (Detroit), and Oregon is loaded on the perimeter. But if they're to truly contend for a Pac-12 title a big season will be needed from Mike Moser, who's immediately eligible after transferring in from UNLV. Injuries played a major role in Moser's struggles at UNLV last season, and a less cluttered interior rotation should give him the room needed to return to the form he displayed in 2011-12 (14.0 ppg, 10.4 rpg).
PRESEASON PAC-12 PLAYER OF THE YEAR: Jahii Carson (Arizona State)
Arizona State insisted that they'd play at a higher tempo last season due in large part to the addition of Carson, and the point guard certainly didn't disappoint as he led the nation's freshmen in scoring (18.5 ppg) while also dishing out 5.1 assists per game. Now that the Sun Devils want to play even faster, Carson should be even more dangerous in his sophomore campaign. The question: can he lead Arizona State to its first NCAA tournament appearance than 2009?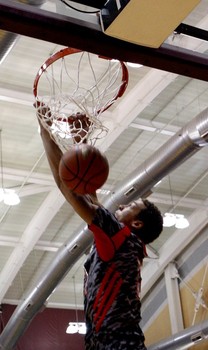 THE REST OF THE PAC-12 FIRST TEAM:
G Spencer Dinwiddie (Colorado): Dinwiddie's one of the best perimeter defenders in the country, and his size (6-foot-6) makes the Los Angeles native a tough matchup at the point.
G C.J. Wilcox (Washington): Wilcox averaged 16.8 points and 4.3 rebounds per game for the Huskies last season. With Abdul Gaddy and Scott Suggs gone, he may have to score even more as a senior.
F Aaron Gordon (Arizona): Incredibly athletic, the McDonald's All-American will likely be a factor at both forward spots for the Wildcats. How much time he spends at the three will likely depend on how well he defends the position.
F Dwight Powell (Stanford): After averaging 14.9 points and 8.4 rebounds per game Powell earned first-team All-Pac 12 honors and the league's Most Improved Player award. He's a serious threat to win Pac-12 Player of the Year this season.
FIVE MORE NAMES TO KNOW:
G T.J. McConnell (Arizona)
F Xavier Johnson (Colorado)
G/F Damyean Dotson (Oregon)
G Justin Cobbs (California)
C Jordan Bachynski (Arizona State)
BREAKOUT STAR: F Xavier Johnson (Colorado)
As the 2012-13 season wore on the Mater Dei product became even more of a factor for the Buffaloes, who made their second consecutive NCAA tournament appearance. With Andre Roberson off to the next level, Johnson (8.9 ppg, 4.8 rpg) will be needed to step up alongside guards Spencer Dinwiddie and Askia Booker if the Buffs are to contend for the Pac-12 crown.
COACH UNDER PRESSURE: Johnny Dawkins (Stanford)
The conference has a few options for this selection, including Ken Bone (Washington State), Craig Robinson (Oregon State) and Herb Sendek (Arizona State). But the choice here is Dawkins, whose team is the best equipped of the four to reach the NCAA tournament. Anthony Brown's back after missing all of last season, forward Dwight Powell is a league Player of the Year candidate and guards Aaron Bright and Chasson Randle should be productive as well. One can't forget about Josh Huestis either, as he's one of the Pac-12's best defenders.
ON SELECTION SUNDAY WE'LL BE SAYING … : The Pac-12 is back to where it should be.
I'M MOST EXCITED ABOUT: The amount of young talent in the Pac-12, with multiple players being pieces their respective programs can build around.
FIVE NON-CONFERENCE GAMES TO CIRCLE ON YOUR CALENDAR:
December 14: Arizona at Michigan
November 8: Colorado vs. Baylor (in Dallas)
November 8: Oregon vs. Georgetown (Camp Humphries, South Korea)
December 19: UCLA vs. Duke (in New York)
December 18: Stanford at UConn (in Hartford)
PREDICTED FINISH
1. Arizona: The Wildcats will be better defensively thanks to the presence of McConnell, Gordon and Rondae Hollis-Jefferson. But who makes jump shots on a consistent basis? Find a suitable answer (or answers) and this group can get to Jerry World.
2. Oregon: With four of their top five scorers gone the Ducks are sure glad they added transfers Jason Calliste, Mike Moser and Joseph Young. And that sophomore tandem of Dominic Artis & Damyean Dotson has the potential to be special.
3. Colorado: Andre Roberson's a big loss, especially as a defender and rebounder, but Tad Boyle's built himself a program that can be a consistent Pac-12 contender.
4. UCLA: Steve Alford won't lack for talent in his first season in Westwood, but who takes over at the point for Larry Drew II? If freshmen Bryce Alford and Zach LaVine are ready, the Bruins will be fine.
5. California: Losing Allen Crabbe hurts but there's still plenty of talent in Berkeley. If Richard Solomon is fully engaged in the action night in and night out, the Golden Bears will contend for the league title.
6. Stanford: Look for Dwight Powell to become a household name nationally, and if Rosco Allen's European experience (Hungary's U-20 team) put some "dog" in him he could break out as a sophomore.
7. Arizona State: Adding Jermaine Marshall and Shaquielle McKissic to the equation certainly helps matters, and ASU will be deeper than they were last season. But who has the intangibles that the departed Carrick Felix provided?
8. Washington: The Huskies have some questions to answer in the paint, but there should be no doubting the long-term impact that Nigel Williams-Goss will have on the program. One word: winner.
9. Utah: Things are beginning to look up in Salt Lake City, and Jordan Loveridge should be even better as a sophomore. But there's still much work to do be done before the Utes are a factor in the Pac-12.
10. Oregon State: Angus Brandt returns after suffering a torn ACL in November, which will help Devon Collier and Eric Moreland inside. With Roberton Nelson providing scoring punch on the perimeter OSU can move up if they commit defensively. Which has been said in each of the two seasons prior to this one.
11. USC: Given the roster turnover from last season USC's newcomers will have plenty of opportunities as Andy Enfield looks to build an uptempo system like the one he had at FGCU.
12. Washington State: With the addition of Ike Ireogbu the Cougars have an option at the point they sorely lacked last season. But losing Brock Motum and Mike Ladd is kind of a big deal.