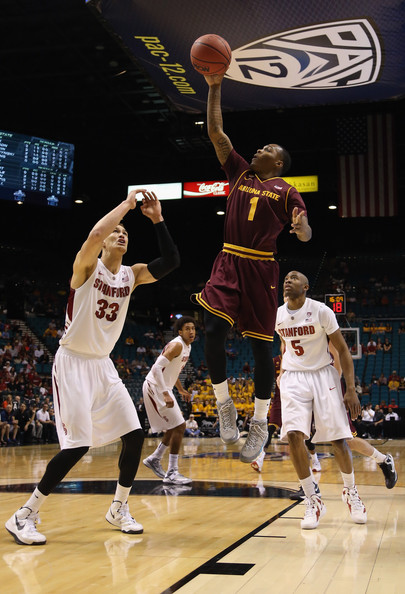 All month long, CBT will be rolling out our 2013-2014 season preview. To browse through the preview posts we've already published, click here.
Prior to the start of the 2012-13 season Arizona State head coach Herb Sendek said on multiple occasions that his team would play faster. And many snickered, pointing out that the team's adjusted tempo of 63.6 in 2011-12 was the highest (ranked 281st nationally) of any Sendek-coached team during his time in Tempe. And from a scoring standpoint, since the 2008-09 squad led by James Harden and Jeff Pendergraph (now Jeff Ayres) averaged 69.4 points per game no Arizona State squad in the three seasons that followed averaged more than 67 points per contest.
But while the cynics scoffed Arizona State knew they had a point guard in redshirt freshman Jahii Carson capable of changing the tempo at which the Sun Devils ran, and sure enough the Mesa native's impact was felt immediately. With Carson leading the way Arizona State increased its scoring average by more than ten points per game (71.8 ppg after averaging 61.0 ppg in 2011-12) and more importantly the Sun Devils increased their win total by 12, going from ten wins to 22 and a trip to the Postseason NIT.
In regards to Carson's (18.5 ppg, 5.1 apg) individual achievements, he became the first freshman to average at least 18 points and five assists per game since Mount St. Mary's guard Chris McGuthrie (19.8, 5.1) did so back in 1992-93. With the combination of his individual skills and the way in which he helped transform the Arizona State program, Carson very well could have made the decision to enter the 2013 NBA Draft.
But he didn't, deciding instead to return to Tempe with the goal of leading Arizona State to its first NCAA tournament appearance since 2009.
CLICK HERE to read NBCSports.com's Pac-12 Preview
"The most important information that we used to make the decision was Jahii's own feelings about what he needed to do," Sendek told NBC Sports. "Jahii has a very high basketball IQ, and he determined that this was really something that made sense for him."
Carson wasn't the first player to ultimately decide that returning to school was the best decision for him, and he certainly won't be the last. But the concern in such situations is that instead of focusing on what the team needs, a player who returns to school does so with his focus being what the NBA scouts and executives want to see. And a failure to focus on the task at hand can result in a negative outcome for both the player and the program. However Sendek made it clear in early October that this would be the point guard's final season in Tempe, and that move has removed most of the pressure Carson could have felt regarding the process.
"Many people, when they have the opportunity to go to the NBA, they try to play into what the NBA expects of them," Carson told NBC Sports. "A lot of guys come back and say, 'the NBA wants me to shoot better' or 'they want to see my ball-handling skills' and they don't necessarily play to win; they play to what the NBA scouts want to see.
"I'm the type of player who wants to win, because the more you win the better you'll look to anybody," Carson continued. "Everybody remembers a winner, so with my coach getting it out there and letting people know this will be my last season at Arizona State that takes the pressure off of me and allows me focus on making my teammates better and winning basketball games."
If there's one area that Carson needed to improve in during the offseason it was his perimeter shooting, as he made just 32% of his shots from beyond the arc in 2012-13. While the new rules limiting contact on the perimeter may benefit a jet-quick guard like Carson, there's also the possibility of teams sagging off and essentially daring him to prove that he can consistently knock down perimeter shots. But to this point in the preseason, Carson's perimeter shot has improved according to Sendek.
And while that's certainly a skill Carson needed to improve upon with an eye towards the long-term goal (getting to the NBA and being productive there), more importantly it will help Arizona State in the short-term.
CLICK HERE to read through the rest of NBCSports.com's feature stories
"I think the two will go hand-in-hand," noted Sendek. "The more he helps Arizona State, the better that will prepare him for the NBA and enhance his chances in that league."
Arizona State lost two double-digit scorers from last season in Evan Gordon (10.1 ppg) and Carrick Felix (14.1, 8.6 rpg), with the latter also being a valuable team leader both on the court and in the locker room. But center Jordan Bachynski returns for his senior season after posting averages of 9.8 points, 5.9 rebounds and a Pac-12 best 3.4 blocked shots per game, and the experienced Jonathan Gilling (9.7, 6.1) returns as well. Add in seven newcomers and Arizona State expects to have the depth needed to play at an ever faster pace.
One of those newcomers is senior guard Jermaine Marshall, who averaged 16.3 points per game at Penn State last season. Marshall's arrival should help relieve some of the nightly attention that Carson receives from opponents, but the sophomore point guard will still be asked to score. If anything, Marshall's arrival is expected to help make Carson a more efficient player.
"I don't think it's going to decrease my scoring," said Carson of Marshall's possible impact. "I do think that it will increase my productivity. With me being a more mature player, I'm going to be able to hit three-pointers, make my free throws and be more efficient from the field than I was last year. "
The graduation of Felix makes leadership all the more important, and that's an area in which veterans such as Carson, Bachynski and Gilling will be asked to grab the reins. And with the Pac-12 being an improved conference with eight teams feeling that they've got the talent needed to reach the NCAA tournament, Arizona State's climb won't be an easy one. But having an elite point guard will definitely help matters, and for all the individual praise heaped upon Carson the goal for his final season in Tempe is to accomplish what he didn't a year ago: play in the NCAA tournament.
"I wanted to get to the NCAA tournament and only a few people get to experience that in their lives, and I want to be one of those people," said Carson. "I felt like I had unfinished business here, and I want to leave a legacy here at Arizona State. And by making the NCAA tournament, I feel that it would secure a legacy for me at Arizona State."