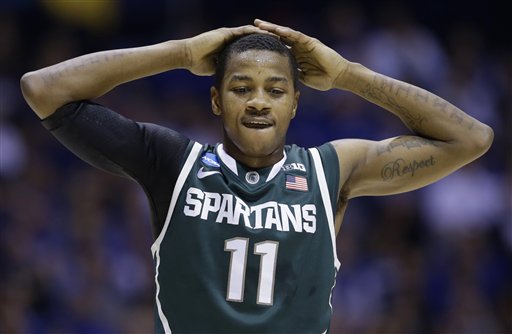 All month long, CBT will be rolling out our 2013-2014 season preview. Check back throughout the day, as we'll be posting three or four preview items every day.
To browse through the preview posts we've already published, click here. To see the rest of our preview lists, click here. For a schedule of our previews for the month, click here.
Throughout the course of the season there will be many debates over who the best player in the country is. Marcus Smart? Andrew Wiggins? Doug McDermott? Someone else? It's a fun discussion to have, because frankly the debate won't end until awards are handed out Final Four weekend. But the same can be said in regards to another important question: who are the nation's most important players? A team's most important player may not be the most talented, but he's the one whose best is needed every night if the team is to be successful and make a run in the spring.
Here are ten of the nation's most important players entering the 2013-14 season:
1. Keith Appling (Michigan State): Now a senior, the point guard from Detroit has to be at his best if the Spartans are to win the Big Ten and make a run at the school's third national title. Last season Appling posted averages of 13.4 points and 3.3 assists per game, but the assist-to-turnover ratio (1.4) has to improve. Do that, and Michigan State is capable of winning it all.
2. Marcus Smart (Oklahoma State): We went with Smart as our national Player of the Year due in part to his impressive freshman campaign. But for all the production (15.4 ppg, 5.8 rpg, 4.2 apg) the Cowboys were one-and-done in the NCAA tournament. Travis Ford's team doesn't lack for talent, as Markel Brown and Le'Bryan Nash returned to Stillwater as well, but if the Cowboys are to leave their mark in the Big 12 and nationally it's Smart who will lead the way.
3. Andrew Harrison (Kentucky): Harrison (currently dealing with a right knee contusion) hasn't played a college game, but the fact that he's the point guard for John Calipari's talented squad makes him a very important player. In regards to both his size (6-foot-4) and skill set Harrison, one of six McDonald's All-Americans to pick UK, is tailor-made for the dribble drive motion system that turned the likes of Derrick Rose, John Wall and Marquis Teague into NBA Draft picks. If Kentucky is to make a run at a ninth national title, Andrew Harrison will be an important piece of the puzzle.
4. Naadir Tharpe (Kansas): Andrew Wiggins has received much of the preseason press and with good reason; he's an incredibly gifted player. But for all the talent Kansas has on the wings and inside, the same can't be said for their depth at the point. If Tharpe (5.5 ppg, 3.1 apg) proves himself to be capable of running the show in an efficient manner, the Jayhawks can win yet another Big 12 title and even a national title.
5. T.J. McConnell (Arizona): To understand McConnell's importance to the Wildcats, one number stands out: 268. That was Arizona's national ranking in three-point percentage defense last season, after being one of the best teams in the country in that department in each of the two seasons prior. In McConnell Arizona adds a point guard who's a distributor first, a high-level defender (A-10 All-Defensive Team selection 2011-12) and he's a good perimeter shooter as well.
6. Tyler Ennis (Syracuse): Ennis, like Harrison, has yet to play a college game but Syracuse's lack of depth at the point makes him vitally important in their first season in the ACC. There's no Michael Carter-Williams or Brandon Triche, and if Ennis doesn't perform as expected the Orange won't be able to take full advantage of their talented players at other spots on the roster (C.J. Fair and Jerami Grant being two).
7. P.J. Hairston (North Carolina): The Tar Heels may not be a national contender on the level of some of the other teams represented on this list, but here's the question: who else on that roster is capable of shouldering the load offensively? James Michael McAdoo (14.4 ppg, 7.3 rpg) averaged double digits last season but the currently suspended Hairston (14.6 ppg) is the marquee option. If Hairston falters, either on or off the court, UNC's in trouble.
8. LaQuinton Ross (Ohio State): Ross averaged just 8.3 points per game last season, but he scored at least 17 points in three of the Buckeyes' four NCAA tournament games. With Deshaun Thomas now playing at the professional level, Ohio State needs Ross to prove himself capable of producing on a consistent basis.
9. Jabari Parker (Duke): Due to the arrival of Parker and Mississippi State transfer Rodney Hood, the Blue Devils will be able to rely a lot more on their wings to make plays this season. Parker's an incredibly gifted player, and after dealing with a foot issue last year the Chicago native's healthy now. The better Parker is the more attention he'll receive from opponents, which will ultimately benefit the other players in Mike Krzyzewski's rotation.
10. Yogi Ferrell (Indiana): Indiana lost a lot of talent and production from last season's Big Ten regular season champion squad, meaning that Ferrell will need to lead the way (along with senior wing Will Sheehey) if the Hoosiers are to once again be a factor in the Big Ten. As a freshman Ferrell averaged 7.6 points and 4.1 assists per game.
FIVE MORE NAMES TO KNOW
1. Montrezl Harrell (Louisville): With Chane Behanan suspended the Cardinals don't have a great amount of depth inside, so Harrell will have to put together the breakout campaign many expect if they're to repeat.
2. Doug McDermott (Creighton): McDermott was outstanding for the Bluejays last season, posting averages of 23.2 points and 7.7 rebounds per game on 54.8% shooting from the field and 49% shooting from three.
3. Jahii Carson (Arizona State): Carson's the reason why the Sun Devils want to play even faster this season, as he averaged 18.5 points and 5.1 assists per game as a freshman. The goal now is to get ASU to its first NCAA tournament since 2009.
4. Kasey Hill (Florida): With Scottie Wilbekin suspended Hill becomes even more important to the Gators, and given the freshman's skill level it can be argued that he'd be running the show either way. If he performs well, Florida can be one of Kentucky's biggest challengers in the SEC.
5. Glenn Robinson III (Michigan): The Wolverines lost Trey Burke and Tim Hardaway Jr., but the return of their talented sophomore class makes Michigan a threat to win the Big Ten. Mitch McGary is obviously a key player, but given the lost production the Wolverines have to account for Robinson may be their most important player.