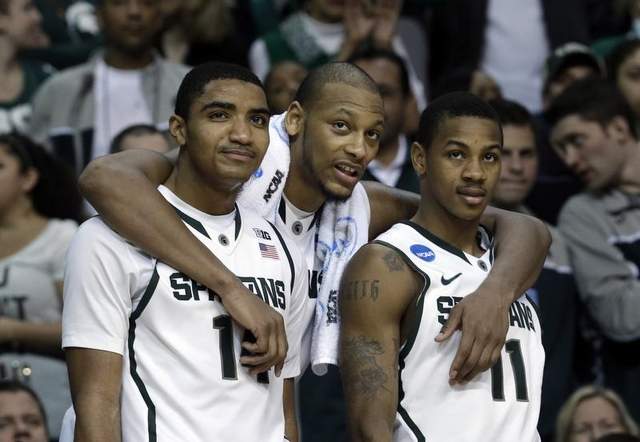 A month ago, as we tried to hash out our Preseason Top 25 rankings, Raphielle Johnson, Scott Phillips and myself had an fairly intense email discussion regarding where we wanted to place Kentucky in comparison to Michigan State and Louisville.
I wanted the Wildcats to be No. 1. Raph and Scott did not, and as you can tell by the post that went up this morning, I got outvoted. This is the discussion that followed.
Please join in the debate with us in the comments section. Who's right? Who's wrong? Why?
Rob: I really don't get it. Tom Izzo makes that much of a difference for a team that's going to rely on a point guard that's not really a point guard and a center with no proven back up or and three year of inconsistency to his name?
Raphielle: For all their talent, I don't trust the Harrisons yet. That's why I didn't take UK. And if anything, I have faith in Appling improving, Harris staying healthy and Payne making the move he should make in his senior year.
Rob: That's fair, I guess. I have concerns about the Harrisons as well, and I'm worried that Kentucky might just have TOO much talent. But they also have the nation's best coach when it comes to smoothing egos.
And, for what it's worth, it's not like Michigan State is without question marks. Appling's heading into second or third season as Michigan State's PG (depending on how you view Draymond Green's role in 2012), why does he make the jump now? For all the love thrust on Adreian Payne, he only averaged 10.5 points and 7.6 boards last season, rarely showing up when it wasn't a national TV game.
I'll go with it if that's what we end up voting, but I'm not giving up this argument easily.
Raphielle: Why do I think Appling and Payne take the next step? Urgency. They're both seniors. No more time to mess around and say "I'll get it right next year." I think the end result is a level of urgency that pushes them, and by extension Michigan State, over the hump.
And while I trust Calipari, quite a few people said until February last year that he'd figure it out. Far more talented team than that group (and deeper), but by no means is it a lock. I expect them at Jerry World, but I buy MSU and Louisville* more right now.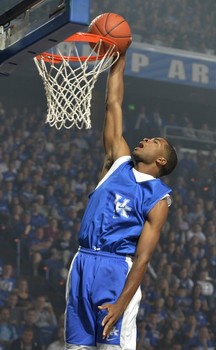 Rob: Last year's issue had more to do with Ryan Harrow, Alex Poythress and just an overall lack of talent that fit well together. Then Noel went down. This year? Much, much closer to 2010 and 2012 than anything else. I have Michigan State No. 3, so I obviously love that group, but I just cannot understand putting anyone above UK or UL right now.*
*(This conversation happened before Chane Behanan's suspension.)
Scott: I don't like Kentucky to win it all because their three best players are ball-dominant, isolation guys. The Harrisons don't make plays by using some intricate two-man game in the backcourt; to this point in their career, they've passed to each other as a bailout when one can't score by himself. Julius Randle loves isolations. He has a tendency to overdribble and uses power moves to score, which is a concern given the freedom Coach Cal is reportedly giving him on the perimeter. Now all three of them are pros and can score on most anyone, but this is a deep and talented year with a number of teams that can stop an offense that doesn't move the ball particularly well.
I don't think that Kentucky will ever be cohesive enough to maximize their potential.
Rob: I mean, I agree with most of that, Scott. I do. But keep this in mind: John Calipari made DeMarcus Cousins sane for an entire year. Cousins is STILL sane whenever he goes back to Lexington. Cal convinces people to buy-in. That's what he does.
Now, I've said all summer long that the biggest difference between this team and the 2011-2012 team is that the two best players that year, Davis and MKG, were essentially role players, and that it's impossible understate just how much that means. I've also said that my biggest concerns about Kentucky are, more or less, exactly what you just said. But I think it's ludicrous to ignore the fact that Kentucky could end up bringing three eventual first picks off of their bench.
Think about that!
Kentucky is so loaded this year that neither of you have even mentioned James Young yet, the guy that scouts have been drooling over this fall!
We have a team with far and away the most talent in the country and a coach with a proven track record of taking talented teams and getting them to mesh. The idea that that team isn't preseason No. 1, to me, is kind of insane.
Now if Louisville wasn't losing Siva and Dieng or if Michigan State didn't have question marks at the point and in their front court, this would be a different story. But without a clearcut favorite, I just think it's crazy not to rank Kentucky No. 1.
Scott: With Kentucky this year it isn't just "making Boogie sane". It's about getting a half-dozen wannabe all-americans and future lottery picks to somehow all collectively buy in, share the dream — and the ball — and beat some very good, very deep and very experienced teams.
No doubt Kentucky has the most talent, but what happens when they face adversity and start pointing fingers, especially in light of the insane expectations and ludicrous talk of a perfect season? I just don't buy that they mesh.
Rob: I agree. I don't think it's crazy to think that UK will lose to both Louisville and MSU before the New Year.
These guys may want to be all-americans, but I'm pretty sure they all really, really like money. In fact, I remember the Harrisons' father saying something along the lines of "why is it worth it for me to take money to send my kids to a school when they're seven months from guaranteed millions?" It's a pretty easy pitch for Calipari to say Davis/MKG/etc. shut up, played their roles, won a title and went No. 1 and No. 2 in the draft and that the kids in 2013 didn't, and look what happened.
This is what Calipari does. Until proven otherwise, it's insane that a team that he coaches with multiple first rounders coming off the bench isn't preseason No. 1. It just is.
Now if I get outvoted, that's fine. We can go a different way. But we're overthinking this. Talent is talent, and at the end of the day, more talent is going to beat less talent most of the time. Preseason rankings should reflect that.
Scott: If college basketball played 7-game series like the NBA then I would buy your talent argument, but I'm going with the proven and experienced team that's been there. Anthony Davis and MKG were selfless winners that did up everything on both ends of the floor and that isn't this group.
Rob: Wait, so you're saying that Kentucky is the best team, but you think they'll lose in the tournament? For me, preseason rankings aren't about who we think is going to win the NCAA tournament, it's about who we think the best team is. And, for those ranking Michigan State No. 1, what have they proven and what is their experience? No one on this roster has been past the Sweet 16…
Raphielle: If you're going to use the "what have they proven" point on Michigan State, what has Kentucky's current group proven? Their best players are freshmen and the sophomores went to the NIT. If you use that argument, aren't you essentially saying Cal can out coach Izzo?
Rob: I don't do rankings based solely on talent alone. That's why you don't see Baylor in my top 25, and it's why you see Michigan State and Louisville at No. 2 and No. 3 instead of teams like Arizona, Kansas and Duke, who I'd argue have more talent. I say all that because I don't think there is an obvious No. 1 team in the country. Michigan State, Louisville, Duke (front court), Arizona (Aaron Gordon as a three, shooting), Kansas (point guard, Perry Ellis, youth?) all have issues.
Kentucky does as well.
But simply saying "I don't think Coach Cal can get thru to these players" is a good enough reason to move a team with seven players in most first round mocks out of the No. 1 spot when every single team in this discussion has major question marks?