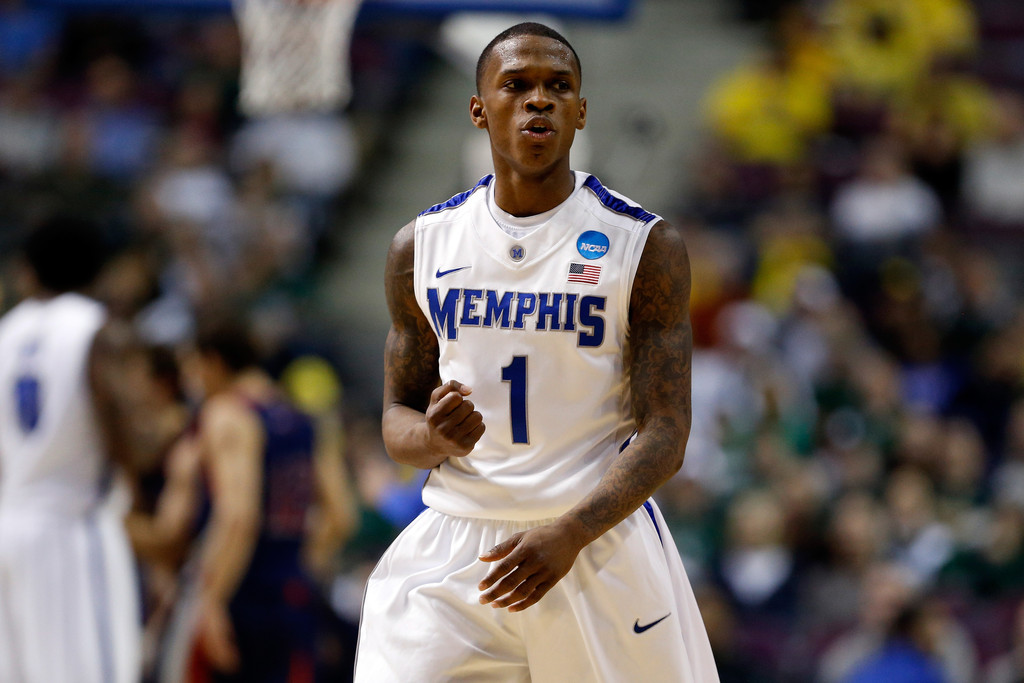 All month long, CBT will be rolling out our 2013-2014 season preview. To browse through the preview posts we've already published, click here.
Basketball means just a little bit more in the city of Memphis.
Tiger basketball faithful pack the FedEx Forum with 18,000-plus fans a night whether its Memphis Madness or a rivalry game against Tennessee, and for local kids like senior guard Joe Jackson, Memphis Tigers basketball is really the only thing that matters.
Memphis has a young and charismatic coach in Josh Pastner, but the Tigers have long been able to keep local Memphis talent home — regardless of the coach — and the tradition continues with Jackson, a former McDonald's All-American and last season's Conference USA Player of the Year.
"I was in such awe about coming to Memphis that I was going there regardless," Jackson told NBC Sports. "I love Coach Pastner but I mean if the football coach was my basketball coach I would play for him, I'll put it like that. When you're from Memphis, people don't understand until they come and live down here. It's a way of living: Memphis basketball. Once you grow up in the city, you know."
During his freshman season at Memphis, Jackson mentioned his desire to be remembered as a legend during an interview with ESPN.com's Dana O'Neil. Words like "legend" aren't often mentioned by freshmen, but Jackson's background in the basketball-rich history of Memphis allowed him to carry on with such lofty aspirations.
The 6-foot-1 point guard told O'Neil in that December, 2010, interview, "I want to be remembered," Jackson said to O'Neil. "I want to be a legend. I want to be a hero. I want old people to see me on television and say, 'Look at that kid. He made it. He did it. That's who I want you to be like."'
(CLICK HERE to read NBCSports.com's American Athletic Conference Preview)
Origin stories for legends often come with a difficult journey; Joe Jackson's came with the baggage of being the first big-time local recruit to stay and play for the Tigers during the social media era.
After a celebrated high school career that included Mr. Basketball of Tennessee and amassing 3,451 points at local basketball powerhouse White Station High School, Jackson was up-and-down during his first two seasons at Memphis as he adjusted to the rigors of major college basketball while facing enormous local expectations.
"There hasn't been a more scrutinized player, or pressure on a player, coming from the city than Joe Jackson," Pastner told NBC Sports. "All these other guys that came before him were great players but they didn't have the Twitter and the social media where everything was instant. I'm very proud of him, he's come a long way. And he continues to get better."
Although Jackson was inconsistent his first few seasons in college, he continued to work with Pastner. He thrived when the games really mattered, however, as Jackson always stepped up when it came time for the postseason. Jackson was the Conference USA Tournament MVP in his freshman and sophomore campaigns and credits Pastner for staying on him.
"It was rough early; just to play in college. He stayed on me. I feel like I worked for everything and I learned it from him. He doesn't baby players. He made me better," Jackson said of Pastner.
By Jackson's junior season — his most complete season at Memphis — he helped the Tigers to a perfect 16-0 season in C-USA as the Tigers captured their second consecutive conference regular season title to go along with its third straight C-USA Tournament win with Jackson at the point. For the season, Jackson led the Tigers in scoring and assists and averaged 13.6 points, 4.8 assists, 3.3 rebounds and 1.7 steals per game while shooting 51 percent from the field and 44 percent from three-point range.
On top of his tremendous junior season, Jackson also earned his degree from Memphis in organizational leadership in three years as he spends his senior year working towards a minor in nonprofit development.
"Joe Jackson has had a marvelous three-year career to this point and I expect him to have a great senior year," Pastner said. "I love where Joe's come from, how far he's progressed in every area. And to do what he's been able to do and graduate in three years? I'm so proud of this young man."
(CLICK HERE to read through the rest of NBCSports.com's feature stories)
But for all that Joe Jackson has accomplished, is he a legend in Memphis?
The Tigers have only won one NCAA Tournament game with Jackson — last season's 54-52 win over Saint Mary's — and he might need to do more in the tournament this season to fully solidify his status.
Given Jackson's and Memphis' accomplishments, he and the Tigers shouldn't be doubted this season as they go from Conference USA to the American Athletic Conference. The American should prepare the Tigers for the postseason — and improve their seeding — thanks to the facing opponents like Louisville, UConn and Cincinnati.
The Tigers and Jackson feel prepared for the American and embrace the new competition it brings.
"It's going to be a fun thing to play against a bunch of teams we've never played against and it's going to be a challenge for us; more than we've ever had since I've been in school," Jackson said. "We're just looking forward to going out and playing basketball in front of a different crowd and atmosphere with more fans. We just want to play well and win the conference and get some well-deserved national attention. So it's a great opportunity for us to do our thing as a team and go out my last year in the right fashion."
The first three years of Joe Jackson's career at Memphis will be a hard act to follow for his senior season, but the pressure that the local point guard once faced is behind him. Jackson earned his degree and has taken the Tigers to the postseason in each of his three years on campus.
The rest of Jackson's mission to become a legend in Memphis will be icing on the cake to an already great career as he focuses on ending his career on a high note.
"To be from the city and to be a role model to the kids by not getting in trouble, getting through some struggles early in my career and just persevering, that shows people that I know how much it means to play on the Tigers, especially being from Memphis," Jackson said. "I mean of course (I want to be a legend). I may be a legend here in the city of Memphis. That's something you should want to be from your city. Just because Memphis basketball is ridiculous sometimes; I just feel like it's so important to me. People look at me as a high school legend and now I want to be looked at as a college legend."