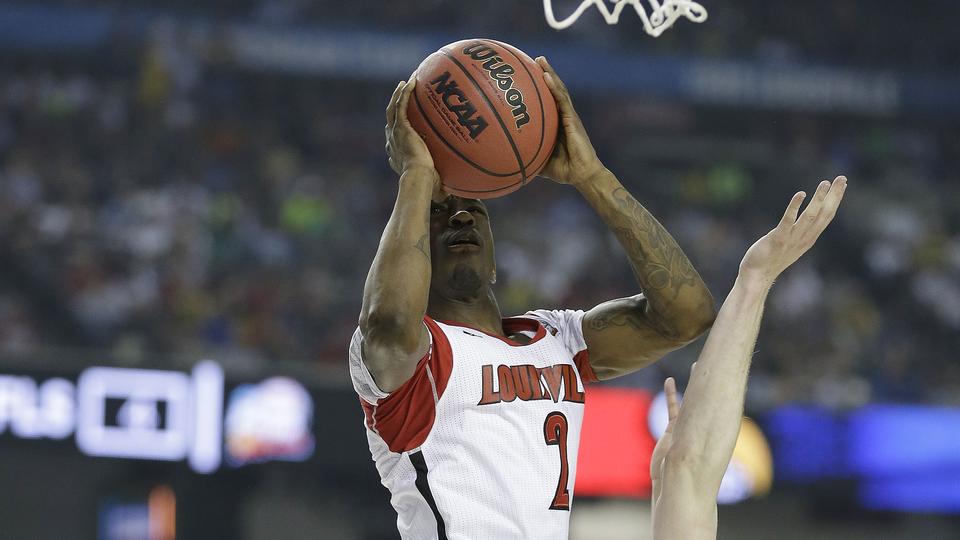 All month long, CBT will be rolling out our 2013-2014 season preview. Check back throughout the day, as we'll be posting three or four preview items every day.
To browse through the preview posts we've already published, click here. To see the rest of the Conference Previews we've published, click here. For a schedule of our previews for the month, click here.
The inaugural year of the American Athletic Conference — or American as they prefer — features the defending national champions in Louisville for only one year before they leave for the ACC, but it should make for some great competition at the top as the Cardinals, Memphis and UConn will slug it out for the AAC title.
Cincinnati, Temple, South Florida, Houston and SMU all have talented pieces in place for potential NCAA Tournament runs while Central Florida and one-year AAC member Rutgers (Big Ten next season) are at the bottom.
FIVE THINGS YOU NEED TO KNOW:
1. The champs are still loaded: Louisville loses senior leader Peyton Siva, defensive stopper Gorgui Dieng and forward Chane Behanan is suspended, but the Cardinals still return Russ Smith, Luke Hancock and Montrezl Harrell and Kevin Ware should be up to speed soon. Wayne Blackshear is also finally healthy and Chris Jones is the top junior college transfer in the country.
2. Best backcourt won't be crowned overnight: Between Louisville (Smith, Jones, Ware and Terry Rozier), Memphis (Joe Jackson, Mike Dixon, Chris Crawford and Geron Johnson) and UConn (Shabazz Napier, Ryan Boatright and Omar Calhoun) can all vie for the honor of the best backcourt in the American — and maybe the country — but that claim will have to be decided on the floor.
3. The return of UConn: Tournament-ineligible last season due to a poor APR, the Huskies have the talent to make a postseason run behind their aforementioned experienced backcourt and the late-season play of junior DeAndre Daniels. The key for the Huskies will be finding an interior presence somewhere, be it Tyler Olander, Phil Nolan or Kentan Facey.
4. SMU has a lot of new (and talented) pieces: Led by McDonald's All-American shooting guard Keith Frazier, Larry Brown will have quite an infusion of talent in year two at SMU. But how will they all integrate together? JuCo center Yanick Moreira, Illinois State point guard transfer Nic Moore and freshman two-guard Sterling Brown are also potential key pieces.
5. The American has talent from top-to-bottom: The heavy-hitters Louisville, Memphis, UConn and Cincinnati should compete for NCAA Tournament bids right away but other teams in the league could surprise thanks to a lot of returning talent. Temple, South Florida, Houston, and SMU all have a lot of pieces and with it being a new league one — or more — could thrive right off the bat.
PRESEASON AMERICAN ATHLETIC CONFERENCE PLAYER OF THE YEAR: Russ Smith, Louisville
An explosive off-guard with the ball, Smith averaged 18.7 points per game last season but must be more of a leader if Louisville is to remain in national title talks. A key question with Smith will be whether or not he embraces his role on this team — 'Russdiculous' actually works in Louisville's system — or if he spends his senior season trying to prove he can be a point guard to NBA teams.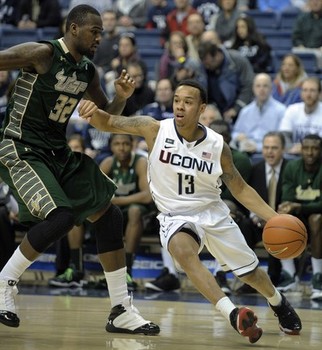 THE REST OF THE AMERICAN'S FIRST TEAM:
Shabazz Napier, UConn: Experienced senior guard can score or run an offense and remains one of the nation's most underrated guards.
Sean Kilpatrick, Cincinnati: Averaged 17 points in the Big East and remains Cincinnati's No. 1 scoring option.
Montrezl Harrell, Louisville: Breakout postseason and summer for the sophomore big man could lead to big season.
Ryan Boatright, UConn: Explosive junior guard can score and push tempo with best of them.
FIVE MORE NAMES TO KNOW:
Joe Jackson, Memphis
Luke Hancock, Louisville
TaShawn Thomas, Houston
Michael Dixon, Memphis
Isaiah Sykes, Central Florida
BREAKOUT STAR: Omar Calhoun (UConn)
Calhoun is poised for a big year after a strong freshman season where he averaged 11.1 points and 3.9 rebounds per game. The 6-foot-5 wing will have the benefit of playing with two of the conference's top five returning scorers and assists leaders in Shabazz Napier and Ryan Boatright and the trio will be tough to guard.
COACH UNDER PRESSURE: Larry Brown (SMU)
It's not the kind of pressure from fans or administration, but time is not on SMU's side. Their last NCAA Tournament? 1993. Some of the Mustang players weren't born yet. Head coach Larry Brown is 73, which means that his time in Dallas is limited. Brown will have a few years to win at SMU and he gets a major talent influx this year with transfers and a strong recruiting class.
ON SELECTION SUNDAY WE'LL BE SAYING … : This new league was better than we thought.
I'M MOST EXCITED ABOUT : The battle of the backcourts between Louisville, Memphis and Connecticut.
FIVE NON-CONFERENCE GAMES TO CIRCLE ON YOUR CALENDAR:
December 28th, Louisville at Kentucky
November 19th, Memphis at Oklahoma State
December 14th, Cincinnati at Xavier
December 2nd, Florida at UConn
February 8th, Gonzaga at Memphis
PREDICTED FINISH
1. Louisville: The champs return a number of talented pieces and add best junior college guard Chris Jones and get a healthy Wayne Blackshear. How soon does Behanan return from suspension?
2. Memphis: Incredibly experienced senior-laden backcourt leads a talented group that needs Shaq Goodwin and its talented freshman class to mature quickly.
3. Connecticut: Napier and Boatright are as good any backcourt in the country but how much have Omar Calhoun and DeAndre Daniels improved?
4. Cincinnati: After Sean Kilpatrick who scores for the Bearcats? Mick Cronin's bunch will still defend like crazy but questions on offense linger.
5. Temple: Fran Dunphy's teams always compete and even without Khalif Wyatt, Will Cummings and Anthony Lee still gives them plenty.
6. South Florida: One-two punch of playmaking guard Anthony Collins and forward Victor Rudd gives the Bulls a nice foundation going forward.
7. Houston: TaShawn Thomas returns from a 16.9 and 9.8 junior campaign and Danuel House should make the leap on the wing as a sophomore.
8. SMU: A lot of new talent and transfers for the Mustangs, but how does it all mesh together in a new league?
9. Central Florida: Six of top seven return, including first-team All-Conference USA guard Isaiah Sykes.
10. Rutgers: The Eddie Jordan era begins in New Jersey as the Scarlet Knights look to turn around their program.