All month long, CBT will be rolling out our 2013-2014 season preview. Check back throughout the day, as we'll be posting three or four preview items every day.
To browse through the preview posts we've already published, click here. The rest of our Top 25 Countdown can be found here. For a schedule of our previews for the month, click here.
Last Season: 21-12, 12-6 SEC (t-2nd); Lost to Robert Morris in the first round of the NIT
Head Coach: John Calipari (5th season at Kentucky: 123-26 overall, 52-14 SEC)
Key Losses: Archie Goodwin, Ryan Harrow, Kyle Wiltjer, Julius Mays
Newcomers: Julius Randle, Aaron Harrison, Andrew Harrison, James Young, Dakari Johnson, Marcus Lee, Derek Willis, Dominique Hawkins, E.J. Floreal
Projected Lineup
– G: Andrew Harrison, Fr.
– G: Aaron Harrison, Fr.
– F: James Young, Fr.
– F: Julius Randle, Fr.
– C: Willie Cauley-Stein, So.
– Bench: Dakari Johnson, Fr.; Marcus Lee, Fr.; Derek Willis, Fr.; Alex Poythress, So.; Jarrod Polson, Sr.
They'll be good because …: Kentucky is just so ridiculously talented. I don't care if every relevant player on the roster is a freshman or a sophomore because there are eight players on this team that could one day end up being a lottery pick. Seriously. Think about that for a second. Have we ever seen a recruiting class as strong as the one that Coach Cal landed this season? Have we ever seen a team amass quite the amount of talent that Kentucky has amassed this year?
It starts with Julius Randle, a powerful, athletic lefty that will overwhelm just about every opposing big man he faces this season. He's also capable of crossing people over 20 feet from the basket and dunking on them. The Harrison twins form a big back court as talented as anyone. James Young has already got NBA scouts drooling over his scoring ability. And between the other four big men on the roster, there is more size and athleticism than most programs see in a decade. Even the unheralded Derek Willis has spent the preseason getting praised for his skill level.
NBA teams might as well get a six month lease on an apartment in Lexington for the season. When there is that much NBA talent on a roster, it's hard not to win a lot of games.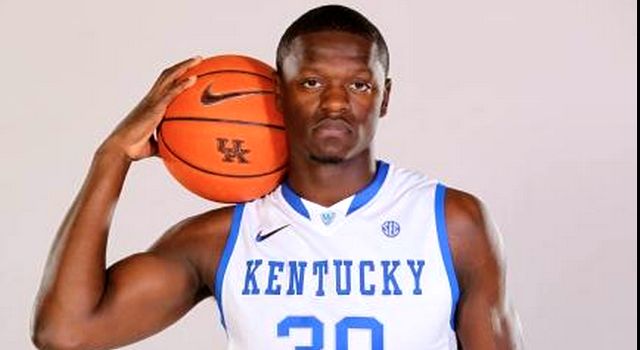 But they might disappoint because …: There are two major concerns for this Kentucky team. The first is their perimeter depth. Outside of the Harrisons and Young, there really aren't any guards on the roster. I love Jarrod Polson, but if Kentucky is going to go undefeated this season, he won't be playing many minutes. Alex Poythress has a ton of talent and potential, but he's likely the first perimeter player off the bench, and he's not a perimeter player. That could become a problem if there are injuries or foul trouble.
The bigger issue, however, is how this team ends up coming together. All that youthful talent is impressive, but it overlooks just how valuable contributions from veterans like Josh Harrellson, Patrick Patterson and Darius Miller have been over the years. There's also the issue of overcrowding. There are only so many minutes, particularly in the front court, and so many shots to go around. Will a roster full of alpha males with one eye keeping tabs on their NBA Draft stock be willing to accept a secondary role?
Outlook: Kentucky won the 2012 National Title with a roster that was chock full of talented freshmen and sophomores. Their two best players, the top two picks in the NBA Draft, were both in their first season of college ball when they led the Wildcats to title No. 8. But what people forget about Anthony Davis and Michael Kidd-Gilchrist is that while they were "stars", they did so by excelling as glorified role players. Anyone that has ever paid attention to a Coach Cal press conference has heard him talk about the fact that while that 2012 team produced the No. 1 and No. 2 pick in the draft, they were fourth and fifth on Kentucky in shots taken.
Why?
Well, Davis was a defensive presence in the paint first and foremost, scoring quite a few of his points off of dunks that came via an alley-oop or an offensive rebound. He didn't need the ball in his hands and he didn't need plays called for him. The same can be said for Kidd-Gilchrist, who was that team's junkyard dog. He defended, he rebounded, he provided a physical presence. He was a glue guy that just so happened to be an insanely talented basketball player.
Does this group have enough guys willing to accept a role and play their part, even if it means they won't have the ball in their hands in crunch time? Even if it means that they only get 12 minutes a game? The chemistry on this team is what will be the determining factor in how far this group ends up going.