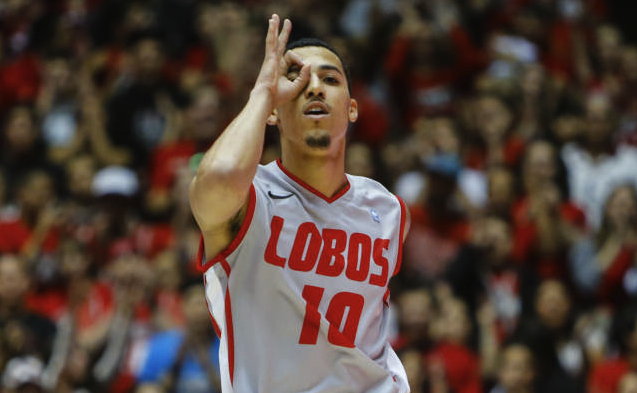 All month long, CBT will be rolling out our 2013-2014 season preview. To browse through the preview posts we've already published, click here.
In 2012-13, the New Mexico Lobos put together one of the best seasons in the history of the program, winning 29 games and earning both the Mountain West regular season and tournament titles. The Lobos won the regular season crown by a full two games, going 13-3 in conference play after not receiving a single first-place vote in the preseason poll, a fact made all the more impressive when you consider the MWC was the toughest, most balanced league in the country. Point guard Kendall Williams won Mountain West Player of the Year honors.
But the season ended on a sour note for the Lobos as they were knocked off by Harvard in the NCAA tournament Round of 64.
Just over a week after the defeat Steve Alford accepted the head coaching position at UCLA, leaving many wondering who UNM vice president for athletics Paul Krebs would hire to lead the program. Much to the pleasure of many involved Krebs didn't have to go far to find his replacement, promoting associate head coach Craig Neal. Neal spent the prior six seasons on Alford's staff, recruiting many of the players on the roster and being a valuable voice in the Xs-and-Os department. While there are some differences, the hiring of Neal has given the program continuity when upheaval wasn't needed.
With four starters, including Williams and center Alex Kirk, back for another run, the hope in Albuquerque is that the Lobos will not only remain atop the Mountain West but also enjoy greater success in the NCAA tournament.
"It was a very smooth transition to Coach Neal because he's been drawing up our plays since I've been here, and he's been an integral part of what we've been doing," Williams said of Neal in an interview with NBC Sports. "He's taken on more of an executive position in a sense, but in my eyes it's been really smooth and a lot of the guys feel the same way."
(CLICK HERE to read NBCSports.com's Mountain West Preview)
Neal's move to the head coaching position is one of two major changes New Mexico will have to address as they begin the 2013-14 season, with the other being the departure of guard Tony Snell. After posting averages of 12.5 points, 2.9 assists and 2.6 rebounds, the junior entered the 2013 NBA Draft, where he was a first round selection of the Chicago Bulls. With Snell off to the NBA, the task of accounting for the production lost likely falls upon the shoulders of juniors Hugh Greenwood and Deshawn Delaney. In the case of Delaney, he's continued to show progress after having to sit out the team's summer trip to Australia in order to attend summer school.
"He had to stay in summer school so he wasn't able to go on our trip, which hindered him some," Neal told NBC Sports. "He's really starting to pick things up. He was a little behind the '8-ball' because he didn't get those ten [pre-trip] practices, but he's done very well. He's talented, can score and he's just a great, great kid."
Delaney was a two-time junior college All-American, averaging 17.1 points and 8.6 rebounds per game during his time at Vincennes JC in Indiana, and the feeling is that he has the talent and athleticism needed to make an immediate impact. As for Greenwood he's been more of a glue guy for the Lobos, and with an improved perimeter shot he'll look to increase his production (7.0 ppg, 5.0 rpg, 2.4 apg) from a season ago. Also factoring into the equation are newcomers like freshman Cullen Neal, the coach's son who was originally a Saint Mary's signee before the coaching change at New Mexico.
But ultimately, how productive the backcourt is will fall upon the shoulders of the reigning Mountain West Player of the Year.
"I always work on my body and try to get stronger and more athletic, and I feel really good about where I am [individually] going into the season," said Williams. "Also improving my leadership skills because we have some new guys and underclassmen to go along with the guys who returned. It was a matter of keeping everyone together and using my experiences to remain positive and lead a really talented group that's expected to do a lot of things."
For the season, Williams averaged 13.3 points, 4.9 assists and 3.5 rebounds per game. But while his individual numbers may not have been on the level of those posted by the likes of SDSU's Jamaal Franklin and Air Force's Michael Lyons, Williams' impact on the Lobos exceeded what can be seen in the box score. If New Mexico is to remain atop the Mountain West that will once again need to be the case, with both player and coach also pointing to consistency as a key for the Lobos in 2013-14.
CLICK HERE to read through the rest of NBCSports.com's feature stories
It doesn't hurt to have a second conference Player of the Year candidate on the roster either, as 7-footer Alex Kirk is back for his junior campaign. After redshirting in 2011-12 due to a back injury Kirk hit the ground running, averaging 12.1 points, 8.1 rebounds and 1.8 blocks per contest with nine double-doubles. Now another year removed from the herniated disk that required surgery and once again joined in the front court by the improving Cameron Bairstow (9.7 ppg, 5.9 rpg), Kirk is expected to cement his status as one of the top big men in the Mountain West.
"Alex has to turn into a dominant low-post player as far as I'm concerned," said Neal. "Getting space offensively where he can catch it on the block and make teams play him and kick it out for shots, and be able to work with his left hand a little bit more. He really worked on that last year and it got to the point where he could go either way, and that's tough to guard."
"He's also shooting the ball well," continued Neal. "The one thing I've really been working on with Alex is agility and moving when he doesn't have the ball offensively and defensively, because he's a really good defensive player who has great timing."
But regardless of what honors teams pick up in league play, the ultimate judge in the eyes of many is what happens in the NCAA tournament. In 13 NCAA tournament appearances, New Mexico has won multiple games just once — that was back in 1974 — so it goes without saying that there's a strong desire to buck the program's postseason reputation.
The 2013-14 season represents a new era in New Mexico basketball, and while the comfort level remains the same under Craig Neal the hope is that these Lobos will be able to go where they've been unable to in recent years.