All month long, CBT will be rolling out our 2013-2014 season preview. Check back throughout the day, as we'll be posting three or four preview items every day.
To browse through the preview posts we've already published, click here. To see the rest of the Conference Previews we've published, click here. For a schedule of our previews for the month, click here.
The 2012-13 season for the Mountain West proved to be another solid campaign for the league with one notable problem: once again the conference struggled mightily in the NCAA tournament. Despite being ranked as the nation's top conference in the RPI, none of the five Mountain West schools in the field reached the second weekend of the Big Dance. But hope springs eternal, and in 2013-14 the league and its fans are hopeful that another solid regular season will result in a more productive postseason.
Defending champion New Mexico welcomes back key performers in guard Kendall Williams and Alex Kirk, and with longtime assistant Craig Neal replacing the departed Steve Alford there should be no concerns about continuity. The Lobos won't be without their challengers however, as Boise State, San Diego State and UNLV are all capable of contending for the Mountain West crown. Add in Colorado State and league newcomer Utah State, and this should be a fun season in the Mountain West.
REALIGNMENT MOVES
In: San Jose State (WAC), Utah State (WAC)
Out: None
FIVE THINGS YOU NEED TO KNOW:
1. Two new programs have entered the conference: Two more schools have made the jump from the WAC to the Mountain West: San Jose State and Utah State. While the rebuilding Spartans will take their lumps this season, Stew Morrill's Utah State program enters the Mountain West ready to compete. The key for the Aggies, who haven't failed to win at least 20 games in a season since 1998, is to stay healthy. Multiple key players, most notably guard Preston Medlin, missed significant time last season due to injury.
2. "Noodles" grabs the reins at New Mexico: When Steve Alford made the move from Albuquerque to Los Angeles (UCLA) the calls for Craig Neal to be named the head coach were loud, and UNM ultimately promoted Alford's longtime right-hand man. And he isn't working with a bare cupboard either. Tony Snell was a first round pick in the 2013 NBA Draft but four starters return, including guard Kendall Williams and center Alex Kirk.
(MORE: New Mexico's bid for postseason success)
3. UNLV lost some key players but they've got plenty of talent as well: The Runnin' Rebels saw one of their players from last season's NCAA tournament team get drafted with the first overall pick in the NBA Draft (Anthony Bennett), another graduate (Anthony Marshall) and two more transfer (Mike Moser and Katin Reinhardt). But Dave Rice won't lack for talent, with UConn transfer Roscoe Smith eligible and guard Bryce DeJean-Jones back for another run. And in Jelan Kendrick, they've got a transfer talented enough to have a major impact immediately.
4. San Diego State lost its top two scorers: Head coach Steve Fisher has some key contributors to replace as well, with leading scorers Jamaal Franklin and Chase Tapley out of eligibility. But Xavier Thames returns, as do Winston Shepard and Skyler Spencer. If SDSU's newcomers, especially Dakarai Allen, are ready to contribute the Aztecs will once again contend.
5. Boise State returns all five starters from last season's NCAA tournament team: Leon Rice's Broncos are a trendy pick to contend for the Mountain West crown, and their experience has a lot to do with that. Both Anthony Drmic and Derrick Marks return, as do guards Jeff Elorriaga and Mikey Thompson and forward Ryan Watkins. They may not have a playing surface as original as the football team, but the Broncos will definitely attract eyeballs this season.
PRESEASON MOUNTAIN WEST PLAYER OF THE YEAR: G Kendall Williams (New Mexico)
For three seasons Williams has been a steadying influence for the Lobos, and his ability to operate both on and off the ball make the senior guard a tough matchup for opponents. With Tony Snell in the NBA there may be more opportunities for Williams, the reigning Mountain West POY, to score and he's more than capable of handling the additional responsibilities.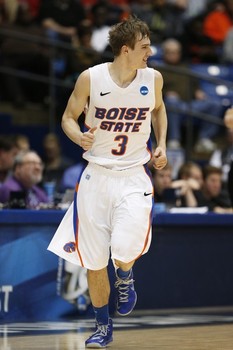 THE REST OF THE MOUNTAIN WEST FIRST TEAM:
G Deonte Burton (Nevada): Burton (16.3 ppg, 3.6 apg) may be asked to do even more scoring this season with Malik Story out of eligibility
G Anthony Drmic (Boise State): Drmic (17.7 ppg, 4.6 rpg) shot 46.4% from the field and 39.2% from beyond the arc in 2012-13
F Josh Davis (San Diego State): Davis averaged 17.6 points and 10.7 rebounds per game at Tulane last season, earning first team All-Conference USA honors
C Alex Kirk (New Mexico): Averaged 12.1 points and 8.1 rebounds per game last season, earning second team All-Mountain West honors
FIVE MORE NAMES TO KNOW:
G Preston Medlin (Utah State)
G Derrick Marks (Boise State)
F Larry Nance Jr. (Wyoming)
F Roscoe Smith (UNLV)
G Deshawn Delaney (New Mexico)
BREAKOUT STAR: G Daniel Bejarano (Colorado State)
This pick is as much about opportunity as it is talent. Bejarano won Mountain West Sixth Man of the Year honors last season, posting averages of 6.3 points and 5.5 rebounds per game. With the Rams losing all five starters from last season's team the Arizona transfer will need to score early and often for Colorado State.
COACH UNDER PRESSURE: David Carter (Nevada)
In four seasons as the head coach Carter's posted an overall record of 74-58, winning a WAC regular season title and making two NIT appearances. But two of his last three seasons have been 19-loss campaigns, including last season's 12-win campaign (3-13, last in the Mountain West). With a new athletic director as well, this could be an important season for Carter despite having a contract that won't expire until 2017.
(MORE: Read about Deonte Burton's push to bring Nevada more team success)
ON SELECTION SUNDAY WE'LL BE SAYING …: That regular season was nice and all, but it won't mean much if the league once again falters in the NCAA tournament.
I'M MOST EXCITED ABOUT: Seeing whether or not Boise State can build on last season's NCAA tournament appearance.
FIVE NON-CONFERENCE GAMES TO CIRCLE ON YOUR CALENDAR:
December 10, Boise State at Kentucky
December 14, New Mexico vs. Kansas (in Kansas City)
December 7, UNLV at Arizona
December 21, New Mexico vs. Marquette (in Las Vegas)
January 5, San Diego State at Kansas
PREDICTED FINISH
1. New Mexico: The shift from Alford to Neal isn't your "standard" coaching change, and with Kendall Williams and Alex Kirk leading the way the Lobos have the pieces needed to remain on top.
2. UNLV: No more Bennett, Marshall or Moser, and Katin Reinhardt transferred, but the Rebels are still talented. Keep an eye on Khem Birch, who should build on his solid play a season ago.
3. Boise State: Drmic and Marks make up one of the best tandems in the conference. Whether or not the Broncos can win the league will depend on their front court.
4. San Diego State: How much has Winston Shepard improved? That'll be one key for the Aztecs, who need to account for the loss of both Jamaal Franklin and Chase Tapley.
5. Utah State: The Aggies may be a newcomer but with Preston Medlin back (and healthy) they'll give their new conference foes fits.
6. Wyoming: Leonard Washington and Derrious Gilmore are gone but Larry Nance Jr. returns for the Pokes, who look to match their 20 wins of a season ago.
7. Colorado State: Larry Eustachy lost a lot of talent from last year's NCAA tournament team, but this is a solid program (tip of the cap to Tim Miles). The question: can Daniel Bejarano and Jonathan Octeus be the on-court leaders the Rams need with Jesse Carr (knee) unavailable?
8. Nevada: The Wolf Pack won just three league games last season, and that can change if they get more production from the front court. PG Deonte Burton is one of the nation's best at the position.
9. Fresno State: The dismissal of Robert Upshaw wasn't a crippling blow for the Bulldogs, who will be improved. But losing Braeden Anderson for the year definitely hurts.
10. Air Force: Falcons lost their top four scorers from a season ago, most notably guard Michael Lyons (17.7 ppg). Could be a tough year in Colorado Springs, but Dave Pilipovich's team will compete every night.
11. San Jose State: Dave Wojcik takes over as head coach, and his young roster will take its share of lumps in the Spartans' inaugural Mountain West campaign.