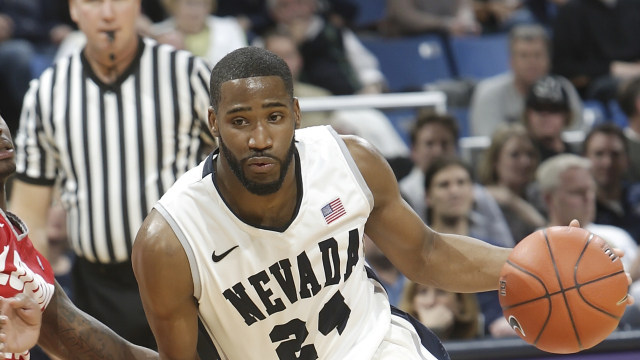 All month long, CBT will be rolling out our 2013-2014 season preview. To browse through the preview posts we've already published, click here.
Their first season as a Mountain West member was a tough one for the Nevada Wolf Pack. Lacking depth in the front court, David Carter's team took more than its fair share of lumps in a season that ended with eight straight losses and an overall record of 12-19 (3-13 Mountain West). Offensively guards Deonte Burton and Malik Story were asked to lead the way, with Burton averaging 16.3 points and 3.6 assists per game.
For his efforts the Los Angeles native was a third team All-Mountain West selection, and the league's coaches named him to the league's preseason all-conference team earlier this month. But due in large part to the Pack's lack of success, Burton remains anything but a household name outside of the conference, and that's something both player and coach understand.
"I think sometimes it falls on your record and how you finish," Nevada head coach David Carter told NBC Sports. "In our conference I don't think he's overlooked at all. We finished at the bottom of the league last year and he was still a third-team all-league selection. I just think that around the country he's probably one of the most underrated players, especially at his position."
(CLICK HERE to read NBCSports.com's Mountain West Preview)
Amongst Mountain West players who factored into at least 24% of their team's possessions Burton ranked sixth in offensive rating per kenpom.com, and with four of the top five players ahead of him gone (Boise State's Anthony Drmic is the lone returnee) Burton should be able to improve his standing in that statistical category. And if there's one area in which Burton saw the need to improve entering the 2013-14 season, it was his perimeter shooting.
After making 37.2% of his three-point attempts as a sophomore, Burton shot just 30.1% in his Mountain West debut. Burton noted that he worked on his perimeter shooting and overall shot selection throughout the offseason, but on a team that didn't have a high number of consistent scoring options, the shot selection was bound to be an issue last season. A contested shot by Burton was, at times, their best option offensively.
[youtube=http://www.youtube.com/watch?v=uaNUd8r-nVo]
"Myself and Malik Story were the only two guys who had the ability to pick the team up offensively, so it was tough in that regard," said Burton. "This year I have great teammates, guys who can finish and score inside and hit perimeter shots that I can rely on."
It's a lot to ask a point guard to run a team as well as be a primary scoring option, and for that reason there aren't a high number of players at the position entrusted with both tasks. Arizona State's Jahii Carson and California's Justin Cobbs would be two examples of this, but both had multiple scoring options at their disposal and that ultimately led to more team success. The hope in Reno is that even with Story having graduated, there are enough pieces around Burton to help him flourish while also lightening the load on his shoulders.
The team's summer trip to Italy helped with the growth process, as Burton and the other returnees were able to get some valuable court time with the team's seven newcomers.
(CLICK HERE to read through the rest of NBCSports.com's feature stories)
"They want to get better each and every day. That alone is a big step for them," said Burton when asked of the newcomers with one being UTEP transfer Michael Perez, who's expected to help fill the void left by Story. "They're willing to listen and want to get better, and they come in each day and work hard at everything we do."
With Story gone Burton's role won't change much at all, but the presence of those seven newcomers means that the senior point guard's role as a team leader becomes even more important. The summer trip to Italy certainly helped in regards to Burton's individual skill set and his bond with his teammates, but it also helped Burton improve as a leader.
"I think for him, his role stays the same in terms of being a leader and taking ownership of the team, and that's what he's done so far," Carter said of his point guard. "His teammates were obviously excited that he chose to come back, and I think when he decided to come back that sent a strong message to our guys who were returning that he's the leader. I think Italy just strengthened that bond between Deonte and his teammates."
Ranking in the top ten in school history in points (10th), assists (8th) and steals (9th), Burton's destined to go down as one of the most productive players in Nevada history. The respect from Mountain West foes is there as well.
The national praise hasn't come as quickly however, but all involved know that the only way to change that is to go out and win more games.