[youtube=http://www.youtube.com/watch?v=6ERJVt0PsMw]
Andrew Wiggins kicked off his freshman season at Kansas on Tuesday night, as the Jayhawks took on Pittsburg State, a Division II school in Pittsburg, KS, at Phog Allen Fieldhouse in the first of two exhibition games.
(MORE: Watch all of this year's #POSTERIZED's here)
Wiggins finished with 16 points in a blowout win, but that's not what everyone's going to be talking about. His dunk, which you can see at the :15 second mark of the video above, is. I mean, look at how high Wiggins gets: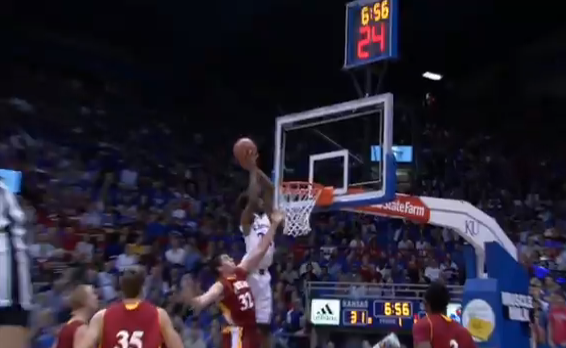 The dunk came off of a set play, where Wiggins ran off of a backscreen by Joel Embiid and caught a lob on that poor Pittsburg State big man. If you remember what Ben McLemore did last season, catching what seemed like 50 alley-oops, that should give you an idea of what we should expect out of Wiggins this season. No one in the country is better at drawing up quick-hitting set plays than Bill Self, so don't be surprised if this because a nightly occurrence for Wiggins this season.