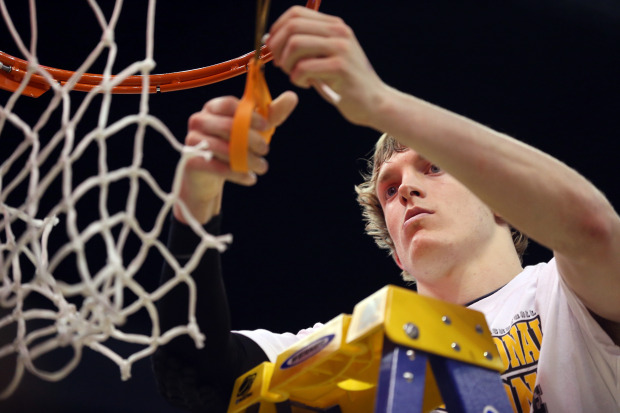 All month long, CBT will be rolling out our 2013-2014 season preview. To browse through the preview posts we've already published, click here.
Things changed quickly for Wichita State.
One year ago at this time, Gregg Marshall's club wasn't looked at as much more than a good mid-major program, a hodgepodge of castaways and the overlooked that, for whatever reason, couldn't latch on at a bigger program. Wichita State was the team slotted behind nationally ranked Creighton and their golden boy All-American Doug McDermott, a program that was just good enough to be nationally-known for their, ahem, unique nickname; the Shockers.
But that all changed last March, when the Shockers smacked beat before shocking No. 1 overall seed Gonzaga to reach the Sweet 16. After a win over La Salle brought about a trip to the Elite 8, Wichita State hung on despite nearly blowing a 20 point lead to Ohio State, advancing to the program's first Final Four since 1965.
All of a sudden, the Shockers were more than a name.
They were famous.
"It definitely went over the top," Cleanthony Early said of the attention the Final Four sent his way. "I didn't know how it was going to be."
"It was pretty overwhelming over the summer," Ron Baker added. "There are some times when you've got to step away from certain things, like when you go out with your friends and stuff like that."
(CLICK HERE to read NBCSports.com's Missouri Valley Conference Preview)
It wasn't just the Final Four, either. Over the summer, Creighton made the jump from the MVC to the Big East, meaning that the Shockers and their No. 17 ranking in the NBCSports.com Top 25 are now the face of the conference, all by themselves. Marshall's Merry Band of Misfits may not be household names just yet, but there's no questioning the respect they are getting nationally. Early, who just two years ago was playing at a Division III Junior College, is now a legitimate NBA prospect that was named an honorable mention all-america by NBCSports.com.
But with that attention comes expectations, and to his credit, Marshall is doing as much as he can to downplay the expectations currently saddling his team.
"Hopefully we get to play some of them,[but] that's all opinion right now," Marshall said of there being 16 teams ranked ahead of his club. "That'll be determined on the court. We just will continue to work hard and get better throughout the course of the season and see where it takes us."
That's about as typical as coachspeak gets. Downplay expectations, compliment opponents, praise the hard work being done behind the scenes and simply hope for the best. The only thing Marshall was missing was a reference to God and the stereotype would have been complete.
But the bottom line is that expectations within the program have certainly grown, just like they have with the fans and just like they have with the media. Teams don't make the Final Four and then simply decide to set their sights on just another tournament berth. Accomplishment is addicting, and once you get that first taste of success — especially when it comes with the notoriety that a Final Four berth brings — anything less will leave you unsatisfied.
(CLICK HERE to read through the rest of NBCSports.com's feature stories)
Wichita State wants to be the next Butler. They want to be the next VCU. They don't want to be the next George Mason, falling back to mediocrity after a run to the Final Four.
"[The attention has] definitely slowed down since the season's neared," Baker said. "For me, that's good, because I can focus on this year and let the past be the past. Just get ready for the season, because we've got goals this year we're trying to get towards."
The Shockers will have some pieces to replace this year if they are going to make another run. Veterans Carl Hall and Malcolm Armstead both graduated, leaving gaps at the point and in the pivot. The point guard spot should be a quick fix, as talented sophomore Fred VanVleet appears ready to take over the reins. A former top 100 recruit, VanVleet showed some flashes of what he's capable of in the limited minutes he had as a freshman. With a perimeter attack that will also include Early, Baker, the now-healthy Evan Wessel and Tekele Cotton, there aren't many teams that the Shockers won't be able to matchup with.
The front court is a bit more concerning, as Wichita State lost both starters from a season ago. Kadeem Coleby should fill a hole in the middle as a rebounder and a shot-blocker in his one and only season with the Shockers. More interesting, however, will be how quickly Darius Carter adjusts to major Division I basketball. A JuCo all-american last season, Carter should provide some scoring pop along the front line.
As there is with any team, the Shockers will have some kinks to work out once the season begins, but the potential is there for this group to make another run.
This group isn't resting on their laurels. As of now, those Final Four rings are nothing but a paperweight.
"I'm not a ring guy," Baker said. "It's pretty big. A little to noticeable for me."
"But it looks good in a jewelry box."