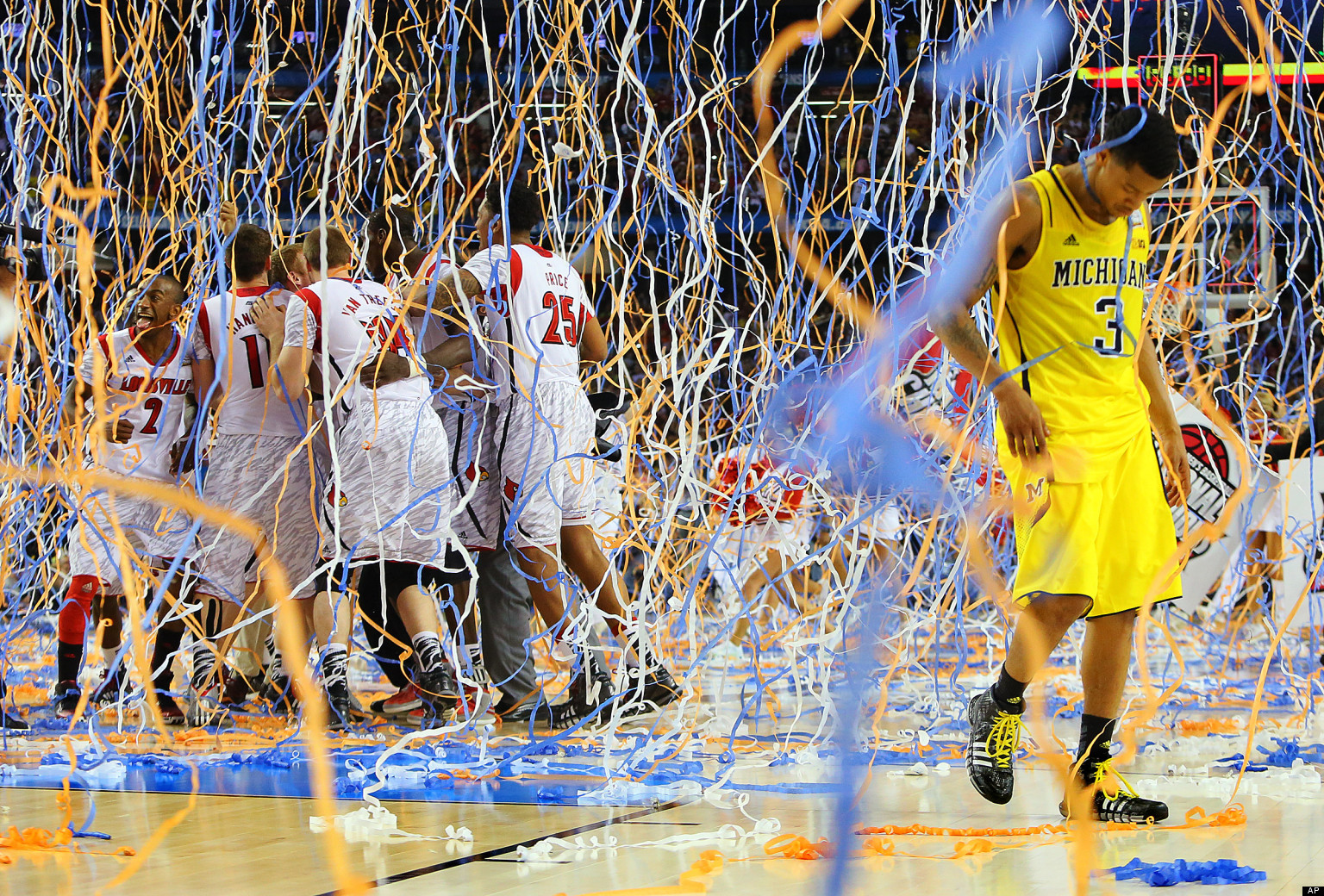 The college hoops season officially kicks off in 10 days, which means that all those long, lonely nights since Luke Hancock beat Spike Albrecht in a three-point shooting contest last April are about to be a thing of the past.
We're hyped for the season, and to help get you into the mood, the CBT writers put our heads together to brainstorm the 68 things that we're most excited about this season, better known as 68 reasons you should be amped for college hoops to be coming back.
Without further ado, here they are:
1. Louisville at Kentucky, December 28th. Don't think there's a need to add too much to that. (Raphielle Johnson)
2. Realignment: The Drinking Game! One sip if the color man forgets which league a team is in on-air. Two sips if the play-by-play man forgets. Finish your drink if the coach forgets. (Eric Angevine)
3. A healthy Jabari Parker playing for Duke. He hasn't been fully healthy since junior year of high school. (Scott Phillips)
4. Creighton and their all-american Doug McDermott playing in the new-look Big East. (Kevin Doyle)
5. The Champions Classic. Forth day of the season. Four top five teams. Kentucky's freshmen vs. Michigan State's vets. Jabari Parker vs. Andrew Wiggins. Coach K, Coach Cal, Bill Self, Tom Izzo. (Rob Dauster)
6. Duke's first visit to Syracuse on February 1st. How big is that crowd gonna be? (Terrence Payne)
7. Marshall Henderson and P.J. Hairston making the news for getting buckets instead of getting in trouble. (SP)
8. Gus Johnson and Bill Raftery – Just one of these guys in a booth was enough to ratchet up the level of any game they covered. Both of them? Flat-out bananas. (EA)
9. The return of #DunkCity with multiple nationally televised games. (TP)
10. The Bhullar bothers (7-foot-5 Sim, 7-foot-4 Tanveer) on the floor at the same time at New Mexico State. Probably won't happen too often, but when it does? (RJ)
11. The development of new rivalries. Conference realignment ruined a lot of good ones, but the new leagues have plenty of potential. The Big East's double-round robin league schedule? Syracuse visiting Tobacco Road? UConn-Memphis? The past is the past, let's embrace what we've got to watch. (RD)
12. How Butler handles its first season post-Brad Stevens. The Bulldogs are in a new conference (again) under a new head coach. (TP)
13. Grambling finally getting a win. (KD)
14. Mattaface. Thad has the features of a veteran character actor. Happy, sad, angry or hungry, it's fun to watch him emote. (EA)
15. The Pac-12's return to where it should be. While there's a clear favorite (Arizona) the conference is much improved entering this season. (RJ)
16. January 18th and March 1st. Those are the dates of the regular season match-ups between Big-12 heavyweights Oklahoma State and Kansas, also know as when Andrew Wiggins squares off against Marcus Smart. (RD)
17. The backcourts of the American – Memphis, Louisville, UConn. Holy cow. (SP)
18. Jim Boeheim's first trip to a Denny's. (RD)
19. The growth of Jahii Carson and the highlights that come with it. (SP)
20. The return of the "Deaf Dome"? I'm bullish on LSU this season, and a good enough showing could return the PMAC to what it was during Dale Brown's heyday. (RJ)
21. How does Chris Jones handle the role of being Peyton Siva's successor at Louisville? Can he lead the Cardinals in a bid to win back-to-back titles? (TP)
22. The Kentucky learning curve. Casual fans focus on the flash of blue-chip recruits, but insiders know the real work is done before New Year's Day, when Calipari and his coaching staff teach raw talent how to work hard, play together and win. As we've seen, some years it doesn't quite take. (EA)
23. Travis Bader chasing J.J. Redick's three-point record. (SP)
24. Semaj Christon continuing a meteoric rise, from a high school junior that wasn't a Division 1 prospect to a college sophomore with all-american potential. (RD)
25. Big East teams in historic Hinkle Fieldhouse. Butler's building is one of the few places left where the historical soul of the game can still be breathed in with every breath. It'll be a joy to see Marquette, Georgetown, et. al. framed in that setting. (EA)
26. Glenn Robinson III at Michigan. Mitch McGary's received a lot of pub, but GR3's in line for a highlight-riddled sophomore campaign. (RJ)
27. The race for Sun Belt Player of the Year. R.J. Hunter, Elfrid Payton, Shawn Long, Augustine Rubit and T.J. Price can all really play. (RD)
28. A healthy Jeronne Maymon teaming up with Jarnell Stokes at Tennessee. Cuonzo Martin's front line may get confused with Butch Jones' offensive line. (RD)
29. How good is James Young? We hear often about Julius Randle and the Harrison Twins, but what will Young's role be with NBA scouts already raving. (SP)
30. Can the Mountain West finally live up to the hype and perform well in the NCAA tournament? (RJ)
31. Just how good is a healthy Gary Harris? (RD)
32. St. John's has been dubbed the 'under-the-radar' team in the Big East, but Providence has plenty of talent and has received even less hype than the Johnnies. Can Ed Cooley's Friars make a run at the Big Dance? (RD)
33. The unsung freshman that pulls a Blake Griffin. Among the loaded 2013 class, so many underlooked freshman are going to stand out. Who will that be? (SP)
34. Aaron Gordon's aerial acrobatics. (RD)
35. Lipscomb vs. Belmont, the Battle of the Boulevard. New Lipscomb head coach Casey Alexander opens up the season against his mentor, Rick Byrd.
36. Chaz Williams (UMass) and Tyler Haws (BYU) on the same court on December 7. Neither player gets enough pub nationally. (RJ)
37. The circus surrounding what could be Rick Barne's final season in Austin. (RD)
38. The future of USC vs. UCLA. Two new coaches, one plays fast, the other plays slow. This rivalry should mean more on the national stage, and hopefully all this new blood will make it happen. (EA)
39. The return of Kyle Casey and Brandyn Curry at Harvard, which could end up being the nation's best mid-major program this season. (TP)
40. Does the Larry Brown experiment workout at SMU? (SP)
41. Ryan Harrow's shot at redemption at Georgia State. (RD)
42. UNLV. Incredible how fast Dave Rice turned the Rebs into a nationally relevant program again. Can he approach the title-winning ways of the days of Tark and Grandmama? I'd like a front row seat while he tries. (EA)
43. How Jimmy Patsos, one of the charismatic coaches in the game, does at Siena in his first season. (KD)
44. The growth of St. John's guard D'Angelo Harrison. If the offseason was as productive for him as many say it was, he could help the Red Storm surprise some people in the Big East. (RJ)
45. Kansas. That's it: Kansas. This team fascinates me, from the hype surrounding Andrew Wiggins to the mysterious force that it Joel Embiid; from the play of supporting castmates Wayne Selden and Perry Ellis to the development of Naadir Tharpe. (RD)
46. Chicago becoming relevant with seven different Division 1 programs in seven different conferences within 100 miles of the city. (SP)
47. Utah State, one of the most successful programs in the country under Stew Morill over the last 15 seasons, transitioning into the stronger Mountain West. (KD)
48. Colorful Marquette. I've always been a fan of Marquette's various color combinations. I enjoy waiting to find out if they'll be in white, yellow, dark blue or my favorite light blue for every game. (EA)
49. APR "freedom" for UConn, Texas Southern and Toledo. All three could wind up in the NCAA tournament after missing out last season. (RJ)
50. A full season of Mitch McGary playing starting minutes. (SP)
51. Can Florida actually challenge Kentucky in the SEC title race? (RD)
52. The hate that spews from people that don't understand basketball every time someone praises Aaron Craft. Idiots. (RD)
53. Havoc. Every year this exists, I will want to watch it. (EA)
54. The four-guard lineup that Josh Pastner will roll out at Memphis and his attempt to finally get that program performing at a level equivalent to the talent on the roster. (RD)
55. Mount Poland — aka Przemek Karnowski — playing starter's minutes at Gonzaga. (RD)
56. The Josh Smith experiment at Georgetown. Will he ever make the difference we know he's capable of? (SP)
57. Wichita State mounting a run at a second straight Final Four appearance. (RD)
58. The emergence of Xavier Johnson and Josh Scott at Colorado. (RD)
59. Selection Sunday. Waiting for the brackets to unfurl is the most enjoyable torture ever devised. (EA)
60. Bo Ryan's "Frank Costello face". (RD)
61. The two (or three) games between Iona and Manhattan. Always been a good rivalry, and it may determine the MAAC champion this season. (RJ)
62. Virginia's methodical pace pushing them to relevance in the ACC. (RD)
63. The growth of Yogi Ferrell as a sophomore. Hell be forced into a major role if Indiana is going to be a contender in the Big Ten this season. (RD)
64. All those insane new floors. (EA)
65. How does Spike Albrecht follow-up his unforgettable first half in the national title game? (RD)
66. The Anthony Ireland-Nino Jackson backcourt at Loyola Marymount. If the Lions stay healthy, they'll be much improved this season. (RJ)
67. Can Georgia State live up to the hype they'll have entering the season? (KD)
68. Incarnate Word references. We used to joke that a cupcake-laden schedule would include "Little Sisters of the Blind". With Incarnate Word now a legit DI member, we're pretty much there. (EA)