All month long, CBT will be rolling out our 2013-2014 season preview. Check back throughout the day, as we'll be posting three or four preview items every day.
To browse through the preview posts we've already published, click here. The rest of our Top 25 Countdown can be found here. For a schedule of our previews for the month, click here.
Last Season: 27-8, 12-6 Pac-12 (t-2nd); Lost to Ohio State in the Sweet 16
Head Coach: Sean Miller (5th season at Arizona: 96-43 overall, 48-24 Pac-12)
Key Losses: Mark Lyons, Solomon Hill, Kevin Parrom, Grant Jerrett, Angelo Chol
Newcomers: Aaron Gordon, Rondae Hollis-Jefferson, T.J. McConnell, Zach Peters, Elliott Pitts
Projected Lineup
– G: T.J. McConnell, Jr.
– G: Nick Johnson, Jr.
– F: Aaron Gordon, Fr.
– F: Brandon Ashley, So.
– C: Kaleb Tarczewski, So.
– Bench: Jordin Mayes, Sr.; Gabe York, So.; Rondae Hollis-Jefferson, Fr.; Zach Peters, Fr.
They'll be good because …: Once again, Sean Miller brought in a loaded recruiting class, this one with enough firepower to offset the fact that Arizona not only lost three of their top four scorers from a season ago, but that two former blue-chip recruits left the program with eligibility remaining. The biggest name of the bunch is obviously Aaron Gordon, a top five recruit that is spending his one-and-done season in Tucson.
He's far from the only addition, however. Duquesne transfer T.J. McConnell will take over the point guard role where he will be a better fit than Mark Lyons was. Losing Solomon Hill's leadership will hurt, but freshman Rondae Hollis-Jefferson will be capable of replacing his versatile role in the lineup. Add in the return of the underrated Nick Johnson as well as sophomore big men Brandon Ashley and Kaleb Tarczewski, who should improve as sophomores, and Miller will have plenty of talent to work with this year.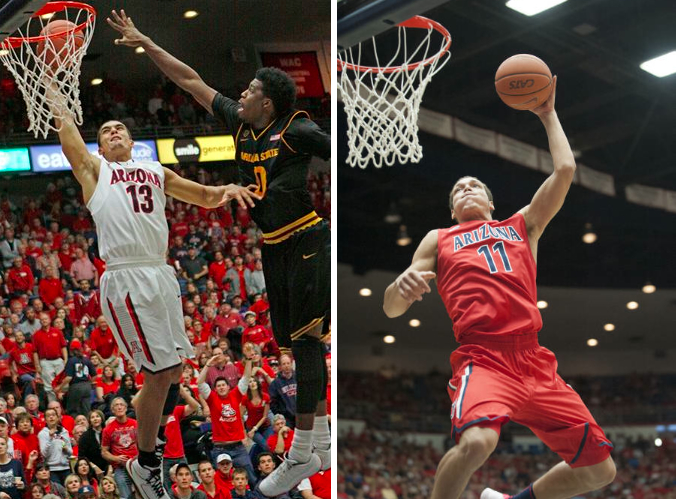 But they might disappoint because …: The reason that Gordon is at Arizona is because they will allow him to play on the perimeter. Gordon, who has drawn comparisons to Blake Griffin for his ability to posterize anyone and everyone between him and a rim, believes that his future lies as a small forward in the NBA, and that may be true. He's a gifted athlete that is capable of knocking down a three. If he keeps working, there's no reason that can't happen … down the road.
Those last three words are key, because as of right now, Gordon simply won't be as effective on the perimeter as he will playing inside. Remember how good Derrick Williams was for Arizona during the 2010-2011 season? Well Gordon is basically a more athletic and more skilled Derrick Williams. Now let's factor in that Arizona's roster makeup is perfect for him to play the four. He'll share front court minutes with Ashley and Tarczewski while allowing natural wing Hollis-Jefferson to see more minutes. Instead of struggling to prove himself against college threes, Gordon would be dominating college fours that try to stay with him on the perimeter while also defending the rim on the defensive end of the floor.
Outlook: Even with the additions that Oregon made this offseason, Arizona is the most talented team in the Pac-12. They have a potential all-american in Gordon, two promising big men in Ashley and Tarczewski, and a back court of McConnell and Johnson that is much better than it looks on paper. Winning the conference should be the bare minimum for this group; they enter the season as a Final Four favorite and a legitimate contender to win the national title.
While I hate to beat the point to death, the bottom line is that Arizona's best chance of reaching those lofty expectations will be if Gordon plays the majority of his minutes in the front court for a couple of reasons. For starters, Arizona has a pair of terrific defenders in the back court with McConnell and Johnson. Add in Hollis-Jefferson, and Miller's club will be able to apply nightmarish pressure defensively. Now imagine if, by chance, any of those three got beat to the rim. Can you imagine trying to finish over someone as athletic as Gordon?
That's not the only issue. Arizona is already going to have issues shooting the ball from the perimeter. Gordon is capable of hitting a three, but he's anything-but a great perimeter shooter. Playing the four, he'll have a lot more time and space to get off those threes, because opposing big men aren't going to want to close out long and risk getting burned for a dunk. Arizona can still win the Pac-12 if Miller plays Gordon on a wing, but the Wildcats won't be nearly as dangerous.