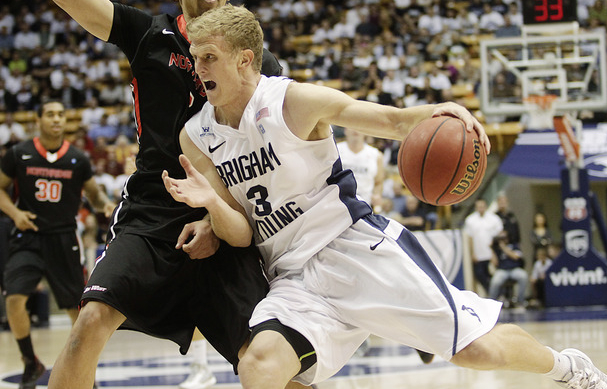 All month long, CBT will be rolling out our 2013-2014 season preview. To browse through the preview posts we've already published, click here.
The BYU basketball program went through some changes in the two years that junior guard Tyler Haws spent away from the program, serving his two-year LDS mission in the Philippines.
During his freshman season Haws was a key contributor on a team led by Jimmer Fredette, as he averaged 11.3 points and 4.2 rebounds per game in helping the Cougars pick up their first NCAA tournament victory since 1993. The biggest change in the post-Jimmer era, however, was the school's move from the Mountain West to the WCC, a process that played out while Haws was abroad. Not only did his return mean that he would have to work his way back into game shape, but in his first year back he would have to become familiar with new opponents (and styles of play) while also being expected to be one of the leaders for Dave Rose's squad.
For most players, those factors and the lack of elite physical competition would lead to a slow start to the season. But that wasn't the case for Haws, who scored 22 points in BYU's season opener and ultimately proved to be one of the nation's best shooters. Scoring a WCC-best 21.7 points per game, Haws shot 48.3% from the field and 38.1% from beyond the arc in leading the Cougars to 24 wins and a trip to the Postseason NIT semifinals.
"Not as much as I would have liked. You get about a half hour in the morning to do some stuff, so I tried to somewhat stay in good shape," Haws told NBC Sports when asked about how much time he had to work out while on his mission. "I took a jump rope, did pushups and sit-ups, and in some areas I'd go running in the morning.
"Filipinos love basketball, and on almost every street there's a couple basketball hoops so we'd stop and shoot around," Haws continued. "Nothing too intense or serious though."
With that being the case Haws needed to make the most of the six months he had prior to the 2012-13 season and he did just that, getting into the physical condition needed to have an immediate impact for the Cougars.
(CLICK HERE to read NBCSports.com's West Coast Conference Preview)
"Every player is different. A lot of it is their body type and the ability to get back into pretty good playing shape," BYU head coach Dave Rose told NBC Sports. "And a lot of it is timing; when they leave [for their mission] and when they get home. Some guys get home in August and that makes it really tough to get everything going before November.
"I think that the change in missionary age requirements won't change the body type issue, as some of the bigger guys take a little more time to get back into playing shape, but the timing might be more consistent."
The surprise for Rose didn't come in how well Haws began the season, but rather in how he was able to play at a high level throughout the season. Without the full allotment of offseason training most college basketball players get during the spring and summer months, at some point in the latter portion of the season one would expect fatigue to set in. Haws didn't hit a "wall" in 2012-13, reaching double figures in 34 of BYU's 36 games and scoring at least 20 points in 25 of those games.
According to Ken Pomeroy's numbers Haws ranked fourth in the WCC in offensive rating amongst players who factored into at least 24% of their team's possessions, posting a rating of 115.7. Just 19.7% of the 571 shots Haws attempted from the field last season were three-pointers, and he made nearly 51% of his shots from inside the arc. With Brandon Davies (17.7 ppg, 8.0 rpg) gone Haws will attract even more attention from opponents, but that's something the Cougars have already dealt with.
(CLICK HERE to read through the rest of NBCSports.com's feature stories)
"Tyler was such a late-game, clutch performer for us, and I think late in the year I think everyone knew he was the option we were going to and that made it pretty tough on him. He got beat up pretty good, and hopefully we'll be able to relieve that some," noted Rose. "We've got more guys that are capable of making plays with the ball in their hands and I think that will help us.
"We'll be a good shooting team, and then our post guys are very talented but they're young."
Since entering the WCC in 2011 BYU has won 22 conference games, but in both seasons they finished third behind traditional WCC powers Gonzaga and Saint Mary's. With Matt Carlino and Kyle Collinsworth more experienced and improved front court depth, the hope in Provo is that with Haws leading the way BYU is ready to take the next step and ultimately win the conference. But in order to do that, BYU will need to be more consistent according to Haws.
"Consistency is a big key for us in winning the WCC, because I think we're really good at times throughout the season and then at other times we're kind of 'up and down,'" noted Haws. "A big focus this year will be consistency and bringing it every single day and night that we play."
Having a scoring option the caliber of Haws certainly isn't a bad place from which to start.