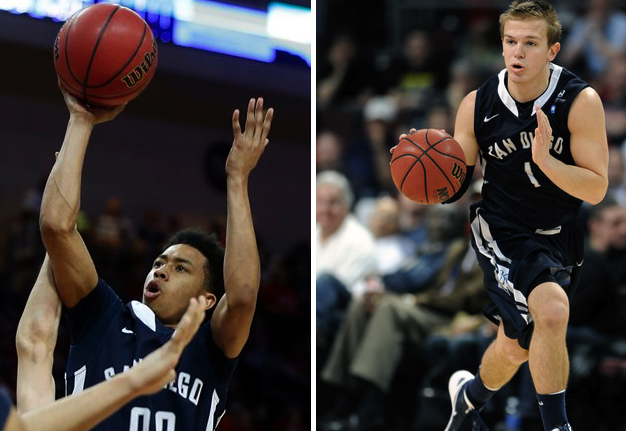 All month long, CBT will be rolling out our 2013-2014 season preview. To browse through the preview posts we've already published, click here.
Being in a conference that many tend to associate with a couple powerful programs can be a bit of a double-edged sword for the other members. On one hand, the national attention that comes as a result of those powerful programs can help elevate the entire conference, with the membership looking to use the raised profile as a springboard to bigger and better things.
But on the other hand it makes the climb that much tougher for those other schools, with the details ultimately making all the difference.
One of the programs in the West Coast Conference looking to make a move in 2013-14 is San Diego, which finished the 2012-13 season with an overall record of 16-18 (7-9 WCC). Bill Grier's Toreros are a year older, and in guards Christopher Anderson and Johnny Dee, they've got one of the better perimeter tandems on the west coast. And frankly, given the importance of guard play in basketball that's not a bad place to start when looking to make a climb up the conference pecking order.
Both players were honorable mention All-WCC selections last season, with the 5-foot-7 Anderson running the point and the 6-foot Dee playing the role of shooting guard. Anderson, who can be a downright nuisance to opponents on the defensive end, averaged 9.4 points and ranked second in the WCC in assists with 5.7 helpers per contest. Dee was San Diego's leading scorer a season ago, scoring 15.0 points per night on 43% shooting from the field and 37.7% shooting from beyond the arc. And in the case of Dee, Anderson's presence played a key role in his offseason development as the two squared off against each other more often than not in the team's summer pickup sessions.
(CLICK HERE to read NBCSports.com's West Coast Conference Preview)
"I think we have one of the best perimeter on-ball defenders in our conference in Chris Anderson," Dee said in an interview with NBC Sports. "Going against him in open gym and in practice has really helped me to develop the ball-handling skills I need to handle a good defender guarding me. It's really helped me improve, and I'm excited about that aspect of my game for when I play other teams and not just Chris."
While Dee was asked to attack the offseason with the mindset of a point guard, the requirements were a little different for Anderson. Anderson's very quick with the basketball in his hands, which allows him to get to the basket against many opponents, but there was also the need to develop a middle game of sorts.
"I don't know if there's a quicker guy in our league," Grier said of Anderson in an interview with NBC Sports. "He's always had this tremendous quickness and an ability to get to the basket, and he's very good at reading when a defenders helps. He's very good at finding guys.
"But where I've asked him to improve, and he has, is when he gets a guy on his heels and he stops to take a 15-17 foot pull-up and shooting that consistently. He has a tendency to want to get all the way in to try to draw help or get to the rim. He's worked on it and I think he has more confidence in his ability to knock down that shot; now he has to go do it in a game because his 'default' is to just go by guys."
Those two won't do all of the heavy lifting by themselves, meaning that other players will need to step up with the Toreros having lost wing Ken Rancifer (10.2 ppg, 3.7 rpg) and forward Chris Manresa (9.0 ppg, 7.1 rpg) to graduation. Grier mentioned both freshman Brett Bailey and sophomore Duda Sanadze as possibilities when it comes to accounting for the loss of Rancifer. Sanadze, a native of the Republic of Georgia, had to sit out last season but has experience playing at the international level. The hope for Sanadze is that he can produce enough offensively to help take some of the load off of the shoulders of Anderson and Dee.
"That's the thing I've felt through the preseason is his ability to score is really going to help Chris and Johnny and take the weight off their shoulders," said Grier. "And now it's another guy who's capable of scoring. Two years ago in the Under-20 European Championships [Sanadze] was the second-leading scorer in the tournament, so he can put the ball in the basket and that will help take some pressure off of those two."
(CLICK HERE to read through the rest of NBCSports.com's feature stories)
Manresa was the team's leading rebounder last season, and given San Diego's struggles on the glass last season (last in the WCC in defensive rebounding percentage and 8th in offensive rebounding percentage) that's a tough loss to absorb. But in sophomore center Jito Kok the Toreros have a big man who tied the school freshman record for blocks in a season with 55, and with Kok having put on about 15 pounds the hope is that he's ready to produce even more in 2013-14. Senior Dennis Kramer, who started 21 games last season but wasn't 100% for much of the 2012-13 campaign, and Simi Fajemisin will also be asked to help account for the departure of Manresa inside.
Those rebounding issues factored into opponents making nearly 51% of their two-point shots, and those extra possessions allowed on the glass can make all the difference in close games. San Diego finished the 2012-13 season with a record of 4-6 in games decided by five points or less, and their 4-9 record in true road games proved to be problematic as well. The rebounding issues need to be shored up if the Toreros are to entertain any thoughts of improving their standing within the WCC, especially when considering the fact that seven of their first nine league games are on the road.
While the optimistic view of the schedule is to note that San Diego will get seven of their final nine WCC games at home, there's also the real possibility of a tough start putting the Toreros in a hole they'll have a hard time climbing out of. Taking care of the "little things" will ultimately have a significant impact on the outcome of San Diego's 2013-14 campaign.
"We're a small team, especially with me and Chris on the perimeter, but that's really no excuse," said Dee. "For us to move up in the WCC we have to improve our defensive rebounding and not give teams another chance to score on us. We can play pretty good defense for a possession, but if they get the offensive rebound then we're in scramble mode and it's harder on us. I think if we can rebound the basketball better we can make a jump [in the standings]."
With Gonzaga, Saint Mary's and BYU once again expected to reside at the top of the standings and programs like Loyola Marymount and San Francisco also having quality pieces, the climb won't be an easy one for San Diego. But with Anderson and Dee leading the way, the Toreros hope to make their move.