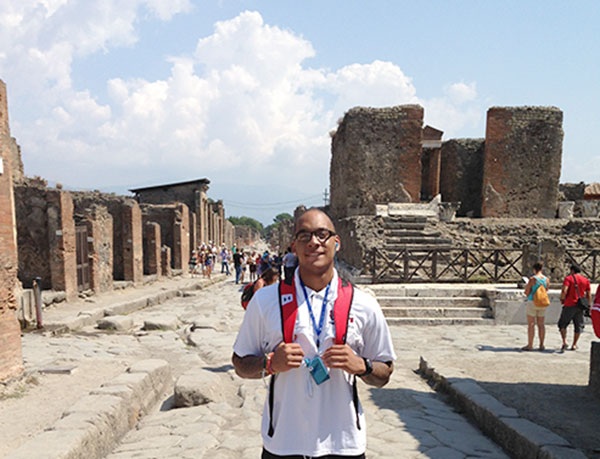 It's always helpful to remember that famous people are human. That goes double for college athletes, who are, after all, college kids.
Every time I read a tut-tutting expose about a college basketball player's off-court indiscretions, one thought runs through my mind: thank god nobody was watching me that closely when I was 19.
That's what I love about "Taking Europe by Red Storm," an inside look at the St. John's basketball team penned by Reid Forgrave for Fox Sports. Not only is it a lovely travelogue of the team's time in Paris this summer, but it reveals the humanity behind some players who have acquired a bad, bad rep in the national press in the past.
Take the story of D'Angelo Harrison, for instance.
What everyone knows about Harrison is this: A bad attitude got him kicked off the team last season, despite being the team's leading scorer and despite St. John's being on the cusp of an NCAA tournament bid when Lavin booted his leading scorer. He was painted as a bad apple. Meet Harrison, though, and you'll realize the bad-apple tag doesn't ring true.

He's charismatic and funny, smart and cocky, yet also the type to notice when someone is sitting alone and go bring the loner back into the fray. When the team visited the St. John's campus in Paris, Harrison befriended a nun and bought a rosary from her. He's a natural leader, the type of player you root for, yet someone with plenty of demons.
Do I believe that superb athletes catch breaks they shouldn't from time to time? Yes. I also believe that college coaches quite often are doing their best to teach these raw college kids humility and responsibility while they still can. Stories like this one help us hit a more realistic middle point on the lionizing-demonizing scale that dominates our national conversation too often.
As I noted, it's also a nice look at what goes on during an overseas trip. For a young team like St. John's, this kind of trip can pay real dividends in team chemistry. It's a good image to have in the back of your mind when you watch the Red Storm take the court this season.