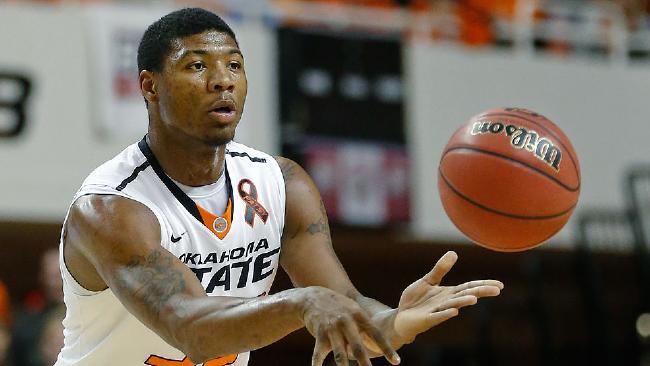 All month long, CBT will be rolling out our 2013-2014 season preview. Check back throughout the day, as we'll be posting three or four preview items every day.
To browse through the preview posts we've already published, click here. To see the rest of our preview lists, click here. For a schedule of our previews for the month, click here.
Every year around this time, we put together a Dream Team of college guys. The parameters this year? The NBA has announced that they're added a 31st team for just this season and named us as the coaching staff. The only players available to us are guys on currently on college rosters, meaning that we've got 13 spots to fill on a team that will be playing 82 games against NBA teams over the next six months.
Here are the guys that made the cut:
G: Marcus Smart (Oklahoma State): Smart was the easy pick at the point guard spot. He's a winner and a leader and the kind of player that will make everyone around him better, which is important considering that this team of college guys will be playing an NBA slate. He's also got the ability on the defensive end of the floor to stay in front of NBA point guards. His perimeter shooting is a concern, but we're going to have to hope he put in the work this summer.
G: Gary Harris (Michigan State): Harris had a shoulder that was more banged up than he let on all of last season, yet he still managed to average 12.9 points and shoot 41.1% from three. Now that he's healthy, we'll get a chance to see just how good of a basketball player he is. Plus, the kid was also a star on the gridiron in high school. He's tough, just like Smart. Our back court won't back down from anyone.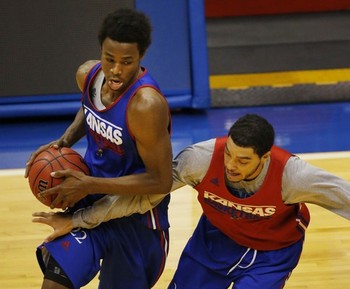 F: Andrew Wiggins (Kansas): At this point in his development, Wiggins makes the cut here more for his ability on the defensive end of the floor and for his athleticism than the fact that we need a go-to scorer that can get 20 a night in the league. If he does score like that, however, this team might have a chance to win more than 15 games. Physicality will be an issue, but he's as ready as anyone to hold his own at the next level.
F: Julius Randle (Kentucky): Like Wiggins, Randle's physical tools leave him ready for the next level, although the 19 year old's skill set will lag a little bit behind. That said, his ability to bully people around the basket should allow him to have an impact immediately, and as the season goes on, the hope would be that he'll develop enough of a face-up game to be a legitimate secondary scoring option.
C: Mitch McGary (Michigan): The center spot is where we ran into a bit of an issue here, as no one in college is really an ideal fit to help in the pivot at the next level right away. We went with McGary because you know what you're going to get out of him: physicality and toughness in the lane, max effort for 48 minutes, and a presence on the glass.
Bench:
Jahii Carson (Arizona State): Carson is our change-of-pace point guard, the guy that we'll bring in when things get stagnant or when we need an injection of energy into the lineup. He'll run the floor, but can he defend?
Willie Cauley-Stein (Kentucky): We were enamored with Cauley-Stein's ability to run, his athleticism and the shot-blocking presence that he'll provide. He's coming off the bench because McGary's more physical.
Spencer Dinwiddie (Colorado): Dinwiddie's versatility is what earned him a spot here. At 6-foot-6, he can defend multiple positions, but he's also capable of playing the point or off the ball.
Aaron Gordon (Arizona): Gordon's athleticism is off the charts, and it's silly to leave a guy at home in a league where your athleticism needs to be off the charts. We'll use him in four-out, one-in sets, but he'll be used more as a four than a wing.
Doug McDermott (Creighton): You just don't leave guys that can shoot it the way that McDermott can at home. The concern, obviously, is on the defensive end of the floor, where he could have trouble against wings or big men.
Jabari Parker (Duke): Parker's versatility was just too much to pass up. He's coming off the bench, but he'll be used in a lot of lineups on a wing, bumping Wiggins to off-guard.
Adreian Payne (Michigan State): We needed a third-string center, and Payne was the pick for two reasons: his size and athleticism and the fact that he can hit a three.
James Young (Kentucky): The biggest weakness on this team is perimeter shooting, which is why Young made the cut. We toyed with Joe Harris and Tyler Haws for this spot, but took Young because we believed he was better equipped for the defensive end of the floor.