Michigan is one of the more intriguing teams heading into this season.
On the one hand, they lose both Trey Burke and Tim Hardaway Jr., their two most dangerous scorers and, in the case of Burke, a National Player of the Year that was arguably underrated in his importance to Michigan's success a season ago.
That's a lot to replace.
On the other hand, the Wolverines have a roster chock-full of talent. Mitch McGary and Glenn Robinson III look like they can be lottery picks one day, Nik Stauskas and Caris LeVert both looked like they were under-utilized last season, and freshmen Zak Irvin and Derrick Walton were talented enough to have their pick of top ten programs.
Michigan is going to be a new team, a different team, in 2013-2014, but that's not necessarily a negative, particularly when you take a look at some of the work their best players put in this offseason.
Nik Stauskas reportedly added six inches to his vertical this summer, a fact supported by this video of the sophomore throwing down some dunks in his driveway. That becomes all the more impressive when you consider that he also added 16 pounds of muscle: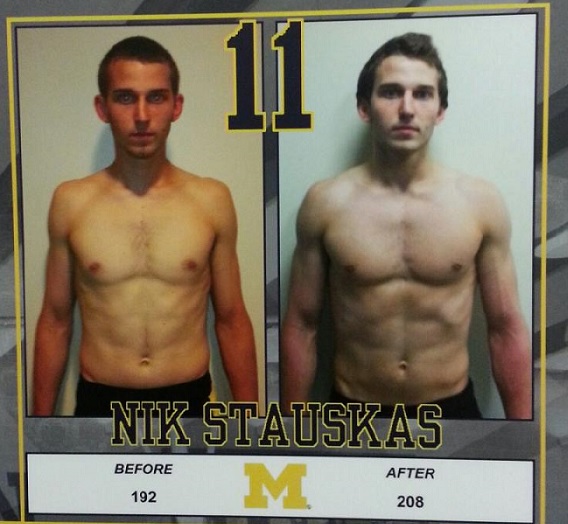 Stauskas isn't alone.
Robinson, who was already one of the most impressive athletes in the country, has apparently reached freak status when it comes to his leaping ability. He can now reach 12-feet, 3-inches off of his vertical, which is insane.
At the very least, the Wolverines should be an entertaining team to watch this season.