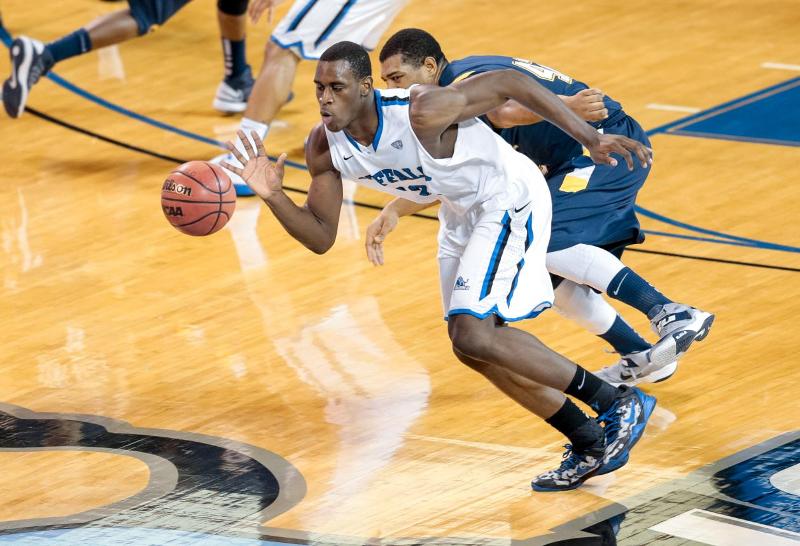 All month long, CBT will be rolling out our 2013-2014 season preview. To browse through the preview posts we've already published, click here.
At the end of the 2011-12 season the Buffalo Bulls lost a sizable chunk of their offensive production, with MAC Player of the Year Mitchell Watt and guard Zach Filzen among the key contributors. So in that regard some growing pains were expected for a program that entered the 2012-13 campaign having won at least eighteen games in each of the four seasons prior (three seasons of 20 or more wins). But it wasn't meant to be for the Bulls, who fell behind the proverbial 8-ball in non-conference play and dropped their first three conference games. The end result was a 14-20 record and a coaching change, with Bobby Hurley replacing Reggie Witherspoon.
But Hurley, in his first season as a head coach after assisting younger brother Dan at both Wagner and Rhode Island, isn't working with an empty cupboard by any means. Four starters return, most notably a senior forward in Javon McCrea who may be one of the nation's best. As a junior McCrea posted averages of 18.0 points, 7.9 rebounds and 2.6 blocks per game. For his efforts McCrea was a first-team All-MAC selection, but the lack of team success has the Newark, N.Y. product hungry to put the Buffalo program back on the right track in his final season.
"When I first got here we won 20 games my freshman season and 20 games my sophomore season, so we're not really used to having a bad season," McCrea told NBC Sports. "Everyone's determined and ready to show that we're better than last year's performance."
McCrea reached double figures in every game with the exception of two last season, shooting 55.7% from the field despite being the focal point of opposing teams' scouting reports every game. His best outing of the season came in a two-point overtime loss at Kent State, as McCrea accounted for 32 points, 15 rebounds and eight blocked shots. Coach Hurley knew the numbers McCrea posted last season and he was able to watch some game film as well, and once individual workouts began it didn't take long for the coach to realize what kind of talent he'd be working with this season.
(CLICK HERE to read NBCSports.com's Mid-American Conference Preview)
"I watched a couple games and obviously I was aware of what he had accomplished statistically; I didn't have a very strong feel but I knew he was a good player, a first-team all-league player" noted Hurley in a phone interview with NBC Sports. "I got very excited the first couple of weeks working with him on the court, just seeing some of the stuff he was doing. As a coach, I knew I would be able to use him in many different ways and that was exciting."
The ability to use McCrea in a variety of ways isn't solely about his individual talents, as the Bulls return much of their production from a season ago. Junior forward Will Regan (11.1 ppg, 4.4 rpg) has the ability to score both inside and out, as he shot 47.8% from the field and 41.6% from deep in his first season after transferring in from Virginia, and senior guard Jarod Oldham (10.1, 5.3, 4.4 apg) is back after playing just 11 games due to a wrist injury. In 2011-12 Oldham led the MAC in assists, dishing out 5.9 helpers per game, and his return should give the Bulls the boost they need in the backcourt.
Buffalo does lose Tony Watson II (11.3 ppg), but sophomore guard Jarryn Skeete is expected to slide into that role after averaging 7.1 points per game as a freshman. With these pieces the Bulls are well-positioned to improve their standing within the MAC, and ultimately the hope is that McCrea will be able to improve his individual standing with the team enjoying greater success as well.
"We've talked a lot about his future and he's going to play beyond his last year here at Buffalo, so we just want to put him in a better position to make some things happen for himself," said Hurley. "He's continued to work on his mid-range jump shot out to about 17 feet, and I'm going to encourage him to shoot that ball because he's worked really hard. It's something we've discussed, adding an additional dimension to his game, and hopefully people will see that in small doses."
CLICK HERE to read through the rest of NBCSports.com's feature stories
For some programs the transition to a new coach and style of play can be a struggle, with the desire to put one's stamp on the program possibly being at the expense of the holdovers. But that won't be the case for Hurley, who wants to take full advantage of the one season he has with McCrea. And there's no better way to show that Buffalo is back on the right track than to have McCrea enjoy even more success, because that would enable the program to enjoy more success as well. So as the coach begins writing his chapter in the Buffalo history books, the player will look to provide a fitting conclusion to his UB career by helping the team reach its goals.
"I don't really focus on [individual accolades], I just focus on the team aspect," said McCrea. "I feel that if we take care of the non-conference first and then focus on the MAC, then everything will be much better. If we play poorly in non-conference play like we did last year, then it can carry over."
With perennial MAC East powers Akron and Ohio both suffering some key personnel losses, there's an optimistic feeling in regards to Buffalo's chances of contending. And with McCrea leading the way, the Bulls are more than capable of rebounding from last season's disappointing outcome.