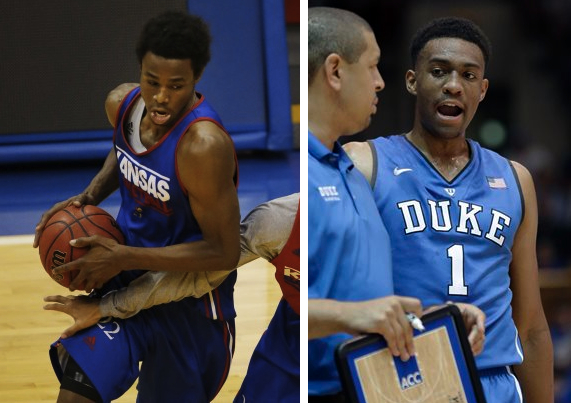 All month long, CBT will be rolling out our 2013-2014 season preview. Check back throughout the day, as we'll be posting three or four preview items every day.
To browse through the preview posts we've already published, click here. To see the rest of our preview lists, click here. For a schedule of our previews for the month, click here.
Basketball has five positions, but the way that the sport has grown, particularly at the collegiate level, has produced hybrid players, unusual roster makeups and far too many teams with players that don't fit into a typical positional category. Few teams actually field a traditional starting five, which is why CBT decided to make our positional rankings reflect that.
We will be ranking:
Wing forwards are players that we feel cannot be designated as a member of the back court yet do the majority of their damage away from the basket. A wing player in basketball is one that requires versatility if a player's to be considered among the elite at the position. Whether they're a high-level perimeter shooter or a slasher who's best when attacking off the dribble, the ability to excel in multiple facets of the game is of high importance.
Here's our list of the 20 best wings entering the 2013-14 season:
1. Andrew Wiggins (Kansas): The Huntington Prep product arrived in Lawrence amidst much fanfare, and whether or not he's in the spot when the season ends will depend in large part on how he handles the attention. The skill and athleticism are most certainly there, with more than a few scouts pegging Wiggins as the top pick in the 2014 NBA Draft should he enter.
2. Jabari Parker (Duke): Parker was one of the most versatile players in the country coming out of Simeon High in Chicago, as he has the ability to score both inside and out. Given his talent Parker is one of two wings expected to lead the way for the Blue Devils as they look to account for the loss of their top three scorers from a season ago.
3. C.J. Fair (Syracuse): Even with the Orange playing their first season in the ACC, it was Fair who the coaches chose as their preseason ACC Player of the Year. As a junior, the southpaw from Baltimore posted averages of 14.5 points and 6.9 rebounds per game for a team that won 30 games and reached the Final Four for the first time in a decade.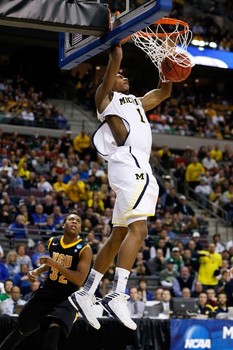 4. Rodney Hood (Duke): Hood has yet to play a game in a Duke uniform as he transferred in from Mississippi State. But that season spent practicing is expected to pay dividends for Hood, who was an SEC All-Freshman Team selection in 2011-12 (10.3 ppg, 4.8 rpg, 2.0 apg). And he's already a trusted leader for Mike Krzyzewski's squad, as he's been named a team captain for the upcoming season.
5. Glenn Robinson III (Michigan): The son of the "Big Dog" is poised for a breakout season with the Wolverines having to account for the loss of both Trey Burke and Tim Hardaway Jr. As a freshman Robinson posted averages of 11.0 points and 5.4 rebounds per game, and he has the skill needed to take advantage of the increased offensive opportunities that will comes his way in 2013-14.
6. Cleanthony Early (Wichita State): One reason why many expect the Shockers to win the Missouri Valley and possibly make some more noise nationally is Early, who averaged 13.9 points and 5.4 rebounds per game last season. The 6-foot-8 forward earned all-MVC and Newcomer of the Year honors, and he's the early favorite to win MVC Player of the Year as a senior.
7. Kyle Anderson (UCLA): The attribute that would best describe Anderson's game is "versatility," with the sophomore being one of the options to run the point for Steve Alford's Bruins. As a freshman Anderson, who spent the majority of his time off the ball due to the presence of Larry Drew II, led the Bruins in rebounding (8.6 rpg) while also averaging 9.7 points and 3.5 assists per game.
8. Sam Dekker (Wisconsin): The Badgers may have lost some key veterans but Dekker, who was one of the Big Ten's best freshmen last year, is back for his sophomore campaign. Dekker shot 48% from the field in 2012-13, averaging 9.6 points and 3.4 rebounds per game.
9. James Young (Kentucky): For all the talent at John Calipari's disposal it's been Young, another of their six McDonald's All-Americans, whose received the highest amount of praise from observers of the Wildcats' early practices. Always a good perimeter shooter, Young has the length (6-foot-6) to be a matchup problem for opponents if he attacks the rim with greater regularity.
10. T.J. Warren (N.C. State): With four starters gone from last season's NCAA tournament team it's essentially Warren's show in Raleigh in 2013-14. As a freshman the 6-foot-8 Warren shot 62% from the field, averaging 12.1 points and 4.2 rebounds per game.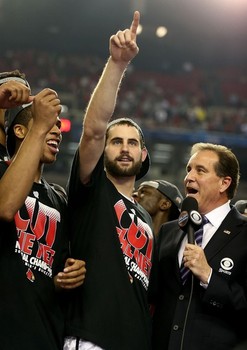 TEN MORE NAMES TO KNOW
11. Luke Hancock (Louisville): The reigning Final Four MOP is a versatile player who can make things happen both on and off the ball, and his leadership abilities have proven valuable for the Cardinals as well.
12. Will Sheehey (Indiana): Given the amount of talent Indiana lost from last year's Big Ten champion squad, Sheehey (9.5 ppg, 3.5 rpg) will be expected to do a lot more this season. Sheehey shot 49% from the field as a junior.
13. LaQuinton Ross (Ohio State): Is this the year in which Ross puts it all together? He played very well for the Buckeyes in postseason play, averaging 15 points during the NCAA tournament and hitting the game-winning three to push Ohio State past Arizona in the Sweet 16.
14. Treveon Graham (VCU): For as much attention as the Rams' "HAVOC" system receives, it should also be noted that in Graham they've got one of the nation's best swingmen. Graham averaged 15.1 points and 5.8 rebounds per game in 2012-13, shooting 45% from the field and 37% from beyond the arc.
15. Dezmine Wells (Maryland): After spending much of last season adjusting to a new program Wells may be poised to take off in 2013-14. The Xavier transfer averaged 13.1 points and 4.9 rebounds per game last season, and he was also second on the team in assists (3.0 apg).
16. JaKarr Sampson (St. John's): Sampson may be one of the best athletes in the country, and he'll be a primary scoring option for Steve Lavin's Red Storm after averaging 14.9 points and 6.6 rebounds per game as a freshman. For his efforts Sampson was named Big East Rookie of the Year.
17. Fuquan Edwin (Seton Hall): Edwin is one of the nation's most underrated players (the Pirates' lack of success has had something to do with it), and the hope in South Orange is that he receives more attention in 2013-14. As a junior Edwin posted averages of 16.5 points, 5.8 rebounds and 2.4 steals per game.
18. Damyean Dotson (Oregon): Dotson played very well as a freshman for an Oregon squad that reached the Sweet 16 for the first time in a decade, averaging 11.4 points and 3.5 rebounds per game. Dotson ended the season with six straight double-digit scoring outings.
19. Branden Dawson (Michigan State): Dawson's dealt with injuries for much of his career, but he played in all 36 games last season and averaged 8.9 points, 5.9 rebounds and 1.6 steals per game. Still a high-level athlete, Dawson's production will be key if the Spartans are to have a shot at getting to the Final Four.
20. Jabari Bird (California): Losing leading scorer Allen Crabbe is a big deal, but the arrival of Bird is one reason why the folks in Berkeley aren't panicking. An excellent athlete, Bird earned a spot in the McDonald's All-America Game and averaged 17.2 points and 6.8 rebounds per game as a senior in high school.