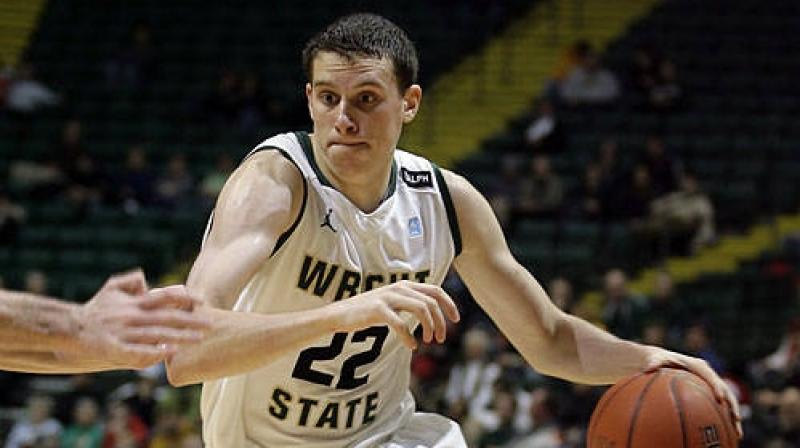 All month long, CBT will be rolling out our 2013-2014 season preview. To browse through the preview posts we've already published, click here.
Wright State was picked to finish last in the Horizon League before the 2012-13 season and nobody expected them to be 23-13 and within four minutes of playing in the NCAA Tournament as they were last March.
Except for maybe Raiders head coach Billy Donlon.
The 36-year-old Donlon — known for his quick wit and one-liners — knew Wright State would compete last season, and although he didn't outwardly predict that the Raiders would hold a six-point lead at Valparaiso during the Horizon League Conference Tournament Championship game, he fully believed it was possible heading into last season.
"Name me a program in the Horizon League that's won more than Wright State over the last seven years?" Donlon said at Horizon League Media Day in Chicago this fall. "We had one bad year; other people choose to pick us last. I didn't choose to pick us last. The standard of our program didn't go down because we had one bad season."
The Raiders "surprise" season ended in heartbreak, however. Wright State led 50-44 with 5:35 to play in the championship game last season before losing to Valparaiso 62-54.
That was without senior and returning leading scorer Cole Darling, a 6-foot-8 forward who missed the final 11 games of the 2012-13 season with a shoulder injury.
(CLICK HERE to read NBCSports.com's Horizon League Conference Preview)
Wright State was one of only five teams in the country to not start a senior while being the 11th youngest team in the country. They return 9 of their top 10 and add a valuable transfer in Butler junior guard Chrishawn Hopkins.
But while the Raiders return basically the same team from a year ago, Donlon has moved past the game last season.
"The 11th time I was watching the last five minutes on the bus ride home from Valpo, Scott Woods — he and I have worked together for seven years, he's one of my assistants — he tapped me on the shoulder and he said, 'Billy, it ain't gonna change. Shut the computer off.' And I did and I haven't watched it since," Donlon said.
Darling is focused on coming back and leading the team to the tournament. A first-team preseason all-Horizon selection after garnering second-team honors last season, Darling rehabbed and is ready for this season.
"It was rough, a lot of hours in the training room and everything," Darling, who averaged 11.3 points and 4.6 rebounds before getting hurt, said. "At first, I healed up pretty quick and wanted to get out of the sling and start moving around. The hardest thing was the anticipation of not moving around in the sling for six weeks. After that, it was just range of motion."
Players like Darling are the reason that last season the Raiders were one of the biggest surprises in college basketball. The mentality in the program never changed for Darling or the players despite preseason expectations.
"We win at Wright State," Darling said. "That's what we do. We have to get in that mindset of a 20-win season and everything that they've had in previous years. We have to get back to the tournament."
(CLICK HERE to read through the rest of NBCSports.com's feature stories)
Darling said that this year's group is already off to a great start in practice and he likes the way they play.
"We're definitely a lot more athletic this season. Everybody can change positions and play different spots and score the ball, so we've had a lot of spacing and a lot of equal scoring opportunities," Darling said. "Also with our depth now, our pace of play doesn't have to necessarily slow down when we change guys in and out. Which will help us out defensively and offensively."
Dealing with injuries like Darling's and also Matt Vest and AJ Packer has been difficult but something Wright State has dealt with thanks to their depth.
"Matt Vest is 50/50 on whether he'll play or redshirt. AJ Packer had surgery on his foot and he's doing better," Donlon said.
"I've learned a lot about human anatomy the last eight months."
Donlon believes that Wright State has always been one of the league's top teams — with a target on its back — so last season and this season will both be competitive.
"Is there a target on our back? I don't know, we started 5-1 to start the league. So the rest of the games — I would imagine — after starting 5-1 there was a heck of a target on our back," Donlon said. "The target has been on our back since Brad Brownell was the coach and that won't change."