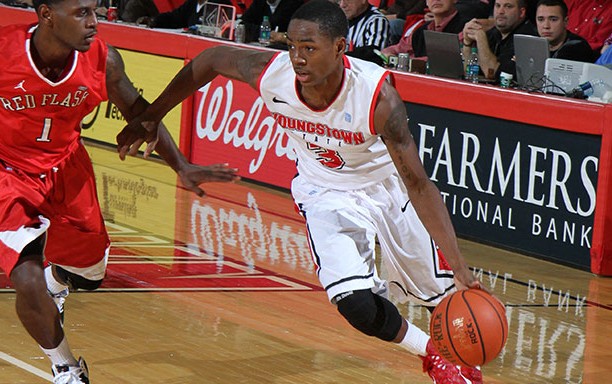 All month long, CBT will be rolling out our 2013-2014 season preview. Check back throughout the day, as we'll be posting three or four preview items every day.
To browse through the preview posts we've already published, click here. To see the rest of the Conference Previews we've published, click here. For a schedule of our previews for the month, click here.
Green Bay and Wright State enter the 2013-14 season as the top two competitors in the Horizon League. The two were separated by a single point in the preseason Horizon League poll — with Green Bay coming out on top — but thanks to its experience from last season going from a predicted last place to conference tournament title game, Wright State gets the slight edge as the No. 1 team in NBCSports.com's Horizon League preseason rankings.
Led by nine of their top 10 returning from last season's team — plus the inclusion of Butler transfer Chrishawn Hopkins — the Raiders are deep and experienced and led by senior forward Cole Darling.
Green Bay, led by the talented duo of point guard Keifer Sykes and center Alec Brown, have arguably the deepest mid-major frontline in the country with the 7-foot-1 Brown, sophomore Jordan Fouse, junior Greg Mays and Eastern Illinois transfer Alfonzo McKinnie. All four can rebound and block shots and McKinnie is even versatile enough to play a bit on the wing.
Oakland could be in-line for a good year as the newcomer to the Horizon League. The Summit is typically more wide-open, but the Golden Grizzlies are battle-tested and led by one of college basketball's premier shooters in senior Travis Bader. Bader averages 22 points a game and is 101 three-pointers short of J.J. Redick's career record after knocking in 139 last season. Defense will be the big concern for Oakland, but they'll score in bunches.
Cleveland State and Youngstown State both have pieces to compete in the fourth and fifth spots of the Horizon League.  Vikings sophomores Anton Grady and Bryn Forbes as a formidable inside-outside attack while Preseason Player of the Year Kendrick Perry can do a bit of everything for Youngstown State.
UIC and Valparaiso lose a lot of experience from postseason teams while Milwaukee and Detroit are in rebuilding mode.
REALIGNMENT MOVES
In:  Oakland (Summit)
Out: Loyola (Missouri Valley)
PRESEASON HORIZON LEAGUE PLAYER OF THE YEAR: Kendrick Perry, Youngstown State
The 6-foot guard had a monster junior year, putting up 17.6 points, 5.5 rebounds, and 4.1 assists per game.  In conference play he averaged 38 minutes a contest. He's in-line for a big senior season.
FOUR MORE NAMES TO KNOW:
Travis Bader, Oakland: Averaged 22 a game during his junior season in the Summit League.
Alec Brown, Green Bay: Senior is 7-foot-1 and averaged 14.1 points per game last season.
Cole Darling, Wright State: Wright State needs him to play at a high level this season if he's healthy.
Keifer Sykes, Green Bay: The 5-foot-8 junior guard averaged 15.9 points per game and is as tough as any player in the conference.
ONE TWITTER FEED TO FOLLOW: @billpotter_HL
PREDICTED FINISH
1. Wright State
2. Green Bay
3. Oakland
4. Cleveland State
5. Youngstown State
6. UIC
7. Valparaiso
8. Milwaukee
9. Detroit