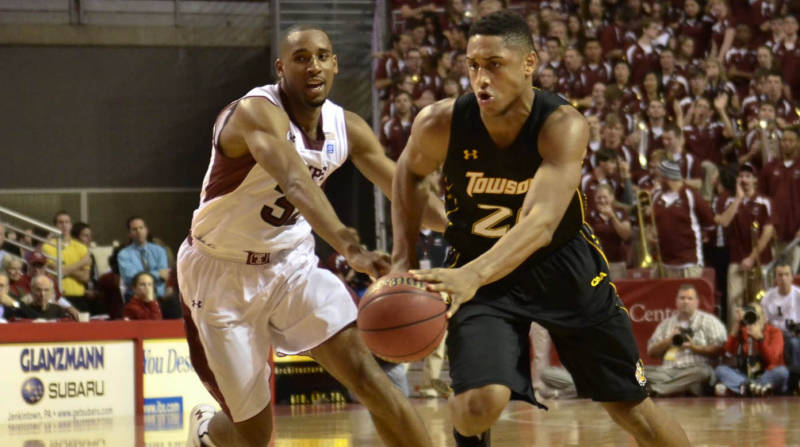 If you want to know which way the wind blows in the Colonial Athletic Association these days, open your ears. The league that rode Virginia-based schools like George Mason, Virginia Commonwealth and Old Dominion to attention-grabbing Big Dance victories sounds very different these days.
For starters, Northeastern University pahked their cah in the yahd by winning 14 league games and claiming the regular-season crown. Right behind them at 13-5 was Maryland-based Towson, led by Massachusetts native Pat Skerry, who took a league doormat and turned it into a winner in one season. New guy Joe Mihalich hopes to work similar magic in his debut season at Hofstra, a pronouncement he delivers in the hard-bitten tones of a big city police detective.
"When I got here, there were four players on the team," Mihalich told NBC Sports via phone. "That was the bad news and the good news. I had to go out and get eight guys all at once, but I was able to get my guys. The kind of guys you need to get this thing turned around."
(MORE: Click here to read NBCSports.com's CAA Preview)
It's common to hear a coach make upbeat noises when he takes over a moribund program, but that kind of confidence seems strangely warranted in the new CAA. Pat Skerry's Towson team was built along similar lines, taking on players various and sundry in an attempt to improve on 2012's 1-31 mark. Clearly, five wins would have counted as progress. Skerry's team went out and won 18, despite the fact that APR missteps from the prior administration had his program on a postseason ban.
"It took a while, but they did a good job of buying in," Skerry said, also via phone. "We didn't talk about the ban, just about trying to get better each day. Maybe it wasn't fair, but they handled it. Pride was the key piece."
The Tigers are entering this season with much higher expectations, hoping to ride reigning CAA Player of the Year Jerelle Benimon to an NCAA berth. Skerry has surrounded his breakout star – a Georgetown transfer – with several complementary pieces.
"Jerome (Hairston) was on the All-Rookie team last year and he's a lead guard who can score the ball," Skerry said. "Timajh Parker will step right in for us this year, and our transfer from Vermont, Four McGlynn, is still a sophomore and he's a very good shooter."
In addition to the dramatic uptick in talent and team cohesion, Skerry is excited about the possibilities presented by SECU arena, the new $72 million home base for Tiger basketball. His team's bright future was built brick-by-brick, quite literally.
To add a cherry on the sundae, the CAA tournament, long anchored in the Richmond Coliseum, has migrated to Baltimore this season. With Virginia-based founding members George Mason, Old Dominion and VCU realigned out of the conference, the shift makes some geographical sense.
Skerry acknowledges that the northern contingent: Towson, Delaware, Drexel and Northeastern in particular, stand to benefit from the changes. But he scoffs at the notion that the power will easily shift his direction.
"We added Charleston as well, and they beat our brains in last year," Skerry said. "Elon's going to be very good (in 2014), and James Madison are the reigning champs. We've got our hands full."
Winning the league is, honestly, considered little more than a first step in the CAA, thanks to a rich history of giant-killing in the NCAA tournament.
"We had our coaches meeting a few months back and one of the other coaches said 'Hey, we've seen teams come out of this conference and be incredibly successful, get to the Final Four,'" said Hofstra's Mihalich. "'Who's going to be the next VCU or George Mason?' I do believe that somebody can do that."
It may not be Mihalich this year, though he made strong moves to stabilize the Pride's roster in both the short and long term. Hofstra added graduate students Dion Nesmith (formerly at Monmouth) and Zeke Upshaw (Illinois State) to serve as one-year elder statesmen, signed three skilled freshmen and let his four holdovers show them the ropes. Another layer of known quantities will debut next season, when Juan'ya Green and Ameen Tanksley – who followed Mihalich from his last posting at Niagara – and former SMU guard Brian Bernardi are eligible to suit up.
Neither coach thinks it will be easy to seize a title in a league that hasn't seen an auto-bid issued from north of the Mason-Dixon line since before the turn of the millennium.
"As John Chaney used to say, for us to win this year, we need the two women in our lives to be there for us," Mihalich joked. "Mother Nature and Lady Luck. We've got to hope a lot of things break our way."
Skerry, in a decidedly better place than last year, concurred.
"Make no mistake about it, winning is really hard," the Massachusetts native said with a chuckle. "I think Doc Rivers said that."
That being said…
"We've got a chance to be good. We're not hiding from that."