All month long, CBT will be rolling out our 2013-2014 season preview. Check back throughout the day, as we'll be posting three or four preview items every day.
To browse through the preview posts we've already published, click here. The rest of our Top 25 Countdown can be found here. For a schedule of our previews for the month, click here.
Last Season: 29-8, 13-5 Big Ten (t-2nd); Lost in the Elite 8 to Wichita State
Head Coach: Thad Matta (10th season at Ohio State: 250-73 overall, 111-45 Big Ten)
Key Losses: Deshaun Thomas, Evan Ravenel
Newcomers: Marc Loving, Kameron Williams
Projected Lineup
– G: Aaron Craft, Sr.
– G: Lenzelle Smith, Sr.
– F: Sam Thompson, Jr.
– F: LaQuinton Ross, Jr.
– C: Amir Williams, Jr.
– Bench: Shannon Scott, Jr.; Trey McDonald, Jr.; Marc Loving, Fr.; Kameron Williams, Fr.
They'll be good because …: Aaron Craft, who has made a career out of being one of the most polarizing players in the country, is back for his senior season. Craft is a short, white point guard that lacks vertical explosiveness and wins with every clichéd intangible ever uttered by a broadcaster. He plays the game the right way, he's gritty, he's got a high basketball IQ. Craft needs to be more consistent and more aggressive as a playmaker this season, whether he's looking to score or create. The same can be said for LaQuinton Ross, and there's reason to believe he can help replace the output of Deshaun Thomas. Ross came on strong late in the year, and capped it by averaging 17.7 points in the last three games of Ohio State's run to the Elite 8. That included the game-winner against Arizona you see below.
What Craft does best, however, is anchor a perimeter that will be absolutely stifling at times this season. He's probably the best on-ball defender in the country, capable of turning a trip into Columbus into a nightmare for opposing point guards. Sam Thompson can shut down big wings with his length and athleticism, and back-up point guard Shannon Scott has proven himself to be quite the playmaker on the defensive end. One way to counteract the Buckeye's question marks in the paint is to apply enough pressure on the perimeter to takeaway entry passes.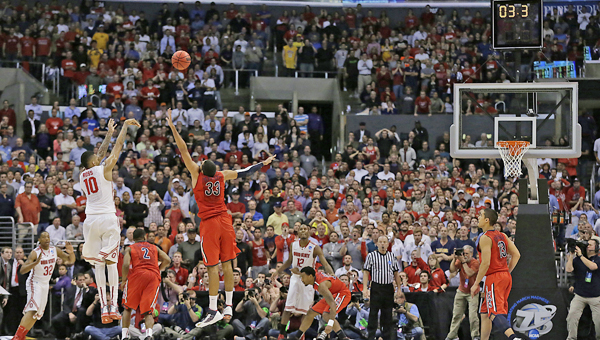 But they might disappoint because …: Ohio State is going to have to find someone to replace the 19.8 points that Deshaun Thomas averaged a season ago as the Buckeye's go-to scorer. Ross will be the popular pick heading into the season, as he fits that shoot-first, combo-forward role that Thomas played perfectly. But here's the problem: Ohio State's issue last season was that they struggled to establish a consistent secondary scoring threat until late in the year, when Craft and then Ross took over that role. Are those two prepared to become the first and second options offensively? And will a team relying on LaQuinton Ross and Aaron Craft for points be able to compete for the Final Four and the Big Ten crown?
The other issue with the Buckeyes is in the front court, where they have very little depth after Evan Ravenel's graduation. Amir Williams is a talented kid, but he's been anything but a hard-worker during his time at Ohio State. He's been an effective shot-blocker and gotten to the glass fairly well in limited minutes, and the Buckeyes will need much more of that from him this year. Why? Because Trey McDonald, who played in 19 games as a sophomore, will be Matta's back up big man, and the forward trio of Ross, Thompson and Marc Loving is not exactly what you would call powerful. Rebounding and interior defense will be something Ohio State focuses on.
Outlook: Ohio State is generally thought of as a football school where basketball is considered secondary, a distraction to get fans through a long, cold winter and to spring practices. But the Buckeyes have one of the strongest, healthiest, basketball brands not just in the Big Ten, but in the country. They won at least a share of the Big Ten title for three straight seasons before finishing second last year. They've won 94 games in the Aaron Craft era, making a Sweet 16, an Elite 8 and a Final Four. It would likely surprise you to find out that Ohio State was ineligible for the 2005 NCAA tournament due to self-imposed sanctions.
I make this point because the Buckeyes, at this point, deserve the benefit of the doubt. This doesn't look like a roster that deserves to be ranked in the top ten, just like last year's roster didn't look like it deserved to be ranked in the top ten. But by the time that the season ended, Ohio State had won 13 Big Ten games, finished second in the best conference in the country, earned themselves a No. 2 seed in the NCAA tournament and played their way into the Elite 8. There are a few question marks on this roster, but if Ohio State can get consistent enough play from their defense, I believe Ohio State will continue to find a way to win games. Anything less than a top four seed in the tournament and a top four finish in the Big Ten would be disappointing.