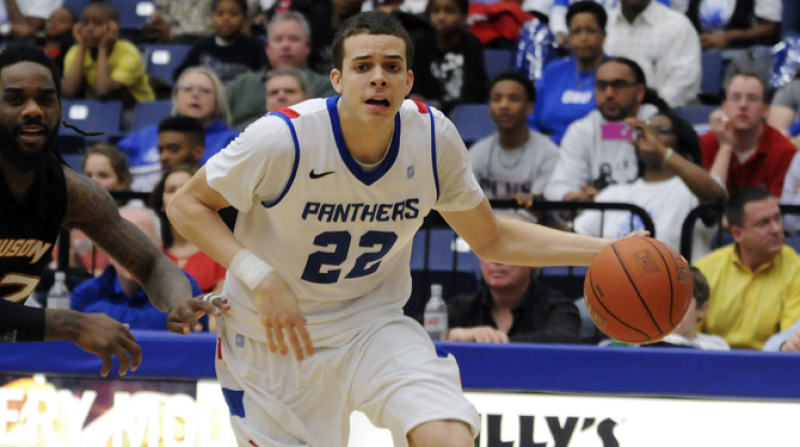 All month long, CBT will be rolling out our 2013-2014 season preview. To browse through the preview posts we've already published, click here.
For the past 24 years of his life, Georgia State head coach Ron Hunter has been a father. The learning process of being a parent never ends, anyone with kids can tell you that, but when you spend 24 years being Dad, you figure out a few tricks of the trade.
Hunter played his college ball at Miami (OH) with Ron Harper, but once his playing career came to an end, he took up coaching. That was back in 1987, meaning that this season will be his 27th on the sidelines. He helped lead IUPUI through the transition from NAIA to Division I, he's reached the NCAA tournament and he sent a player, George Hill, to the first round of the NBA Draft. He may not be Mike Krzyzewski, but it's safe to say that Hunter has a good feel on how to do his job.
But the 2012-2013 season provided Hunter with a new experience in his second year with the Panthers. His son, R.J., enrolled at GSU for his freshman year, meaning that Ron was no longer just a coach and a father.
Now he was Coach Dad, and that provided him an entirely new set of challenges.
"The easiest part is being coach," Hunter told NBCSports.com. "I've been coaching kids for 27 years, so I can do that. But I've never been dad during our games. So that's been the hardest transition, to try to be dad in the game. I'll be honest with you, I haven't figured that part out yet."
(MORE: Click here to read NBCSports.com's Sun Belt Conference Preview)
R.J. was a three-star recruit coming out of Pike HS in Indianapolis, the same program that sent Marquis Teague to Kentucky. He got plenty of attention and had a handful of high-major offers, but made the decision to play his college ball for pops, and thus far it's worked out. As a freshman, R.J. averaged 17.0 points and 5.1 boards, exploding for some huge games in CAA play: 38 points against Old Dominion; 27 points at Towson; 27 points at Northeastern; 25 points at George Mason.
GSU finished the year just 15-15, but with a move to the Sun Belt this season coming at a time when the Panthers return three players that averaged more than 14 points and add Kentucky transfer Ryan Harrow to the mix, all of a sudden Hunter has a team that looks like it can make the NCAA tournament and win a game there.
And his son is the star, a guy with a chance to be the next in the Steph Curry-Damian Lillard-C.J. McCollum pipeline.
That's been the hardest part.
"You want to be proud of the kid and cheer, but sometimes I've got to be quiet to be proud of him," Hunter said. He can't wear Georgia State jerseys that say 'R.J.'s dad, and he can't pound his chest and scream 'That's my son!' every time he buries a three. Coaching your son is an incredible experience, but it forces Ron to sacrifice son of the most fun parts of being a dad. "We can only have so many moments together. I can't boast about it. I'm the coach."
R.J.'s play as a freshman was noticed by folks in the NBA, and he's planted himself firmly on their radar. But that's also created an awkward situation for Ron. When front office types call him, how does he answer their questions?
(CLICK HERE to read through the rest of NBCSports.com's feature stories)
"When I get questions like this I don't know whether to answer like a dad or like a coach," he said. "When NBA guys will call and ask me, what do you really say when it's your son? 'He is a good player?'"
"The dad part, is boy, you'd love your son to be able to do that. But you've got the coach part that says, 'Man, he's really talented, and I haven't coached a kid that talented since George Hill. I think he has the skill set.' It's kind of weird talking about it."
Hunter has talked to friends that have coached their sons — Ray McCallum, Homer Drew — about how to handle having your best player also be the kid whose diapers you changed. He also had R.J. speak with quite a bit with Bryce Drew about how to deal with being the head coach's son, and while both felt like they entered last season prepared, it was still a difficult transition to make.
"Just learning how to separate the court from the family," R.J. said. "Early freshman year, I didn't really know how to separate it. I was frustrated often, as I learned and the season went on, I just kind of separated myself a little bit and we kind of had our relationship on the court, and as soon as that was over, it was dad and son again."
The best news for R.J. is that he isn't fighting this battle alone: he's got mom on his side, and she made quite clear that she won't tolerate any squabbling in her house hold.
"Mom is the perfect middle woman," R.J. said while admitting that being the son has some advantages over being the husband. "Her having my side is good, but sometimes I'll take some of my compliments to her and she doesn't want to hear it. She does a good job of balancing both, but I'd say I get about 70% of the love."
That's made life as a coach's kid that much easier for R.J.
"The hard part has to do with mom," Ron said with a laugh, "because I've got to come home at night. We lost at Duke, the first game I've ever coached him, and we really enjoyed the first time together was at Duke, but I remember yelling at him. When I got home that night, there was no dinner. I said, 'What's going on?', and my wife said, 'When you yell at my son, you don't eat.'"
"So I've got to pick and choose when I go in on him now."