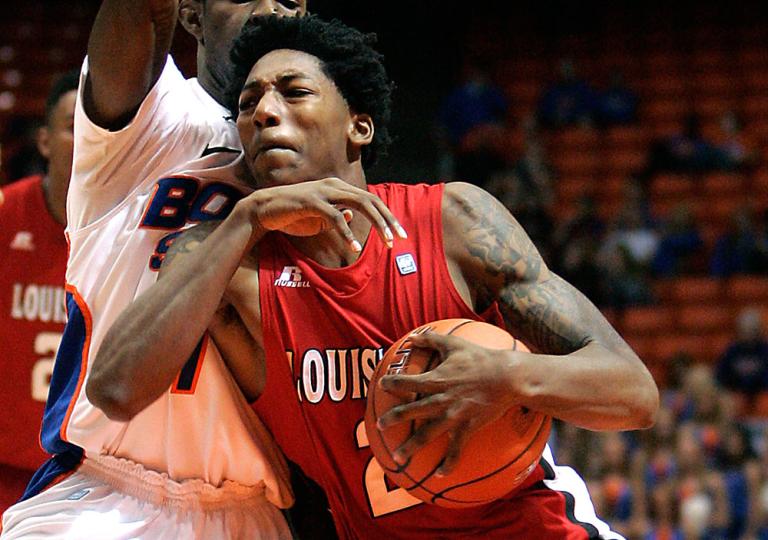 All month long, CBT will be rolling out our 2013-2014 season preview. Check back throughout the day, as we'll be posting three or four preview items every day.
To browse through the preview posts we've already published, click here. To see the rest of the Conference Previews we've published, click here. For a schedule of our previews for the month, click here.
The Sun Belt was one of the conferences that had the most reshuffling during conference realignment, as four schools are headed out of the league while three new programs — Georgia State, Texas State and Texas-Arlington — come aboard.
Ironically enough, while the league loses powerhouse Middle Tennessee State, North Texas forward Tony Mitchell and Florida International head coach Rick Pitino, the Sun Belt will likely end up having more star power on their rosters than any mid-major league in the country.
It starts with one of the new additions, as Ron Hunter's Georgia State squad seems primed for a huge year. Hunter's back court will be loaded, as his son R.J., a 6-foot-5 shooting guard, returns after averaging more than 17 points as a freshman. He's got a chance to be an NBA Draft pick down the road. He's joined by Devonta White and Manny Atkins, who both averaged about 15 points, but the most notable name will be Kentucky transfer Ryan Harrow. If Harrow lives up to his potential and Hunter can find some production on the interior, the Panthers have the chance to be really, really good.
(MORE: Ron Hunter channels his inner 'Coach Dad')
As talented as Hunter and Harrow are, however, neither will enter the season as the Sun Belt's Preseason Player of the Year. That title falls to Augustine Rubit, a 6-foot-7 forward that averaged 19.4 points and 10.2 boards as a junior. In layman's terms, he's a beast, but if the Jaguars are going to improve on their 14-6 record in Matthew Graves' first season as head coach, Rubit will need a supporting cast that loses two starters to step up.
No mid-major player had a bigger summer than Louisiana-Lafayette's Elfrid Payton. The 6-foot-3, do-it-all guard — he averaged 15.6 points, 5.9 boards, 5.6 assists and 2.4 steals — not only managed to make the U19 national team, but he started for them over more highly-regarded players. Throw in the return of Shawn Long, and Bob Marlin's club will also contend for the league title.
Then there's Western Kentucky. They return four starters from a team that finished just 10-10 in league play, but they are also coming off of their second straight run to the NCAA tournament. T.J. Price is the Hilltopper to make note of.
And finally, Arkansas State. The Red Wolves lose three of their top five scorers from last season, but leading scorer Ed Townsel is back, as is sophomore Cameron Golden. The key will be transfers. Brandon Reed averaged 15.1 points as a freshman back in 2009-2010 before transferring to Georgia Tech while Melvin Johnson III averaged 13.0 points as a junior at UT-San Antonio in 2011-2012.
Arkansas-Little Rock and UT-Arlington both have enough talent to make a push as well.
REALIGNMENT MOVES
In: Georgia State, Texas State, Texas-Arlington,
Out: Middle Tennessee State, North Texas, Florida International, Florida Atlantic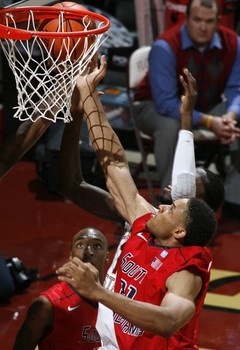 PRESEASON SUN BELT PLAYER OF THE YEAR: Augustine Rubit, South Alabama
Rubit came within 18 points of averaging 20 and 10 a season ago, and he's returning to school to play for a team with a real shot of winning the league title. I know how much talent there is in this conference; this decision was still pretty easy.
FOUR MORE NAMES TO KNOW:
R.J. Hunter, Georgia State: Hunter averaged 17.5 points as a freshman and will be playing this season with Ryan Harrow.
Elfrid Payton, Louisiana-Lafayette: If he can refine his jump shot, Payton has a shot to follow the footsteps of Steph Curry, Damian Lillard and C.J. McCollum.
Brandon Reed, Arkansas State: Reed averaged 15.1 points as a freshman with the Red Wolves, but tried transferring to Georgia Tech. That resulted in two uneventful season, so Reed came back under the graduate transfer rule.
Shawn Long, Louisiana-Lafayette: The best big man in the league not named Augustine Rubit.
PREDICTED FINISH
1. Georgia State
2. Louisiana-Lafayette
3. South Alabama
4. Western Kentucky
5. Arkansas State
6. Arkansas-Little Rock
7. UT-Arlington
8. Troy
9. Texas State
10. Louisiana-Monroe