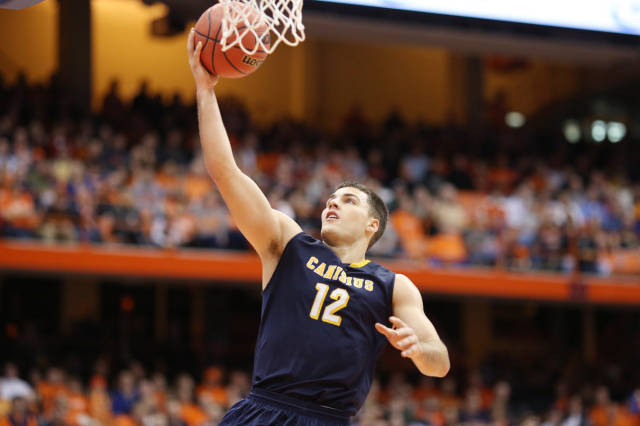 All month long, CBT will be rolling out our 2013-2014 season preview. To browse through the preview posts we've already published, click here.
Billy Baron wasn't supposed to play at Canisius.
Near the end of his post-graduate year at Worcester Academy in 2010 and after much deliberation of whether to play for his father, Jim, at the University of Rhode Island, or at a bigger basketball school, Baron elected to play for Tony Bennett at Virginia.
He was supposed to be a staple in the Cavaliers' backcourt and, notching 19 points in Virginia's season-opening game against William & Mary, the future looked bright for Baron. Ultimately, as the season unfolded, Baron's playing time dwindled leading him to transfer back to his home state of Rhode Island to play for his father. The decision was not easy and one he wrestled with before deciding that for the betterment of his basketball career, transferring was the best move.
Baron told NBCSports.com by phone: "Obviously, transferring wasn't the plan, but it motivated me a tremendous amount, more than I ever thought that I could be motivated. I met a lot of great people [at Virginia] and still stay in touch with the coaching staff. I keep in contact with Joe Harris; he'll be one of my best friends for life…Transferring was just a wall to get over. It set a bar for me and motivated me."
(CLICK HERE to read NBCSports.com's MAAC Preview)
When Baron transferred to Rhode Island, he was able to play right away for his father who had led the Rams to four straight 20+ win seasons and postseason appearances. It was a program where Baron's older brother, Jimmy, was a four-year letter winner for and one of the school's top three-point shooters in history.
Billy grew up around the Rhode Island basketball program with his father having coached there beginning in 2001, when Billy was just ten years old. It was a homecoming of sorts when he transferred to URI, which is why when his father was fired at the conclusion of the 2011-12 season finishing out the academic year was such a difficult task.
"I would have never transferred to URI if I thought my Dad only had one year [left as coach]. It came as a complete shock to me after we lost to UMass in the final game of the year when he told me he got fired at 8:00 AM the next morning; I was completely shocked. I had to finish the semester there, walk from class to class, go to lunch – you know it was just extremely tough knowing my father wasn't there. Rhode Island really became a part of the family with my brother playing there and dad coaching – when I was the only one left, I knew I couldn't stay."
It didn't take long for a school to scoop up Jim Baron. Just weeks after he was fired at Rhode Island, Canisius hired Baron in early April of 2012. That summer, Billy transferred to Canisius where he was granted immediate eligibility. It has been a whirlwind of a college basketball career, but Billy has found a home at Canisius.
"When I tell you that I was motivated more than ever after transferring from Virginia, now I was at a whole new level. I had to back my father up. I'm so thankful that Canisius welcomed me with open arms and believe in me like they did with my father. I can't tell you how good it feels to be back at Canisius for a second year, and not have to go through that whole process again of building relationships with teammates and learning my way around a new school."
(CLICK HERE to read through the rest of NBCSports.com's feature stories)
Now that he had found a home, it was time to win. Baron was part of a 16-15 team during his lone season at Virginia, and then a 7-24 team at Rhode Island. Entering a program who won just five games in 2011-12, winning was becoming a foreign concept.
That quickly changed. Canisius posted solid early-season wins against Boston University and St. Bonaventure, but their signature win that garnered the attention of the college basketball community came against Temple, a 72-62 victory to move to 8-2 on the season.
"I think I had forgotten the feeling, a little bit, of what it was like to win," Baron said. "As a team, we weren't all that surprised that we won 20 games, although I am sure that everyone outside of our locker room was, and why not after winning just five games the year prior."
Canisius went 12-12 to close out the season, which was a minor disappointment given their hot start. Considering they improved their record by 15 wins though, last season should be viewed as nothing short of a success — the Barons helped to turn around the program in just a season. Billy is hardly satisfied, though: "If you look at the schedule [last year], we beat Temple, but then kind of struggled down the stretch. We weren't able to win more than three games in a row and lost a lot of close games that we didn't know how to close out…To go from five wins to 20 wins was great, but now it's got to carry over from 20 to 25 to even 30. That's something I feel we can do."
The ultimate goal, as is the case for many mid-major programs in the country, is to win the league championship and advance to the NCAA Tournament — something Canisius hasn't accomplished since 1996.
There was no questioning Canisius' offensive ability last season as they averaged 73.5 ppg (41st nationally), but the defense proved to be the Achilles heel. Baron explained that improvement on the defensive end is an absolute must to reach that next level: "It's really going to start on the defensive end. When you look back at that Iona game [in the MAAC tournament], we lost 89-85 and, even though it's Iona, you can't give up 89 points and expect to win. Getting key stops in the second half to close teams out – getting scores after those stops – is so important. It has to be a full team effort on the defensive end."
Expectations are, no doubt, much higher this year than last. In the MAAC preseason poll, Canisius was picked to finish third in the 11 team conference behind Manhattan and Iona, but that's just fine, according to Baron: "Being picked to finish third in the conference, we are kind of behind the scenes which is perfect for us. With Iona and Manhattan picked ahead of us, we are fine staying behind the scenes and then hopefully get hot come March."