All month long, CBT will be rolling out our 2013-2014 season preview. Check back throughout the day, as we'll be posting three or four preview items every day.
To browse through the preview posts we've already published, click here. The rest of our Top 25 Countdown can be found here. For a schedule of our previews for the month, click here.
Last Season: 24-9, 13-5 Big 12 (3rd); Lost to Oregon in the Round of 64
Head Coach: Travis Ford (6th season at Oklahoma State: 104-63 overall, 44-40 Big 12)
Key Losses: J.P. Olukemi, Philip Jurick
Newcomers: Stevie Clark, Jeff Carroll, Leyton Hammonds, Gary Gaskin
Projected Lineup
– G: Marcus Smart, So.
– G: Markel Brown, Sr.
– F: Brian Williams, Jr.
– F: Le'Bryan Nash, Jr.
– F: Michael Cobbins, Jr.
– Bench: Gary Gaskins, Jr.; Kamari Murphy, So.; Phil Forte, So.; Stevie Clark, Fr.
They'll be good because …: Travis Ford has managed to amass as much perimeter talent as any team in the country. Let's start with the obvious: Marcus Smart. After an all-american freshman season that had him projected as a top five pick in the 2013 NBA Draft, Smart made the decision to return to school for his sophomore season, giving the Pokes arguably the best player in the country. He's a point guard in a shooting guard's body whose biggest contributions have much more to do with the intangibles and things that don't show up in the box score than the 15.4 points, 5.8 boards and 4.2 assists he averaged last year.
Smart's not alone, either. Markel Brown may be the most underrated guard in the country, proving last season that he is more than just a dunker. Brian Williams is finally healthy and should be a lock down defender on the wing, while Le'Bryan Nash is an immensely talented combo-forward that has yet to reach his potential. Throw in high-scoring little guards Phil Forte and Stevie Clark, and Oklahoma State is going to be able to give opponents multiple different looks.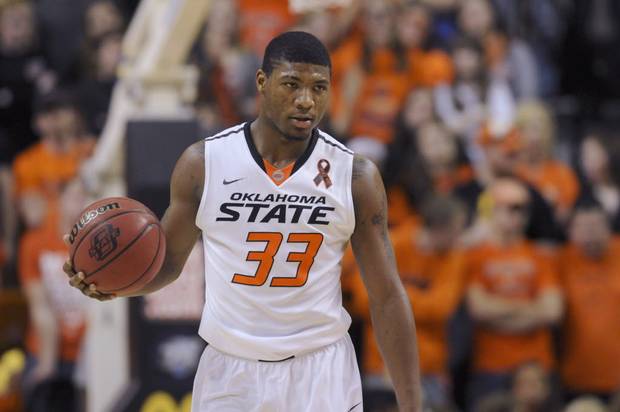 But they might disappoint because …: Michael Cobbins was productive as a sophomore, averaging 6.9 points, 6.1 boards and 1.5 blocks last year, and should be in line to see a jump in those numbers. The same can be said for sophomore Kamari Murphy. Both are athletic 6-foot-8 forwards with long arms that can make some plays on the glass and on the defensive end of the floor. Gary Gaskins is a 6-foot-10 pogo stick, but he weighs all of about 20 pounds.
The problem, however, is that neither of those guys are what you would consider a bruiser inside. That role was played by Philip Jurick last season, and he graduated. Can the Pokes survive without that big body in the lane?
Outlook: Travis Ford probably hates Andrew Wiggins. If Kansas hadn't landed the No. 1 recruit in the country, Oklahoma State would be heading into this season as the favorite to win the Big 12. The Jayhawks have had an unprecedented run of success, dominating the league over the last nine years; the last time that Kansas didn't win at least a share of the league title was back in 2004.
Oklahoma State has a real chance to bring that streak to an end this season. This is the best team that Ford has ever coached, and it may be the best team that he ever will coach. Smart is an all-american and arguably the most valuable player in the country, and his supporting cast will be better than it was a year ago. It's a stretch to say that Oklahoma State should win the conference, but given how weak the rest of league is outside of Kansas, anything less than a second place finish in the Big 12 would be a disappointment. There's enough talent on this roster to make a run at the Final Four come March.