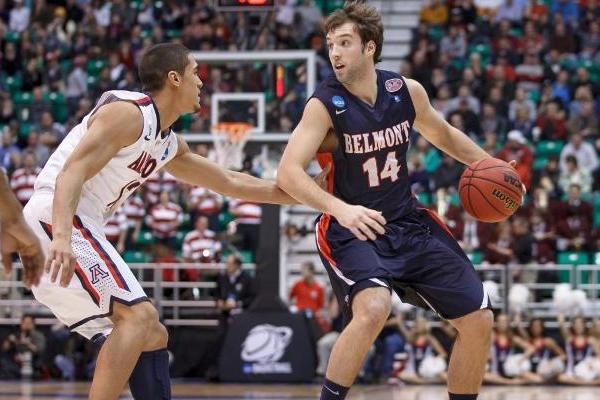 Only three programs have earned an automatic bid to the NCAA tournament in six out of the last eight seasons — Kansas, Memphis and the Bruins.
The Belmont Bruins.
The latest trip to the Big Dance this past March almost didn't happen. Belmont head coach Rick Byrd needed two clutch shots, including the game-winner, from senior guard Kerron Johnson to top Isaiah Canaan and Murray State in overtime to punch the Bruins ticket, earning the automatic bid in the team's first season in the Ohio Valley.
It marked Belmont's third straight trip to the NCAA tournament, but in each of those three seasons, Belmont was outed in the first game. The same thing happened when Byrd led the Bruins to three straight tournaments from 2006-2008. The Bruins string of postseason appearances largely goes unnoticed because they haven't had a Cinderella-type run like its former Atlantic Sun foe Florida Gulf Coast.
Nonetheless, what Byrd has done over his 28 years — and most recently in the last eight years — has been an impressive feat.
"A whole lot of things go into that," Byrd told NBCSports.com in a phone interview. "Being lucky. The first time we made it and the last time we made it, we won overtime games that could have gone the other way."
During Byrd's tenure at Belmont, he has transitioned the former NAIA program to a Division I conference title winner and NCAA tournament regular.
"I think Belmont University deserves a lot of credit," Byrd added. "Over that same period of time, it has grown in so many ways."
The university, a liberal arts college in Nashville, TN, has seen their enrollment increase from 3,000 to 6,918 since 2000 and in that time added a law school and built new residence halls. Like the changes on campus, the basketball program took time to build.
"The best thing we've done as a staff is decisions in the recruiting process, and identifying players," Byrd said.
"We went from NAIA to Division I in '97-'98. We could have gone after guys who were kicked off their teams or JuCo transfers and taken chances on guys with questions academically or character wise and maybe you could win games quicker that way. I don't think that's what Belmont deserved. That's not the program that I wanted to build. We took our lumps, we took it slowly. We sort of incrementally got there."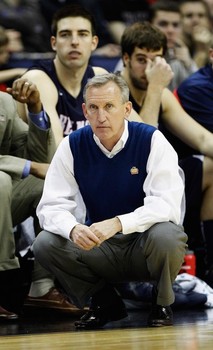 The Bruins roster has been made up of high-character players, ones who will stay four or five years and provide experience to the Belmont program. A glance at the roster this season shows returning starter J.J. Mann is an older senior after spending a year at Hargrave Military Academy (Va.). The likely successor to Johnson is Reece Chamberlain, a redshirt junior. One of the key newcomers is Drew Windler, a redshirt senior following his transfer from Samford.
"I think when you have a program built on four and five year guys, you have guys who play supporting roles and then [over time] have to become the go-to guys," Byrd said. "We've got a lot of experience."
To Byrd, it's like a revolving door, where players come in and take on larger roles over the years when other standouts graduate. He mentioned all-OVC selection Kerron Johnson, the OVC tournament hero last year, who had to wait his turn to be the go-guy, and went onto point out that Ian Clark didn't even lead the team in scoring as a junior, before averaging 18.2 points per game last season.
The Belmont program has built a culture, and its starting to feed itself. Players come in, and work their way up through the system, from contributor to bigger roles as a starter or even an all-conference caliber player. In return, the team has won games, conference titles and made tournament appearances. All have helped on the recruiting trail, but another pitch Byrd and his staff make to potential players is the team's non-conference schedules, which is usually considered one of the best. Games in the past at Duke and Kansas — this year against North Carolina and Kentucky — not only offer a challenging early season test, but catch the attention of prospects. especially in 2011, when Belmont nearly upset Duke.
"When we schedule those games, I'd rather schedule people and places that our players will remember for the rest of their lives, rather than take a check and play a team that doesn't mean a lot," Byrd said. "That's what this whole thing is about. They are going to remember those games at Phog Allen Fieldhouse and Cameron Indoor Stadium, and now at Chapel Hill and Rupp Arena."
Belmont will have a tough road again with non-conference games against, not only against Kentucky and North Carolina, but also at VCU. The Ohio Valley Conference, the same league that has seen players drafted in three consecutive years, will have a strong conference again this season with teams like Eastern Kentucky and Southeast Missouri State filled with key returners and teams like Austin Peay, Eastern Illinois posing as potential sleepers. Belmont has a difficult ladder to climb in order to secure its seven automatic bid in nine years, as the Bruins attempt to return to the Big Dance and get that elusive tournament win.
"We may never get back," Byrd said of the NCAA tournament. "If we don't even win one, I hope we get back. People don't really appreciate it until you get there."
The head coach at small liberal arts college in Nashville, Tenn., has put in close to three decades of work, building and growing his program. The hard work was part of the equation that's led to an under-appreciated string of success. The other portion according to Byrd:
"We've been lucky."