All month long, CBT will be rolling out our 2013-2014 season preview. Check back throughout the day, as we'll be posting three or four preview items every day.
To browse through the preview posts we've already published, click here. The rest of our Top 25 Countdown can be found here. For a schedule of our previews for the month, click here.
Last Season: 25-11, 12-6 ACC (3rd); Lost to Kansas in the Round of 32
Head Coach: Roy Williams (11th season at UNC: 282-79 overall, 117-45 ACC)
Key Losses: Reggie Bullock, Dexter Strickland
Newcomers: Nate Britt, Isaiah Hicks, Kennedy Meeks
Projected Lineup
– G: Marcus Paige, So.
– G: Leslie McDonald, Sr.
– F: P.J. Hairston, Jr.
– F: James Michael McAdoo, Jr.
– C: Brice Johnson, So.
– Bench: Nate Britt, Fr.; J.P. Tokoto, So.; Isaiah Hicks, Fr.; Kennedy Meeks, Fr.; Joel James, So.; Desmond Hubert, Jr.
They'll be good because …: The Tar Heels certainly don't lack the talent. Of the 11 players that figure to have a shot at seeing time in the North Carolina rotation, 10 were four-star recruits coming out of high school. Three — P.J. Hairston, James Michael McAdoo and Isaiah Hicks — were five-star recruits. There aren't many programs in the country that can boast that kind of talent, and what's more is that the Heels have a nice blend of veterans — senior Leslie McDonald, juniors Hairston and McAdoo — and promising newcomers.
One of the issues last season was that freshman Marcus Paige was the only point guard on the roster, and he wasn't a natural fit for the kind of system that Roy Williams likes to play. Not only does he now have another year under his belt, but he'll be joined in the back court by Nate Britt, a talented freshman with the quicks to really push the ball up and down the floor.
Oh, and how could I forget: Hairston didn't actually get booted off the team after a summer spent running afoul of the law. He only got suspended, which was huge news for a team that doesn't have a ton of perimeter depth.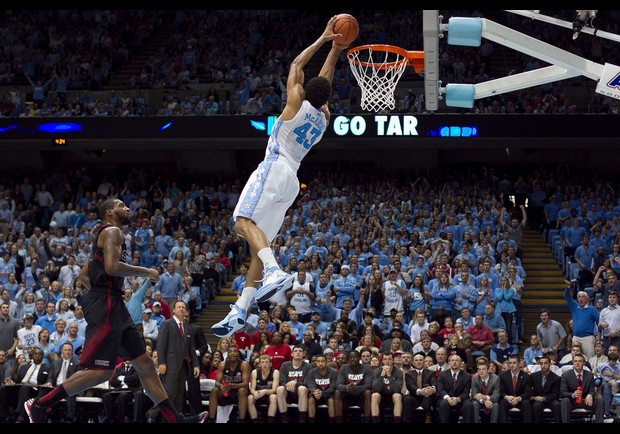 But they might disappoint because …: They have so many question marks up front. Last season, North Carolina made their run late in the season when they switched to a smaller lineup, using McAdoo as their center and playing Reggie Bullock and Hairston, bigger wings that can score on the perimeter, at the forwards spots. It made UNC a difficult team to defend. But with Bullock off to the NBA and a front line that goes six-deep, the Heels will likely revert to using a more traditional lineup.
But what do we really know about those big men? McAdoo has all the talent and potential in the world, but he's yet to really define himself as a player. He's not a back-to-the-basket scorer but he's not a face-up four man. Is he simply an athlete that can do some impressive things in transition? Brice Johnson reportedly put on about 20 pounds this offseason, but he's still only about 207 pounds. Kennedy Meeks and Joel James have the ability to be the low-post threat that makes North Carolina so dangerous, but can they run the floor? Are they in good enough shape to really be effective? Is Isaiah Hicks ready to contribute as a freshman, or is he just an athlete as well? Would UNC fans really feel comfortable with Desmond Hubert as their starting center?
Outlook: Last year, North Carolina was able to turn their season around by going small and playing even faster than they already do. But that wasn't a long-term answer to what ails them. It was a quick fix, a band-aid that covered up a bigger problem. When Roy Williams' teams are doing what his system is designed to do, the two most important pieces he has are: a) a point guard that can distribute the ball and push it up the floor, either via the dribble or via the pass; and b) a big man that can beat people down the floor in transition and has to be double-teamed when he catches the ball on the block. Think about it: Ty Lawson, Ray Felton and Kendall Marshall. Sean May, Tyler Hansbrough and Tyler Zeller.
Do the Heels have that this year? James and Kennedy can score in the post, but they might struggle to beat the UNC beat writers down the floor. Johnson, Hicks and McAdoo can get out and run, but do any of them scare you on the block? And what about the point guard spot? Paige wasn't a great fit last year, and while having Britt will help, he's still a freshman. There are a lot of good basketball players on this team, and they're led by a head coach that's won two national titles since 2005, but I'm having trouble seeing how all these pieces come together.