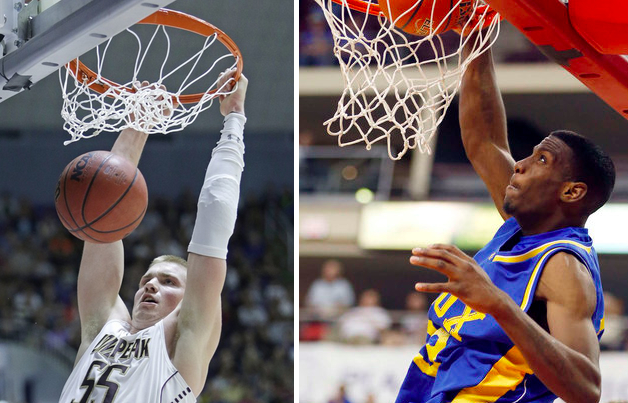 All month long, CBT will be rolling out our 2013-2014 season preview. Check back throughout the day, as we'll be posting three or four preview items every day.
To browse through the preview posts we've already published, click here. To see the rest of our preview lists, click here. For a schedule of our previews for the month, click here..
Each season, a number of freshmen make an impact on college basketball. The term "one-and-done" is used as a term by basketball fans regularly now. This year's freshmen group is no exception and while potential superstars like Andrew Wiggins, Julius Randle and Jabari Parker sit at the top, those guys and other All-Americans are almost expected to make an immediate impact now. So this year, we made a list of 10 non-McDonald's and Jordan Brand All-Americans that will make an impact in college basketball this season.
1. Derrick Walton, Jr., Michigan: The point guard is college-ready and will need to get up-to-speed quickly if Michigan is to match last year's Championship Game run. It'll be impossible to replace the departed Trey Burke, but Walton could fill-in admirably as the pieces around him continue to grow.
2. Eric Mika, BYU: The in-state prospect should make an instant impact in the post, where can score using multiple moves with good touch and also rebounds his area at 6-foot-9. With the loss of Branden Davis, Mika will need to be productive right away for BYU to compete in the WCC and for a NCAA bid.
(MORE: Click here to read see our Top 15 incoming freshmen)
3. Rysheed Jordan, St. John's: The Big East's preseason Rookie of the Year will get big minutes at guard and Steve Lavin needs him to make plays immediately. A backcourt of Rysheed Jordan and D'Angelo Harrison could be dangerous.
4. Sindarius Thornwell, South Carolina: The two-guard is Frank Martin's highest-rated recruit at South Carolina and the 6-foot-5 athlete should play early.
5. Austin Nichols, Memphis: Hometown forward is skilled enough to space the floor for their dangerous guards and can rebound his area a bit as well.
6. Wes Clark, Missouri: The Tigers need to replace the loss of Phil Pressey and have the Detroit-based Clark to do so. Clark has won a state title and the late-blooming true point guard could run the offense right away.
7. Ike Iroegbu, Washington State: With the loss of JuCo Danny Lawhorn before he ever played a game, the Cougars have Iroegbu as a true point guard and he could see plenty of early minutes.
8. Matt Thomas, Iowa State: The 6-foot-3 shooting guard from Wisconsin can fill it up from the perimeter and was probably the top outside shooter in the 2013 class.
9. Billy Garrett Jr., DePaul: The son of DePaul assistant Billy Garrett was an Illinois state and city championship point guard at Morgan Park and could play on-the-ball immediately.
10. Zach LaVine, UCLA: Combo guard can really play and could do damage behind Kyle Anderson and Jordan Adams.
FIVE MID-MAJOR NAMES TO KNOW
1. Zena Edosomwan, Harvard
2. Martez Harrison, UMKC
3. Alec Peters, Valparaiso
4. Jon Severe, Fordham
5. Scoochie Smith, Dayton