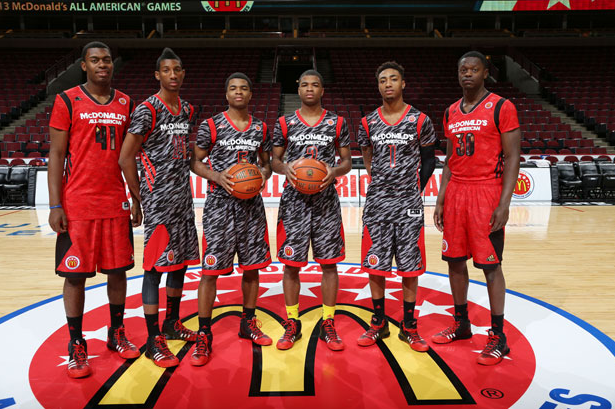 All month long, CBT will be rolling out our 2013-2014 season preview. Check back throughout the day, as we'll be posting three or four preview items every day.
To browse through the preview posts we've already published, click here. To see the rest of our preview lists, click here. For a schedule of our previews for the month, click here.
With each season that passes us by, freshmen become more and more important to the college hoops landscape. The one-and-done rule forces our nation's most talented prospects to spend one year on campus, showcasing their talents to NBA scouts as they try to play their way into the lottery. This season is no exception, as one of the best classes in recent memory will be passing through college basketball. Here are 15 freshmen that you need to know:
Andrew Wiggins, Wayne Selden and Joel Embiid, Kansas: Wiggins is, quite obviously, the biggest name on this list. He's got freak-of-nature athleticism and, as a 6-foot-8 shooting guard, has been put in the same category as guys like Lebron James, Kevin Durant and Derrick Rose when it comes to being a prospect. The issue with Wiggins is that he's more of a long-term prospect than an instant impact guy, which means that people expecting him to have the kind of season that Kevin Durant did at Texas may be disappointed. Don't be surprised if he "only" averages around 18 points per game.
The other reason is that he won't be alone in this class. Selden is an aggressive, physical and athletic off-guard that can bully his way to the rim and is a perfect compliment to Wiggins on the perimeter. Embiid may be the best long-term center prospect in the class, although his major contributions this season may end up being on the defensive side of the ball.
(MORE: Freshmen outside the Top 15 that will have a major impact)
Julius Randle, Dakari Johnson, Aaron and Andrew Harrison, and James Young, Kentucky: What can be said about this group that hasn't already been said? That's an obscene amount of talent, and it's not even Kentucky's entire class. Randle will probably be the best of the bunch, as he's a big, powerful forward that's currently making the transition to being more of a wing than a bully on the block. He could end up being the best freshman in the country.
The rest of the class is impressive as well. The Harrisons will form one of the biggest back courts in the country, and their ability to lead this team — and, in Andrew's case, be a distributor more than a scorer — will be the key to whether or not they fully reach their potential. Johnson is yet another big, athletic center coming through Kentucky's ranks, while Young's a left-handed wing that can score a lot of points in a hurry when he gets hot.
Aaron Gordon, Arizona: Gordon might be the best athlete in the country, as evidenced by the number of people that compare him to Blake Griffin. The key to Gordon's season, and the key to Arizona's chances of winning a national title, will be for Gordon to embrace the idea of playing a "stretch four" role instead of strictly playing the three in Arizona's lineup.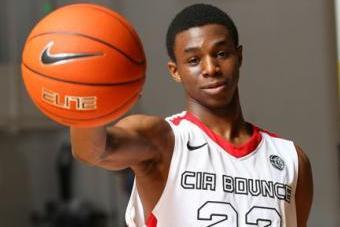 Jabari Parker, Duke: Parker hasn't had quite has much hype entering this season as guys like Randle, Gordon and Wiggins, but there's a chance that he could end up being the best of the bunch. He's a combo-forward that is as skilled as they come on the perimeter. It's refreshing to see a guy make a list like this for his skill set as opposed to simply being an athlete.
Noah Vonleh, Indiana: Vonleh has a ton of promise, and will be an incredibly important piece for a young Indiana team. He's got the size and the athleticism to be an impact player up front, but just how good he ends up being will be determined by just how much of a mean streak he develops.
Kasey Hill and Chris Walker, Florida: Walker is more of a long-term prospect right now because of his academic issues, but Hill could end up being the x-factor for this team. There are plenty of quality pieces on Billy Donovan's roster, but a lot of guys are out of action right now, be it the result of injuries or suspensions, meaning Hill has a chance to step in and perform right away.
Tyler Ennis, Syracuse: Ennis is the key to the Syracuse attack this year. He's the only point guard on a Syracuse roster that features quote a bit of talent that needs to have their shots set up for them. Is he ready to be a floor general in his first season?
Keith Frazier, SMU: Frazier has the potential to be a prolific scorer at the collegiate level, especially when you consider that he'll be playing in the AAC. He should be SMU's primary weapon offensively from Day 1.