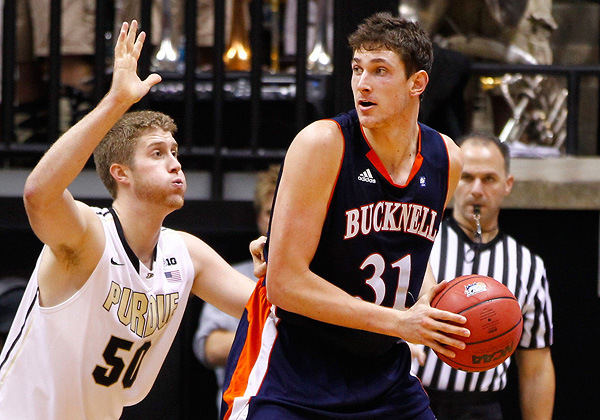 All month long, CBT will be rolling out our 2013-2014 season preview. To browse through the preview posts we've already published, click here.
It didn't take long for Bucknell head coach Dave Paulsen to learn that the player he would build two NCAA Tournament teams around was a special player. Similarly, he knew midway through Bucknell's first game against Lehigh during the 2009-10 season that the best player in Lehigh history should have been playing in a high-major conference.
Paulsen recalled watching Mike Muscala during the July recruiting period in 2008: "He'd catch the ball in traffic and finish with his left hand so seamlessly and effortlessly. Guys just don't do that regularly. I remember thinking, 'Man, he's definitely going to get scooped up by a bigger program and they'll have him redshirt,'" he told NBCSports.com by phone.
He knew that C.J. McCollum didn't belong playing at the mid-major level, much less in the Patriot League.
"When C.J. made a move from the perimeter by going hard to the basket, stopped on a dime, and elevated and shot a pull-up jumper from three and made it, I thought, 'Oh boy, he can make some plays that mid-major players just don't make.'
Mike Muscala and C.J. McCollum placed their respective programs and the Patriot League in the national spotlight for the better part of their careers. Not since Bucknell and Holy Cross dominated the league from 2005-2007 had the Patriot League garnered as much attention nationally, and even then it was mostly just headlines during March, not throughout the entire season.
(CLICK HERE to read NBCSports.com's Patriot League Preview)
To review just several of the accolades Muscala and McCollum combined to earn from 2010-2013 both for their schools and individually: Four Patriot League Championships, an NCAA Tournament win, an NIT appearance and win, an Academic All-American (Muscala), finalists for the Senior CLASS Awards and selections in the 2013 NBA Draft.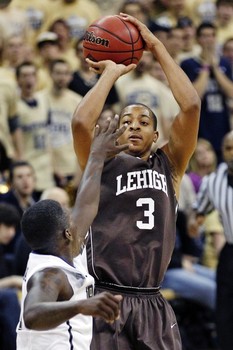 It was unprecedented. The Patriot League simply doesn't turn out players like Muscala and McCollum. Under-recruited, late bloomers, diamonds in the rough — call them whatever you'd like, but the fact is they had the talent to play for any team in America. Like any high-level player, though, they continued to refine their craft, Paulsen explained: "The thing with C.J. and Mike is that they came back every year with another weapon in their arsenal. Both of them were just so driven to be great. They didn't rest on their laurels and get satisfied."
Muscala and McCollum have moved onto the next chapter of their careers playing professionally — McCollum with the Portland Trailblazer and Muscala with the Atlanta Hawks, although he is currently playing in Spain — and the same goes for Patriot League basketball. While the league loses two of the best players to ever grace the eight quaint gyms in the league, Paulsen believes they have left their mark in such a way that will benefit the league down the road.
"I think the success they helped bring has enabled us to recruit a really good basketball player who happens to be a really good student that we may not have been in consideration for in the past," Paulsen said. "In years past, it would have been harder for the player or their parents to think of going to Bucknell to further their basketball career, but now I don't think there's any of that; we can go toe-to-toe with anyone on the right kid."
(CLICK HERE to read through the rest of NBCSports.com's feature stories)
It isn't just solely due to Muscala and McCollum. Paulsen looks at other strong academic schools who play at the mid-major level as other examples: "A lot of it also has to do going back to 2005 and 2006 with Bucknell beating Kansas and Arkansas, and then you have Cornell making a run and Davidson making a run, and Lehigh and Harvard winning games. If you just look at the last eight to ten years, you have wins from two different schools in the Patriot League and Ivy League. I don't think ten years ago anyone thought that was a possibility."
With Muscala and McCollum having graduated, one could argue that the influx of Boston University and Loyola (Maryland) help in taking the Patriot League to that next level. "I am sure our league RPI last year was as good as it's ever been. But, over the next five years, I bet that the league will be much stronger with adding these two programs. It gives the league more exposure in adding two major markets in Boston and Baltimore," Paulsen said.
Of course, the addition of Boston University and Loyola makes it that much more challenging to win the league. Selfishly, from a fan's perspective, having a stronger league top to bottom improves its reputation from a national level, but for the ten coaches in the league it's all about winning a league championship. "I bet you there's not one coach in the league that would candidly tell you they're thrilled to see them join, though. You go from having a one in eight chance to win the league, to a one in ten chance…Boston University and Loyola are very committed to their basketball programs."
Reverting back to Muscala and McCollum, major programs missed out on these two in a big way, which speaks to the unpredictability of recruiting and how there are a myriad of talented players to play Division I basketball. The underlying message is that there's no telling who the next Muscala or McCollum is, or where he will end up.
Perhaps he is a freshman at a school in the Patriot League this year.