All month long, CBT will be rolling out our 2013-2014 season preview. Check back throughout the day, as we'll be posting three or four preview items every day.
To browse through the preview posts we've already published, click here. The rest of our Top 25 Countdown can be found here. For a schedule of our previews for the month, click here.
Last Season: 26-9, 14-4 (t-1st Big East); Lost in the Elite 8 to Syracuse
Head Coach: Buzz Williams (6th season at Marquette: 122-54, 60-30 Big East)
Key Losses: Vander Blue, Junior Cadougan, Trent Lockett
Newcomers: Duane Wilson, Deonte Burton, Jameel McKay, JaJuan Johnson, John Dawson
Projected Lineup
– G: Derrick Wilson, Jr.
– G: Todd Mayo, Jr.
– F: Jamil Wilson, Sr.
– F: Davante Gardner, Sr.
– C: Chris Otule, Sr.
– Bench: JaJuan Johnson, Fr.; Deonte Burton, Fr.; Duane Wilson, Fr.; Juan Anderson, Jr.; Steve Taylor, So.; Jameel McKay, Jr.
They'll be good because …: Marquette's front line will be one of the best in the country, as this group can legitimately go five or six deep. It starts with the big boys: Chris Otule and Davante Gardner, who combine for more than 550 pounds of center. In the past, these two have shared time up front, as Gardner is much more of an offensive threat while Otule is a defensive presence and a space-eater in the lane, but don't be surprised to see them being used together more this season.
But those two aren't alone up front. Jamil Wilson is the latest in the long line of combo-forwards to come through the Marquette program. Steve Taylor was a highly-regarded forward coming out of Chicago in 2012. JuCo transfer Jameel McKay and junior Juan Anderson, who started 31 games as a sophomore, round out the front line rotation. There is enough talent, depth, and versatility here for Buzz Williams to be able to create a number of different looks up front.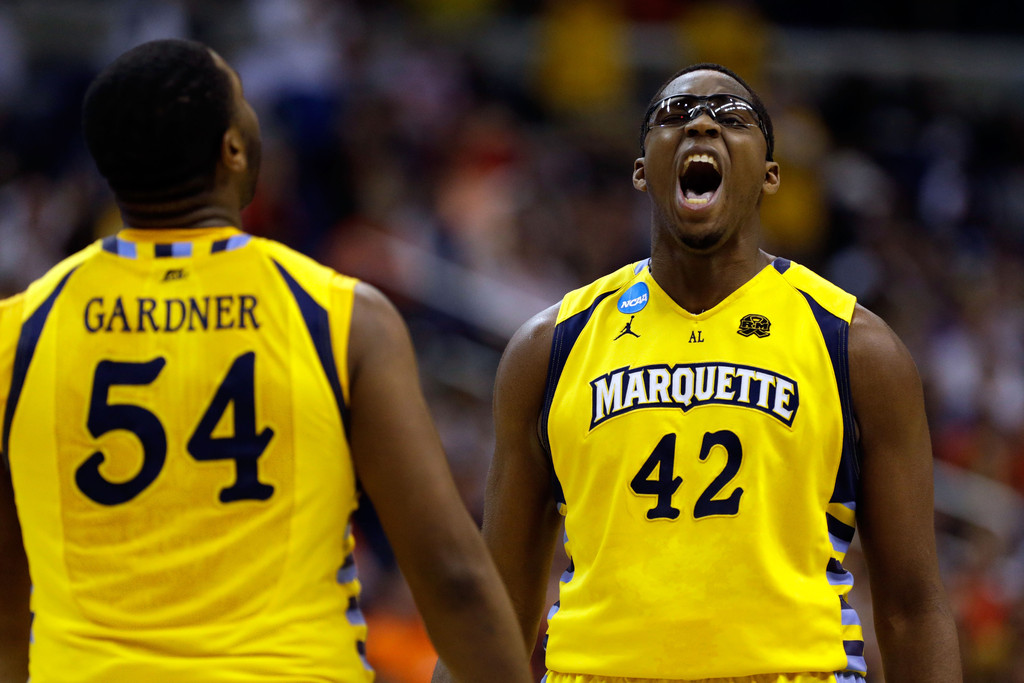 But they might disappoint because …: Generally speaking, Marquette has been known for their back court over the course of Williams' tenure, but there are plenty of question marks when it comes to the guards on the Golden Eagles' roster. The returnees are Derrick Wilson, Todd Mayo and Jake Thomas, none of whom will strike fear into Big East opponents' hearts. Williams landed an impressive recruiting class that included top 100 prospects Deonte Burton, Duane Wilson, and JaJuan Johnson as well as John Dawson, and while that group may be the future of Marquette basketball, they're not necessarily the present. They're freshmen, after all.
How well will they acclimate to playing in the Big East? Can Derrick Wilson play the role of Marquette's primary ball-handler? Is Mayo healthy (and mature?) enough to be relied upon as a consistent source of scoring? There is talent there, but there are plenty of questions and concerns as well.
Outlook: This team is an intriguing as any that Williams has had in his five seasons in Milwaukee. It's built around size in the front court and will rely upon youthful, inexperienced talent in the back court, the first time we've seen a team like that from him at Marquette. Here's a stat to remember, however: In his five seasons at Marquette, Williams has never had a team outside the top 35 in offensive efficiency. But in those five years, his teams have ranked 85th, 304th, 129th, 16th and 239th in tempo. Williams knows how to build a system to maximize the strengths of the players on his roster.
More to the point, Williams is almost like Bo Ryan in the sense that his teams always seem to be better on the floor than they look on paper. He may hate the idea that his teams succeed because they outwork and out-hustle their opponents not because of talent or coaching, but the bottom-line is that Marquette does outwork and out-hustle teams. What makes them scary is when there is talent on the roster, and this year's group certainly has the pieces. Marquette should enter the season as the favorite to win the Big East, so it will be interesting to see if Williams can find the right way for all those pieces to fit together.