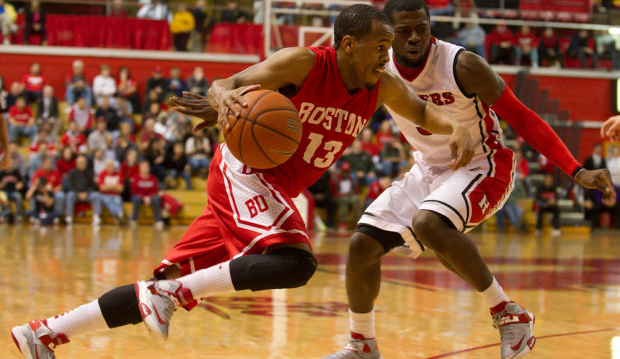 All month long, CBT will be rolling out our 2013-2014 season preview. Check back throughout the day, as we'll be posting three or four preview items every day.
To browse through the preview posts we've already published, click here. To see the rest of the Conference Previews we've published, click here. For a schedule of our previews for the month, click here.
Bucknell and Lehigh have owned the Patriot League for the past four seasons each claiming the league crown twice, but that figures to change as both graduated several impact players — specifically Bucknell's Mike Muscala and Lehigh's C.J. McCollum. Boston University, who was ineligible to win the league championship in their final season as a member of the America East last year, is the prohibitive favorite to win the Patriot League. Joe Jones' squad returns four players who earned America East honors from a season ago — D.J. Irving (First Team), Dom Morris (Third Team), Maurice Watson (Third Team and All-Rookie Team), and John Papale (All-Rookie Team).
Irving and Watson make for the league's top backcourt, and Morris is an immovable, yet skilled body in the middle. In a league that does not feature a bevy of proven forwards of the 6-foot-9 and taller variety, especially with graduation claiming Muscala, Stephen Lumpkins, and Gabe Knutson, Boston University will be able to mask their dearth of big bodies in the frontcourt.
Speaking of guard play, Lafayette graduated the always steady Tony Johnson, but returns their top scorer from a year ago in Seth Hinrichs, along with versatile big man Dan Trist. While much easier said than done, if Fran O'Hanlon is able to find a suitable replacement for Johnson — most likely either sophomore Bryce Scott or freshman Nick Lindner — the Leopards have the offensive firepower to challenge Boston University.
One of the best stories of last season was Army posting a 16-15 record and 8-6 mark in league play — the above .500 record in league play was the first time in the 20+ year history of the league that the Black Knights finished above this mark. With Kyle Wilson, last year's Rookie of the Year, returning along with Dylan Cox, Army figures to be in the mix in the upper half of the league again.
Both Bucknell and Lehigh figure to regress after graduating two of the best senior classes ever to come through the Patriot League. Don't be surprised if Navy, a team that has a combined record of 2-28 in the league over the last two seasons, makes a big jump forward in year three of the Ed DeChellis era. Tilman Dunbar and Worth Smith make for a very nice inside — outside combo. Loyola (Maryland) saw Jimmy Patsos take some highly touted incoming recruits with him to Siena, first year coach G.G. Smith will be in minor rebuilding mode, but has Dylon Cormier back to run the point.
REALIGNMENT MOVES
In: Boston University, Loyola (Maryland)
Out: None
PRESEASON AMERICA EAST PLAYER OF THE YEAR: D.J. Irving, Boston University
Irving (14.2 ppg, 3.3 rpg, 3.6 apg, 1.4 spg) has been a fixture in the Terriers' starting lineup starting all but five games in his career. As a freshman, Irving went to the NCAA Tournament with current Penn State coach Pat Chambers coaching Boston University; he will look to lead the Terriers back there in this Joe Jones' third season.
FOUR MORE NAMES TO KNOW
Dave Dudzinski, Holy Cross: One of the league's best inside players, Dudzinski runs the floor like a small forward but finishes well among the trees.
Cameron Ayers, Bucknell: For Bucknell to have success, Ayers will have to develop a scoring mentality, something he hasn't had to do in his first three years.
Murphy Burnatowski, Colgate: Perhaps the league's top scorer, the transfer from Maine, now in his second season with Colgate, can score anywhere in the halfcourt.
Dylon Cormier, Loyola (Maryland): An All-MAAC First Teamer last season, Cormier will be a force in the Patriot League for his lone season.
ONE TWITTER FEED TO FOLLOW: @HoopTime
PREDICTED FINISH
1) Boston University
2) Lafayette
3) Army
4) Bucknell
5) Lehigh
6) Loyola (Maryland)
7) Navy
8) Colgate
9) Holy Cross
10) American