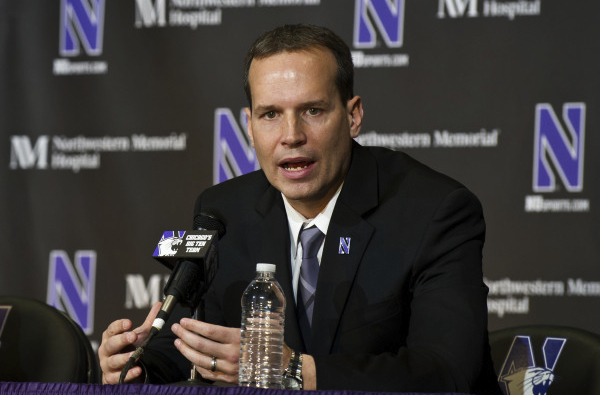 All month long, CBT will be rolling out our 2013-2014 season preview. Check back throughout the day, as we'll be posting three or four preview items every day.
To browse through the preview posts we've already published, click here. To see the rest of our preview lists, click here. For a schedule of our previews for the month, click here..
Every season, the Madness of March isn't just the happenings at the NCAA tournament. With seasons coming to a close, that's the time of year when coaching changes are made and schools made the decision on who will be the future of their program. This year, there were coaching changes at 45 Division I programs. How will some of those new faces fare?
SIX HIRES DESTINED FOR SUCCESS
Chris Collins, Northwestern: Northwestern has never made the NCAA tournament. Ever. And while that may seem like it'll make it tough to find success at the program, remember that Collins is a Chicago guy with Chicago ties that had a front row seat to see how another high academic program — Duke, where he played and was an assistant — is run. And this may just be me, but the fact that Northwestern has never made the NCAA tournament is a positive in my mind. There are no expectations! This isn't Kentucky. This isn't even Illinois. All Collins has to do is get good enough to make the Big Dance, and he'll be a success. Recruiting has already picked up, as the Wildcats currently hold a commitment from top 75 recruit Vic Law.
Andy Enfield, USC: Enfield has never failed at anything in his life. He was a D-III player that managed to become a shooting coach for NBA guys. He helped build a tech company from the ground up that is now valued at more than $100 million. He was a successful assistant with Florida State, he turned Florida-Gulf Coast into Dunk City in just two years, and he married a maxim model. Why would I doubt he can find a way to turn USC into a winning program? He plays a style that kids enjoy and, perhaps most importantly, went out and made a pair of great hires by landing assistants Jason Hart and Tony Bland, which mean he'll get players. Case in point: USC is in the mix for top five recruit Stanley Johnson, along with Kentucky and Arizona.
Bobby Hurley, Buffalo: The Hurleys win everywhere they go. Their M.O., at least at the college level, is to take a struggling program and almost instantly turn it around. See Danny at Wagner and Rhode Island. Bobby is already recruiting well in Buffalo, as he landed a commitment from a high-major recruit already.
Joe Dooley, Florida-Gulf Coast: Enfield left the roster anything but bare for former Kansas assistant Joe Dooley. Brett Comer and Bernard Thompson are both back, as is a front line with more than enough high major-caliber athletes. Enfield did the dirty work getting Dunk City all the publicity the school could handle, and Dooley has the recruiting chops to build on that success.
Casey Alexander, Lipscomb: In recent years, Belmont has dominated the Battle of the Boulevard. So what did Lipscomb do? They went and hired a Belmont alum that spent nearly two decades as Rick Byrd's right hand man. The Bisons will bounce back.
Danny Kaspar, Texas State: As far as I know, Kaspar has spent his entire life within the state of Texas. He most recently built Stephen F. Austin into a powerhouse in the Southland. Why can't he do the same at Texas State?
SIX HIRES THAT MAY NOT TURN OUT SO WELL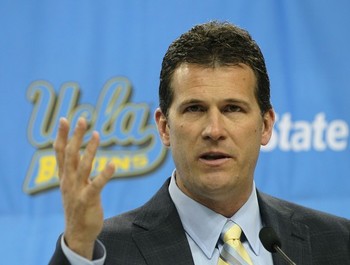 Steve Alford, UCLA: I'm not sure that I see a major difference between Steve Alford and Ben Howland. Both are coaches with midwestern roots that are defensive-minded coaches and like to grind out wins. Granted, Howland had quite a bit of success doing that in Westwood, going to three Final Fours and winning the Pac-12 the year he got fired. I also think that Howland is a better coach that Alford, which means that the Bruins locked in a downgrade for seven years with an absurdly high buyout. Perhaps the biggest negative on Alford? He's not Andy Enfield.
Brandon Miller, Butler: I want to see Brandon Miller succeed. I want to see Butler relevant in the Big East. The hardest thing to do in coaching is to succeed as the guy after The Guy, and unfortunately for Miller, he's replacing Brad Stevens. The Bulldogs are a young team with some potential, but they aren't in the Horizon anymore. This will be the first year the Bulldogs are a member of the Big East, and that's not an easy transition to make with a future hall of famer at the helm, let alone that future hall of famer's replacement.
Tubby Smith, Texas Tech: Smith was fired at Minnesota after putting together too many promising starts that were derailed in February. How is he going to recruit to Texas Tech? Where will he pull players from? Perhaps the best news for him is that everyone in the program is simply relieved to be a year removed from the soap opera that was Billy Gillispie.
Eddie Jordan, Rutgers: Jordan did a marvelous job finding a way to make Rutgers capable of competing in the AAC this season, but that doesn't bode well for Rutgers in the long term. They're headed to the Big Ten, where programs with much stronger hoops tradition and fan bases than Rutgers have found themselves buried behind the big dogs.
Richard Pitino, Minnesota: Pitino's got the pedigree, he's learned from some of the best in the business, and he seems destined to be successful in this business. But Minnesota, like Rutgers, seems to have a cap on how good they can be in the Big Ten. At best, they will probably be the ninth-best program in the Big Ten when Maryland arrives. That's a tough place to build, especially if Pitino misses out on the Big Three of Tyus Jones, Rashad Vaughn and Reid Travis.
Dave Wojcik, San Jose State: The Mountain West has been one of the deepest conferences in the country the last few years, and they've only gotten better with the additions of Fresno State, Nevada and Utah State. Wojcik will be starting at the bottom, which is never easy. At least he has a cool court.