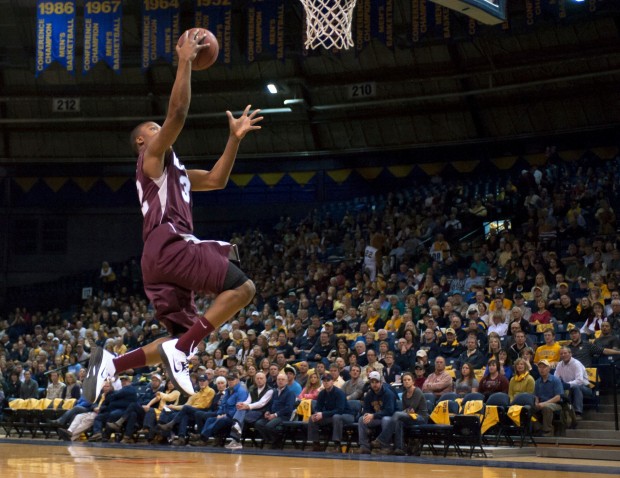 All month long, CBT will be rolling out our 2013-2014 season preview. To browse through the preview posts we've already published, click here.
Kareem Jamar is a native of Southern California. He's from Venice. He was raised on palm trees and smog and impossible traffic jams. Warm weather is in his blood.
Jamar also played for two powerhouse programs while he was being recruited. Westchester HS is one of the best programs on the west coast, routinely churning out high-major recruits. They won a state title when Jamar was a junior and a senior The Compton Magic AAU program that he was a part of gets as much exposure as anyone.
It begs the question: how did Jamar end up playing his college ball at Montana?
"When Montana called, I had never really heard of it," Jamar told NBCSports.com. "I didn't know where it was on the map."
Head coach Wayne Tinkle and his staff at Montana have developed a system for identifying under-the-radar prospects. Instead of chasing the pipe-dream of luring a top 100 recruit to Missoula, they'll go after the fourth or fifth guy on a loaded AAU or high school team. They'll target the glue guy, the kid that is obviously talented enough to earn a scholarship but is willing to blend into the background for the sake of winning.
(MORE: Click here to read NBCSports.com's Big Sky Preview)
That's exactly what happened with Jamar. He's solidly-built, moderately-athletic 6-foot-5 guard that is talented enough to score and unselfish enough to make the right pass instead of force a tough shot. He's not a layup line scout. He'll be the best player on the floor, but you won't realize it until you look at the box score and see his 15 points, six boards and four assists.
Montana was one of just a handful of schools actively recruiting Jamar, and while they were able to get him to make the trek up north, the Grizzlies didn't get a commitment until the day after the fall signing period. "We were like, 'that's never going to come through,'" Montana head coach Wayne Tinkle told NBCSports.com. "He's going to have a great senior year, everyone's going to jump on board, and we're going to miss out." It didn't help matters that Jordin Mayes and Dwayne Polee, two highly sought-after recruits, were in the same class as Jamar at Westchester.
But the status quo remained: Westchester won a state title; Jamar was named all-city after averaging 12 points, 5 assists, and 4.5 rebounds; and Montana was the best school to offer him. On the first day of the spring signing period, Tinkle received Jamar's letter of intent.
——————————————————————————————————-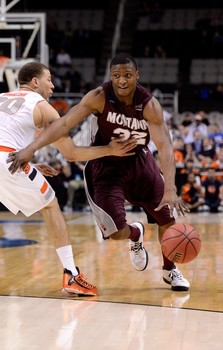 Kareem Jamar's college career has been pretty close to perfect.
After earning a trip to the CBI as a freshman, Jamar has been one of the best players in the Big Sky the past two years, helping lead the Grizzlies to regular season and tournament titles the past two seasons while being named Big Sky Player of the Year as a junior.
But despite the team success and individual accolades, Jamar has never really generated much attention at Montana. He's played for three seasons and has never been the program's leading scorer. He's spent his basketball life as a supporting actor, but with Will Cherry and Mathias Ward gone and graduated, Jamar is ready for his shot at being 'the man'.
(CLICK HERE to read through the rest of NBCSports.com's feature stories)
"I've been in my brother Will Cherry's shadow for three years, and he taught me a lot, but I have been in that shadow," Jamar said. "I've proven [myself] in every big game, but [being overlooked] is nothing new. I've had that chip on my shoulder all my life. It doesn't really bother me, but it definitely motivated me."
Jamar is going to have plenty of chances to prove himself as a senior, as Tinkle is going to build the offense around him.
"Guys like Cherry and Ward, they demanded the ball, for good reason," Tickle said. "So Jamar's going to have more opportunities. But the thing about him, he's so unselfish, he was responsible for a lot of the baskets that those guys got. And others. So he's going to be the focus of everybody's defense, but I think our offense, overall, will be a little better because he's also going to be our main facilitator."
It's that versatility that makes Jamar so dangerous. When he has to, he can score 20 or 25 points, taking a game over scoring the basketball. But Jamar's best asset is his ability to create, which is what makes him so difficult to stop. Opponents can't double-team him because he'll get rid of the ball. They can't send to much help-side defense, because he'll find the open man. Part of the reason he's so good at blending in is because he's so good at making the people around him better.
"I am going to be a little more aggressive. I have to," Jamar said. "I'm still going to stick to my roots, though."
That's a unique skill to have.
And perhaps the best news for Jamar is that the Big Sky has developed a reputation for churning out NBA caliber lead guards. Everyone will remember Damian Lillard, who was named Rookie of the Year after his career at Weber State ended. But did you know that Rodney Stuckey was a product of the league as well? He's in his seventh season in the NBA, averaging 11.5 points for his career after leaving Eastern Washington.
Jamar is already getting some attention from NBA scouts. They call him a throwback, an old-school player. I'm sure the success of players of his ilk from that league hasn't hurt matters.
But what matters the most for him right now isn't the NBA. It isn't necessarily the chance to prove just how good he actually is.
Jamar wants to make it back to the NCAA tournament. He wants to win a game and erase the memory of back-to-back whippings from Syracuse and Wisconsin.
"The way we lost, it just made us seem like we were on a different level, and as a man and a player, you don't want to feel that way," he said, "that someone is that much better than you. They put their shorts on just like you put your shorts on."
"I just have to prove to them that I can play at that level."