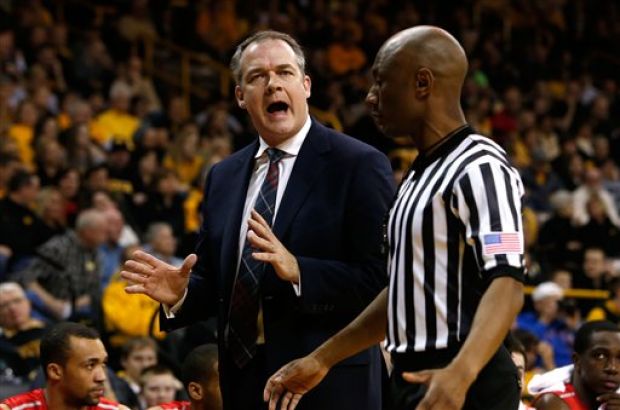 All month long, CBT will be rolling out our 2013-2014 season preview. To browse through the preview posts we've already published, click here.
When Steve Pikiell became the head coach of Stony Brook in 2005, winning basketball games — something that should have been the primary objective for a new coach — was seemingly secondary at the time. Of course, winning was important, but continuing to usher Stony Brook from Division III to the Division I level and correcting academic issues that had been an ongoing issue with the team were primary obstacles for the young coach in his first head coaching role.
Today, Stony Brook is becoming a force in collegiate athletics. Football achieved national notoriety last season after defeating Army and reaching the FCS playoffs finishing with a final ranking of #11 in the Sports Network poll. Baseball orchestrated a memorable run in the 2012 College World Series as they reached Omaha knocking off programs such as Miami (FL) and LSU in the process. They have an athletic director and president who have made an institutional decision to use athletics as a vehicle to elevate Stony Brook on a national level.
In 2005, however, things weren't this rosy for Stony Brook, especially their basketball program.
(MORE: Click here to read NBCSports.com's America East Preview)
"When I took over we had an APR of 805. Every obstacle you could have as a young head coach was right there in front of me, but I was excited."
It wasn't too long ago that keeping players on the team eligible, no less winning basketball games, was a tall order. Pikiell understood the challenges and was aware that things looked bleak at the time he took the job, but he recognized how Stony Brook was a giant that just needed some poking to wake up.
"When I took the job I saw the potential, even though the program hadn't been winning. When you take over a program that didn't have much success in the last 20 years, and then you add some obstacles to it as you move from Division III to Division I, my first couple of years was mostly just about managing and trying to get through obstacles. But, I knew what a great place it was when I was hired. We have great leadership here."
Today, the talk surrounding Stony Brook basketball sounds something like: "When will they finally reach the NCAA Tournament?" Or, "Are they on the verge of becoming the next great mid-major?"
It's something that is constantly on Pikiell's mind and a goal of his every season. Every coach in the country, especially at the mid-major level, aspires to win their league and advance to the Field of 64.
"My goal every season is to win the league championship, go to the NCAA Tournament, and graduate everyone."
(CLICK HERE to read through the rest of NBCSports.com's feature stories)
Yet, to discount the success in other areas would be foolish, especially considering the state of the program when he took over: "…[W]e've done everything else – in a program that hadn't done any of those things. We've graduated everyone, kids have signed pro contracts, we've won postseason games, we've had the Student Athlete of the Year, the Defensive Player of the Year, the Rookie of the Year, the Player of the Year– all things that Stony Brook basketball never really saw."
The product that is being put on the floor has not gone unnoticed as their quaint arena, Pritchard Gymnasium (Stony Brook is in the process of building a new arena), routinely sells out. Pikiell joked that years ago he wasn't even sure if selling season tickets was an option: "In the past, I don't even know if we had season ticket holders. But now, they shut off season tickets about a month or a month and a half before the season."
While the preceding accolades and success are tremendous, it is time for Stony Brook to get over that final hurdle of winning the America East. Three years ago it was a last second loss at Boston University in the championship. Two years ago a loss at home to Vermont in the championship. Last year, as the No. 1 seed, it was a loss on the road to Albany in the semi-finals.
Despite the close losses, Pikiell remains very confident in the program's future and knows a league title is on the horizon. At the mid-major level, keeping a coaching staff intact is important for continuity and recruiting, and that has been a key for Stony Brook's success:
What I like most about [the staff] is this isn't just about trying to get one great recruiting class and ride them out to move onto the next level. This is about being consistent and building. We lost four seniors last year who all signed pro contracts. Two years ago when Bryan Dougher graduated, people said we wouldn't be as good, but we went from 22 wins to 25 wins. The program is in place to continue to be good and continue to compete for league titles.
Pikiell is clearly committed. His name has been rumored for others jobs recently, but he's stayed put at Stony Brook and recently accepted a contract extension over the summer through the 2017-18 season. The Connecticut native is content on Long Island and, having spoken at length of the tremendous growth the university has and continues to make, there's no reason to think the basketball program won't continue to take steps forward under his watch.
The next step to take and obstacle to conquer? Reach the NCAA Tournament.