All month long, CBT will be rolling out our 2013-2014 season preview. Check back throughout the day, as we'll be posting three or four preview items every day.
To browse through the preview posts we've already published, click here. The rest of our Top 25 Countdown can be found here. For a schedule of our previews for the month, click here.
Last Season: 20-10, 10-8 Big East (t-7th); Ineligible for the postseason
Head Coach: Kevin Ollie (2nd season at UConn: 20-10 overall, 10-8 Big East)
Key Losses: Enosch Wolf, R.J. Evans
Newcomers: Lasan Kromah, Terrance Samuel, Kentan Facey, Amida Brimah
Projected Lineup
– G: Shabazz Napier, Sr.
– G: Ryan Boatright, Jr.
– G: Omar Calhoun, So.
– F: Deandre Daniels, Jr.
– C: Tyler Olander, Sr.
– Bench: Lasan Kromah, Sr.; Niels Giffey, Sr.; Philip Nolan, So.; Kentan Facey, Fr.; Leon Tolksdorf, So.
They'll be good because …: UConn is coming off of a 20 win season where they went 10-8 in the Big East and would have earned themselves a bid to the NCAA tournament if it wasn't for an APR-induced postseason ban. Everyone of note from that team is back for UConn's first season in the AAC, with one exception: instead of having Holy Cross transfer R.J. Evans as their first guard off the bench, Kevin Ollie will now be able to use fifth-year senior Lasan Kromah, a veteran that averaged double-figures over his three year career at George Washington.
If that's not enough, than you should take note of the back court that Ollie returns, which will be one of the best in the country. Shabazz Napier is one of the nation's most underrated point guards, and while Ryan Boatright has a tendency to get a bit out of control, he's still an absurdly talented guard that can go off for 20 on any given night. Add in sophomore Omar Calhoun, and UConn's perimeter will be small but quite difficult to match up with.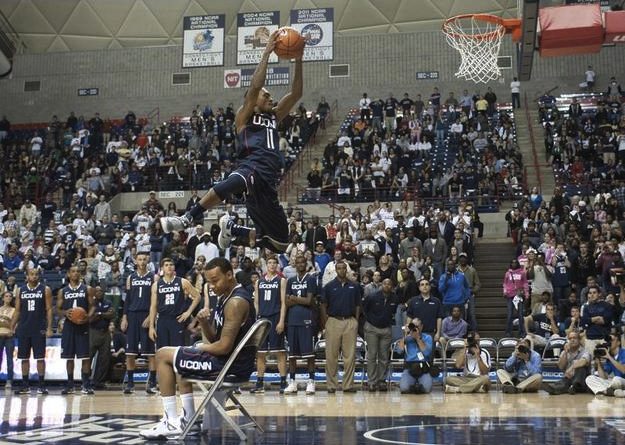 But they might disappoint because …: The Huskies just don't have much size on the interior to take note of. Senior Tyler Olander is back, but he averaged all of 4.3 points and 3.7 boards as a junior. Deandre Daniels is a really talented 6-foot-8 forward, but he's much better suited to playing as a three than he is on being relied upon to mix it up in the paint. Phil Nolan is a skinny sophomore. Kentan Facey is a skinny freshman. Leon Tolksdorf wants to shoot threes. There just aren't that many big bodies up front.
Who matches up with Louisville's Montrezl Harrell? Who in that lineup can slow down Shaq Goodwin of Memphis? SMU and Houston both have a couple of capable big men. The Huskies have enough talent to make a run at winning the conference, but that's assuming that someone on this team can find a way to become a presence in the paint.
Outlook: UConn may have one of the best perimeter attacks in the country, but I don't think that it's crazy to say that they have the third-best set of guards in the AAC. That's what happens when you play in the same conference as Louisville and Memphis. What that means is that the Huskies' major advantage, their ability to spread the floor and create mismatches, will be negated against the league's other two contenders. With the sizable disadvantage that UConn will have in the paint, it's tough to see the Huskies being able to make a push for the AAC title.
Having said that, Memphis and Louisville are two of just a handful of teams against whom UConn won't be able to take advantage of their back court talent. So while I think that it is a long shot the Huskies will win the conference, I still think this is a team that can win 25 games and, potentially, make a run in the tournament if they get the right matchups.