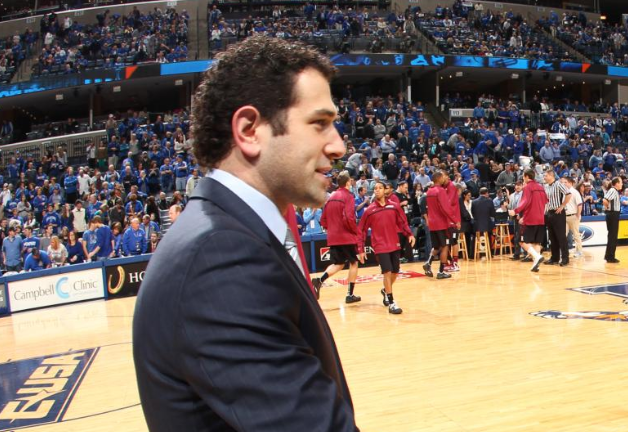 All month long, CBT will be rolling out our 2013-2014 season preview. Check back throughout the day, as we'll be posting three or four preview items every day.
To browse through the preview posts we've already published, click here. To see the rest of our preview lists, click here. For a schedule of our previews for the month, click here..
Head coaches and players get all of the headlines, but a good assistant coaching staff can help a program significantly, either on the recruiting trail or on the sidelines — or in some cases, both. Each offseason sees a number of assistant coaches moving up and down the coaching ladder, and here are 10 of the key assistant coaching hires this offseason.
Tony Bland, USC: Regarded as one of the best recruiters on the West Coast, USC and new coach Andy Enfield hired Bland away from San Diego State in April. Bland spent the last two seasons as an assistant coach at his alma mater of San Diego State, where he helped the Aztecs on the recruiting trail by helping land Skylar Spencer and Winston Shepard. USC has already landed prized California point guard Jordan McLaughlin in the 2014 class thanks in part to Bland.
Steve Forbes, Wichita State: Forbes returns to the Division I ranks after two years as the head coach of Junior College power Northwest Florida State and should help the Shockers continue to replenish their roster from the JuCo ranks. Forbes previously coached under Bruce Pearl as an assistant coach at Tennessee and was the first member of Pearl's staff to return to the NCAA after a one-year show-clause penalty after the fallout from Pearl's scandal involving the barbecue with Aaron Craft. Forbes has also been an assistant at Illinois State, Louisiana Tech and Texas A&M and coached the top junior college player in the country last season in current Louisville guard Chris Jones.
Tavaras Hardy, Georgetown: After spending seven seasons at his alma mater of Northwestern under Bill Carmody, Hardy has already made a major splash under John Thompson III's staff at Georgetown by continuing to harvest players from the fertile recruiting ground of Chicago and helping the Hoyas land the (former) Whitney Young duo of L.J. Peak and Paul White. Hardy also helped land notable players at Northwestern including John Shurna, Drew Crawford and JerShon Cobb.
Jerrance Howard, Kansas: The Jayhawks landed a monster recruiter in Howard and it has helped them in their pursuit of the two prized Chicago big men recruits in the 2014 class: Cliff Alexander and Jahlil Okafor. Kansas remains in strong position for both Alexander and Okafor as Howard got to know the duo during his years as an assistant coach at Illinois.  Last season in his only year at SMU, Howard helped Larry Brown land former Illinois transfer Crandall Head as well as Chicago-area products Sterling Brown and Ben Moore.
Yanni Hufnagel, Vanderbilt: A young and energetic recruiter that has already recruited at a high level for a high-academic institution in Harvard, Hufnagel joins Kevin Stallings' staff after four years with the Crimson. Vanderbilt has already landed three class of 2014 guards in September in Wade Baldwin, Matthew Fisher-Davis, and Riley LaChance thanks in-part to Hufnagel's recruiting efforts.
Justin Hutson, San Diego State: The Aztecs will welcome Hutson back with open arms after their former star assistant coach spent the last two seasons as Dave Rice's associate head coach at UNLV. Hutson helped the Aztecs recruit Kawhi Leonard and Chase Tapley and has already helped San Diego State land 2014 point guard Kevin Zabo.
Korey McCray, LSU: After a two-season stint at UCLA, McCray joined LSU and Johnny Jones' staff and is noted as a strong recruiter with ties to the Atlanta area. McCray is a former CEO and head coach for the Atlanta Celtics AAU program — which was co-founded by his father Karl — and those ties helped UCLA land Jordan Adams and Tony Parker. Now that McCray is even closer to Atlanta, those regional connections should help the Tigers as well.
T.J. Otzelberger, Washington: Washington's new recruiting coordinator comes to the Huskies after seven seasons as an assistant at Iowa State. Otzelberger also helped with opponent scouting reports and game planning during the last two seasons at Iowa State, where he was the program's associate head coach since 2010.
Patrick Sellers, Creighton: The Bluejays move to the Big East meant they needed a noted Big East recruiting presence, which they got with the hiring of Sellers, a former assistant at UConn and Hofstra. Sellers coached under Jim Calhoun from 2004 through 2010 and helped the Huskies land Jeremy Lamb, Shabazz Napier, Tyler Olander, and Roscoe Smith to the 2010-11 national title team. Sellers gives Creighton immediate Big East credibility on the recruiting trail.
Todd Simon, UNLV: The former coach at Findlay Prep has been with the prep juggernaut since its inception in 2006 and has helped the program with six McDonald's All-Americans and the No. 1 pick in the 2012 NBA Draft, Anthony Bennett. Simon recruited well for Findlay Prep's program both in the United States and internationally and should bolster the Runnin' Rebels already superb efforts in that department.