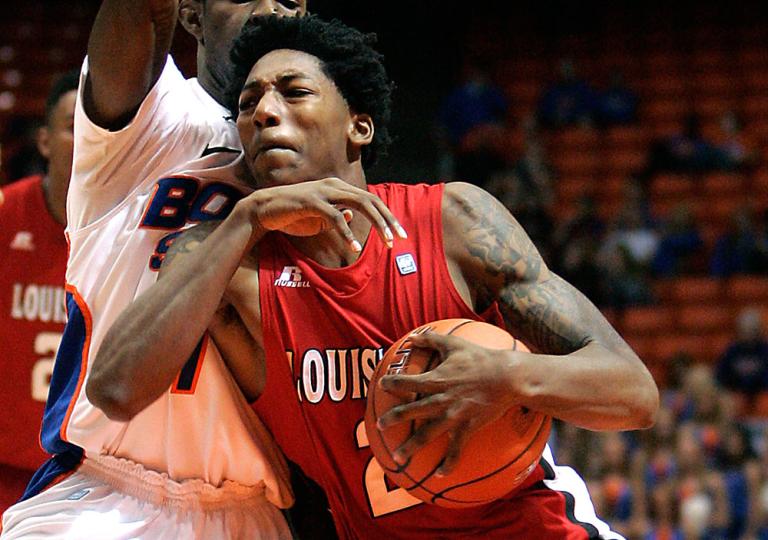 All month long, CBT will be rolling out our 2013-2014 season preview. Check back throughout the day, as we'll be posting three or four preview items every day.
To browse through the preview posts we've already published, click here. To see the rest of our preview lists,click here. For a schedule of our previews for the month, click here.
Prior to delving into the All-Americans, it is important to identify who we are considering "mid-majors" this season, especially after realignment saw many teams jump from one conference to another during the offseason. The following conferences are not included in any mid-major discussion: AAC, Atlantic 10, ACC, Big 12, Big East, Big Ten, Pac-12 and Mountain West. The WCC is still considered a mid-major league with the exclusion Brigham Young, Gonzaga, and St. Mary's.
Oh, and Conference USA? You've been relegated.
(MORE: For NBCSports.com Mid-Major Power Rankings, click here)
MID-MAJOR ALL-AMERICAN  FIRST TEAM
G Jake Odum, Indiana State, Sr. (13.6 ppg, 4.5 rbg, 4.5 apg, 1.5 spg): Odum has been a fixture in the starting lineup for Indiana State dating back to his freshman year, when he led the Sycamores to the NCAA Tournament. He was named First Team All-MVC last season.
G Elfrid Payton, Louisiana-Lafayette, Jr. (15.9 ppg, 5.6 rpg, 5.5 apg, 2.4 spg): Payton was a surprise addition to this summer's U-19 national team, but for Sun Belt foes, he's no secret. An athletic, 6-foot-3 combo-guard, Payton blew up nationally because he got spurned by the Chris Paul camp.
F Cleanthony Early, Wichita State, Sr. (13.9 ppg, 5.4 rpg): His numbers won't blow you away, but his game will. After twice being named the NJCAA Player of the Year, Early burst onto the national scene during the NCAA Tournament leading Wichita to the Final Four, averaging 16.2 ppg and 7.6 rpg in the five games.
F Augustine Rubit, South Alabama, Sr. (19.4 ppg, 10.5 rpg, 1.2 bpg): Rubit has often flown under the radar playing for South Alabama, but his numbers are impossible to ignore. There aren't many four year college basketball players out there that average a double-double for their career, but Rubit is on his way to doing just that despite coming from humble beginnings.
F Jerrelle Benimon, Towson, Sr. (17.1 ppg, 11.1 rpg, 2.5 apg, 1.9 bpg): Think John Thompson III wish Benimon didn't transfer? The learning curve and development time is always longer for big men, and Benimon flourished last season at Towson after having to sitting out after transferring from Georgetown. His offensive game improved by leaps and bounds, and now Benimon is one of the top forwards in the country.
MID-MAJOR ALL-AMERICAN SECOND TEAM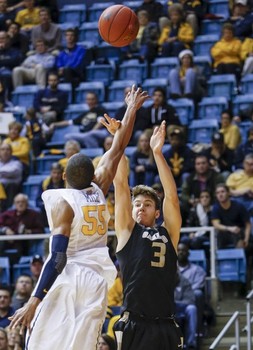 G Travis Bader, Oakland, Sr. (22.1 ppg, 2.9 rpg, 1.0 apg): Bader has never seen a three-point shot he hasn't liked. Not only does he shoot at a high percentage (40.4% from the perimeter for his career), but he is a volume shooter averaging just shy of 11 three-point attempts per game. Assuming this pace continues, he will set the all-time three-pointers made record; he needs 101 more. Bader has a very good chance at being the nation's leading scorer this coming season.
G R.J. Hunter, Georgia State, So. (17.0 ppg, 5.1 rpg, 1.8 apg, 1.7 spg): With Kentucky transfer Ryan Harrow and Devonta White running alongside in the backcourt, there's no telling how big a year R.J. Hunter will have. The son of head coach Ron Hunter, R.J. burst onto the scene as a freshman to lead Georgia State and scoring and three-pointers made with 73.
G Anthony Ireland, Loyola Marymount, Sr. (20.1 ppg, 4.4 rpg, 3.6 apg, 1.7 spg): Often overshadowed by top players at the likes of Gonzaga, St. Mary's, and BYU, Ireland is a scorer in the purest form. He was named to the First Team All-WCC the past two seasons, and will be a front runner for the Player of the Year award this season.
G/F Wesley Saunders, Harvard, Jr. (16.2 ppg, 4.2 rpg, 3.5 apg 1.8 spg): When Kyle Casey and Brandyn Curry were forced to leave the program last season, Saunders was forced into a larger role and responded accordingly. He became Harvard's top player after being not much more than a role player as a freshman.
F Javon McCrea, Buffalo, Sr. (18.0 ppg, 7.9 rpg, 2.0 apg, 1.3 spg, 2.6 bpg): If Bobby Hurley is to have success in his first season as Buffalo head coach, it will be because of Javon McCrea. The top returning scorer in the MAC, McCrea could have a 20 and 10 type of season.
MID-MAJOR ALL-AMERICAN THIRD-TEAM
G Corey Hawkins, UC Davis, Jr. (20.3 ppg, 5.6 rpg, 3.3 apg, 1.5 spg): The transfer from Arizona State immediately turned into UC Davis' top player after sitting out the 2011-12 season. The son of NBA veteran Hersey Hawkins, Corey led the Big West in scoring last season.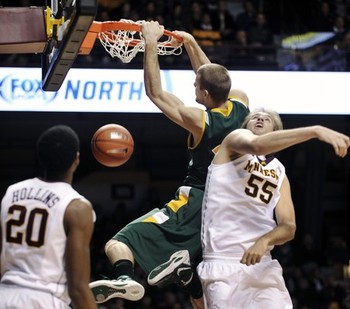 G Damion Lee, Drexel, Jr. (17.1 ppg, 5.1 rpg, 1.8 apg): Drexel underachieved last season, but Damion Lee certainly didn't. If the Dragons are going to win the CAA this season, Lee will have to be the one to carry the load.
G Taylor Braun, North Dakota State, Sr. (15.4 ppg, 5.2 rpg, 3.0 apg, 1.5 spg): A mid-season foot injury to Braun derailed North Dakota State last season. Prior to the injury, the Bison were 16-3 and 7-0 in the Summit League, but during his absence they went 5-5 and never got their mojo back the rest of the season. When on the floor, Braun is one of the purest shooters around, and figures to have a big senior season for North Dakota State.
F Torrey Craig, USC Upstate, Sr. (17.2 ppg, 6.9 rpg, 1.9 apg): Craig has started all but six games for USC Upstate and has been an immediate impact player for Eddie Payne. He has led the Spartans in scoring for this first three seasons, and led the Atlantic Sun in scoring for the past two.
F/C Adjehi Baru, College of Charleston, So. (9.7 ppg, 8.3 rpg, 1.3 bpg): The top rebounder in the Southern Conference last season, Baru will make his presence immediately felt in Charleston's first year in the Colonial.
HONORABLE MENTION
G Sean Armand (Iona), G Billy Baron (Canisius), Jason Brickman (LIU Brooklyn), Rhamel Brown (Manhattan), F Murphy Burnatowski (Colgate), G Siyani Chambers (Harvard), G Brett Comer (Florida Gulf Coast), G Johnny Dee (San Diego), G D.J. Irving (Boston University), F David Laury (Iona), G Rian Pearson (Toledo), G Devon Saddler (Delaware), G Kenneth Smith (Louisiana Tech), G Bernard Thompson (Florida Gulf Coast), F Alan Williams (UC Santa Barbara)